Administrator
Staff member
BASIC COMPONENTS, obviously you don,t have to use the exact parts listed but the more you change things the less likely you are to have near the same results, and with you doing the assembly and careful shopping you might bring the price down slightly on either build

after building DOZENS of similar 377 and 406 SBC engines, over the last 40 plus years and seeing what works and how
the newer aftermarket heads far exceed the older stuff we used to have to use,
for those engine builds, guys I can assure you that the peak hp will remain rather similar,
if both engines are built to similar specs , theres several great heads available, your choice is mostly dependent on your checking account balance and your personal mechanical skill and knowledge, on how you select and assemble a valve train.
Manufacturer of high performance cylinder heads and manifolds for ford and chevy
www.airflowresearch.com
but your almost always faster with the 406 combo because the slightly higher average torque curve.
I've tried dozens of combos , but keep in mind your drive train gearing and car weight and converter stall speed and if you have an auto transmission, and need to pass emission testing, and if the combos injected or runs a carb, and if you want to run pump octane fuel or race octane gas ,obviously effect your choices a great deal.
two common mistakes are not having a low restriction exhaust and well designed headers and having the wrong cam for the compression ratio and gearing
but the most common seems to be buying restrictive heads and intakes, if your looking to get a 377-406 to peak power levels,.

the combo below is obviously not meant to be a daily driver combo, that runs on pump octane swill.



[/color]
heads
http://www.summitracing.com/parts/TFS-3240T001-C03/
$2200
IF YOU HAVE A SET OF REALLY DEEP POCKETS
http://www.speierracingheads.com/SRH2.50.htm
SAFE piston speeds are best restricted to 4000fpm for stock components and 4500fpm for the better common aftermarket components
rockers
http://www.summitracing.com/parts/TFS-31400522/
$280
intake
http://www.summitracing.com/parts/HLY-300-110/
$266
block
http://www.summitracing.com/parts/DRT-31152211/
$2200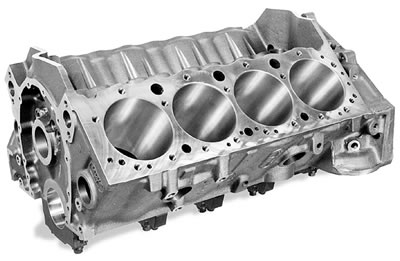 rotating assembly
http://www.lunatipower.com/Product.aspx?id=361&gid=186
$3400
Pro Assembly - SBC 406ci 11.7:1 6.000 H-beam
Product Description
Lunati pro engine assembly for Chevrolet small block applications featuring Lunati's 4340 H-beam rods
Displacement: 406ci
Compression: 11.7:1
Bore: 4.155 in.
Stroke: 3.750 in.
Rod Length: 6.000 in.
Crank Part Number: AJ211DN
Main Seal: 2-piece
Rod Part Number: 6000H
Piston Part Number: WISPT020H3
Dome Volume: -5.4 cc
Compression Height: 1.125 in.
Ring Sizes: 1/16-1/16-3/16
Ring Part Number: WIS4155H x 8
Main Bearings Part Number: MB5143HP
Rod Bearings Part Number: CR848HP
cam & kit
http://www.cranecams.com/product/cart.p ... il&p=24572
CAM $400
carb
http://www.holley.com/0-80514-1
$820
match too 8 quart baffled oil pan that fits your chassis, and Competition headers with 17â"8" primaries,37-39" long and a 3.5" collector 18" long
personally Id use a vertex magneto ignition ,
figure oil pan $400
http://www.taylorvertex.com/Vertex/pdfs ... Vertex.pdf
http://www.jegs.com/i/Vertex/830/701000 ... tId=749035
($1030)
THIS IS DYNO SOFTWARES WILD GUESS ID BET I COULD TWEAK IT TO GET A BIT MORE FLYWHEEL HP
heres the same engine with a 100hp worth of nitrous
http://www.jegs.com/i/Nitrous+Express/7 ... 0/10002/-1
$450
MISCELLANEOUS COMPLETION PARTS FIGURE $2800 more
so a really nice SBC combo making near 750 dependable hp in a similar combo costs about
$13,300
Last edited by a moderator: