The Grumpy Grease Monkey mechanical engineer.
Staff member
well archery deer and elk season is now, days or weeks away, and most of the old geezers I hunt with regularly are stopping by to discuss my upcoming hunting trips/plans
AND THEIR PLANS.
I got into several DISCUSSIONS LATELY,
BUT DUE TO A LACK OF CASH AND OTHER PERSONAL MEDICAL LIMITATIONS, & related FACTORS, I CAN'T MAKE A TRIP OUT WEST THIS YEAR.
HAVING OCCASIONALLY BEEN SUCCESSFUL HUNTING WITH A BOW, MANY OF MY FRIENDS STOP BY TO TELL ME THEIR PLANS
https://biggamelogic.com/archery/broadheads/elk/
https://www.outdoorlife.com/bowhunters-broadhead-test/
https://www.kustomkingarchery.com/VPA-3-Blade-Broadheads-Screw-In/productinfo/7500/
https://outdoorarrow.com/best-broadheads/
https://spinoutdoor.com/best-fixed-blade-broadhead-for-elk/
https://westernhunter.net/tactics/t...wledge-of-shot-angles-and-placement-is-vital/
https://archerytopic.com/best-broadheads/
Ill state right off that
I'm not a fan of mechanical broad heads for ELK,
as you need max penetration.
I've seen several mechanical heads recovered from dead elk,
that broke or bent after hitting larger bones, some were in elk found dead that were not recovered by the hunter.
I've used several different fixed blade designs on both deer and elk and so far all have provided complete pass through and exit hits, even on shoulder hits.
yes my use of an 87 lb draw weight and a 31" draw BOW and limiting shots to under about 40 yards max, helps
as the inertial energy is significantly improved over lesser weight bows and lighter weight projectiles.
yes there are some very effective mechanical broadheads,
and yes many do work ok.
and a 3 or 4 blade broadhead design.
from centuries of testing, and recently testing in mediums like ballistic gel,
its been proven consistently in testing that the ideal broadhead DESIGN
should be approximately three times its diameter or blade width,
in length,
and blades should ideally be at least 1.125" in diameter or blade width,
at the widest point to maximize penetration
I don,t know of any commercial broadheads currently designed that way.
this rather shallow, blade angle, in a 3 to 1 broadhead, helps the blade slice flesh more effectively. and penetrate deeper.
two blade designs tend to be less consistent or accurate , in maintaining straight line penetration, compared to three blade designs in impact/penetration testing.
old school still works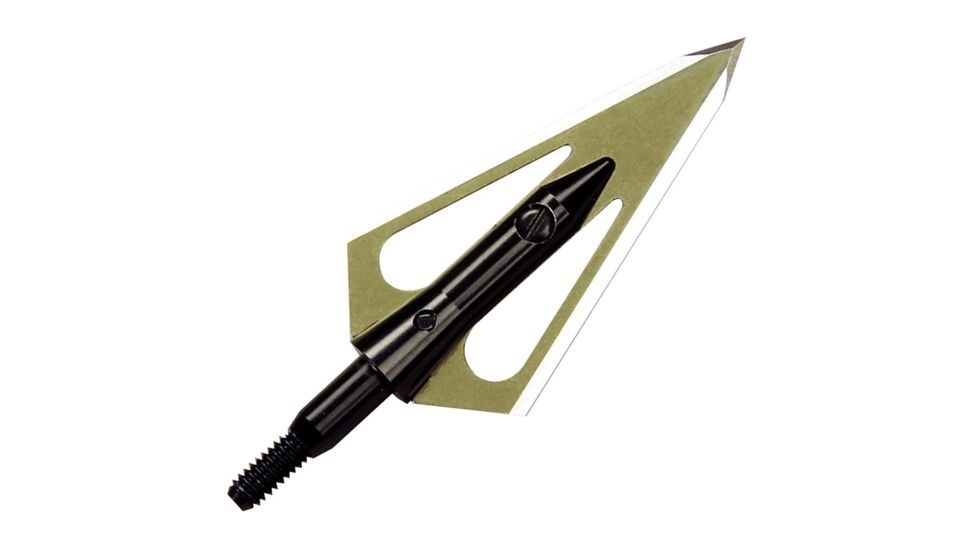 designs like this one pictured directly below , are very effective if carefully sharpened
your main problem as in all hunting is getting in close enough to make a very well placed hit, and at the correct angle and distance, on the games anatomy, and destroying the games vitals.
most elk even if hit perfectly will run, so having an exit wound aids a great deal in producing an easy to follow blood trail and of course proper shot placement that destroys the vital internal organs is required, something thats hard to do with your heart beating far faster than normally, and adrenaline flowing in massive amounts.
you have hundreds of options and some fixed blade designs need to be sharpened some have replaceable blades, (both options work) but your hunt will depend on consistent accuracy and your knowledge of elk anatomy, and your ability to place the shot accurately.
thus a great deal of practice will be required.
DON,T TAKE long range low percentage rate shots,
respect the game and get into a sure for you range or pass on the shot, yeah! that's ALWAYS VERY HARD TO DO,
but its a skill and mental discipline you'll need to master!
its been my experience that archery shots over about 50 yards,
are far too long for most archery hunters, I know I practice out to 60 yards but luckily Ive had the ability to get into under 45 yards on the few elk I have successfully hunted,
(mostly due to elk trotting by close to me , at close range not my skill at sneaking close)
if I was to use a mechanical broad head something like this looks like it has potential.
Last edited: