Administrator
Staff member
Ive tended to do a great deal of my hunting with cast bullets in 44 and 45 caliber rifles, with rifles pushing 280 grain-450 grain cast gas check bullets, now I got asked if shooting jacketed bullets in those same rifles effects the accuracy when the cast bullets are used, the answer is in my experience that the rifles need a good careful bore cleaning before you swap projectile types to maintain top quality accuracy.
generally if you tend to stick to properly sized and lubed cast bullets pushed to below about 1800fps cast bullets tend too work exceptionally well, , and theres little reason to go to the expense of jacketed factory produced bullets, Now,if you select a caliber and bullet design that is to be used at over about 2400fps, and especially over 2600fps, your generally going to be dealing in jacketed projectiles
youll need a caliber matching set of bore brushes to clean the bore in some cases
http://www.midwayusa.com/product/110696 ... ckage-of-3
a one piece steel cleaning rod helps
http://www.midwayusa.com/product/576235 ... -32-thread
bore cleaner /powder solvent
http://www.midwayusa.com/product/652259 ... -oz-liquid
clean cotton or linen patches
http://www.midwayusa.com/product/931182 ... ng-patches
patch holder attachments
http://www.midwayusa.com/product/411788 ... read-brass
http://www.midwayusa.com/product/399753 ... read-brass
lube
http://www.midwayusa.com/product/270323 ... oz-aerosol
http://www.midwayusa.com/product/188140 ... oz-aerosol
bore guide
http://www.midwayusa.com/product/322277 ... aliber-rod

If the rifle design allows clean the bore from the breach end of the barrel, a couple passes with a solvent soaked patch on a jag,pushed from breach to muzzle, followed by several lightly oil soaked patches will at times be all thats needed, most cleaning kits come with detailed instructions
Id concur that careful cleaning of the rifles bore , with careful cleaning with solvent and patches and barrel prep,
like use of fine abrasive copper fouling removal before and recurring frequently (at about every 5 shots , during the initial barrel break-in, )
on a rather frequent repetitive basis, during the first few shots can provide noticeably better barrel life and in many cases improves accuracy
careful cleaning with copper/powder solvent , a jag of the proper matching bore size , and a patch soaked in moly spray, before you shoot and after about every 5 shots during the initial trip to sight in the rifle helps accuracy in many cases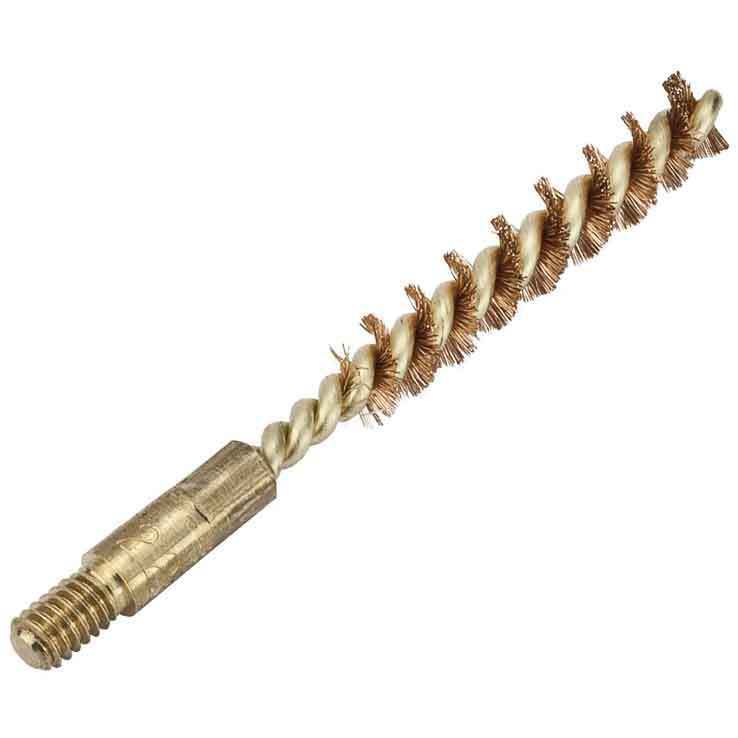 https://www.mscdirect.com/product/details/00155416
https://www.eabco.com/bore-paste.htm
https://ads.midwayusa.com/product/1...6b196a47325b7047460077&utm_term=1101100736089
WATCH VIDEO,S
cast bullets in my experience generally shoot best from a properly cleaned bore having little or no copper fowling, in the rifling, prior to shooting cast bullets.
yet I know many of my friends who shoot 99% cast bullets, but almost religiously finish a shooting session with a couple jacketed slugs down the bore swearing it aids in the bore clean-up routine once they get home to clean their rifles.
now Ive been shooting 300 grain and 310 grain cast gas check slugs over 21 grains of H110 in my marlin carbine for decades and a couple passes thru the bore with a dripping wet,solvent soaked patch is generally all that required to leave clear smooth, sharp chrome like in appearance rifling. so I don,t shoot jacketed in that rifle.
On my old 45/70 marlin, shooting a couple jacketed bullets did tend to screw up accuracy with any following cast gas check 355 grain bullets until the bore was carefully cleaned,(increasing group size by more than 1") but one the bore was cleaned it would shoot cast gas check slugs consistently into less than 2' at 100 yards off a good rest.
55 grains of IMR 3031 and this bullet makes a good effective deer and elk load, making it a hot 45/70, but far less abusive than a fully loaded 458 win.
http://www.loaddata.com/members/search_ ... licID=5866
viewtopic.php?f=91&t=7500
BTW Ive read several places that, FOR CAST BULLET SHOOTING, long term tests were done,and if you carefully clean fairly new barrel rifling and spray the moly dry lube sprays into the barrels then swap the moly into the rifling at fairly frequent and consistent bore cleaning it tends to reduce bore wear. lead build-up and increase accuracy with cast bullets used
anytime you travel you should have a bare minimal rifle cleaning and basic screw driver/allen key and bore cleaning tool kit

Last edited by a moderator: