The Grumpy Grease Monkey mechanical engineer.
Staff member
the first thing I suppose I should point out is that many, but not all, low rise dual quad and cross ram dual quad intakes are 30-60 year old designs, based on what was originally a need to increase air flow past what was available from any available at the time single quad (4 barrel carb) intake available, since the advent of EFI and the HOLLEY DOMINATOR SERIES of carbs they are mostly a NOSTALGIC throw back, they look "COOL" but they don,t offer a huge performance advantage over a single larger carburetor on a , more modern and properly designed matching intake,any longer. back when the dual quad and three deuce intakes were factory options on some cars the available carburetor air flow was limited.There are at least THREE distinctly different DUAL QUAD INTAKE LAYOUTS

Ive always felt the rhythmic sewing machine sound , of the of a well adjusted solid lifter cam engine, and a rumbling gurgle in the exhaust note , with the instant explosive rpm acceleration and three stage progressive stepped, moan as the secondaries on a set of correctly adjusted dual quads, was and is what a properly built performance street/strip engine SHOULD sound like , tromp on a high compression ratio 454- 496-540 cubic inch big block thats properly built with the correct matched components, like a couple 600 cfm holleys on a dual quad intake and watch the many yards of dark black tire marks rapidly recede in the rear view mirror clouded with tire smoke.
the low rise inline typical of early muscle cars like the earlier corvettes
heres another fe 390 ford dual quad intake picture
the cross ram like the Z28 race engines used
most of the SBC cross ram intakes share a common plenum, but there are several designs with a dual plenum , where each carburetor feeds the opposite bank of cylinders exclusively


READ THIS LINK
http://www.tomorrowstechnician.com/under-the-hood-cutting-back-on-carbs/
EDELBROCKS SBC CROSS RAM
or my old 455 pontiac
and the true tunnel ram designs
TUNNEL RAM intakes are a different deal, now thats not saying you can,t make excellent power with dual quads, but they are not the only way to get there with today's technology and they take some experience to tune correctly, experience few guys have or understand, so you will frequently see test results showing that dual quads make less power than a properly tuned single 4 barrel car intake.
If you have a typical dual quad inline low rise intake most are set up for the Edelbrock or AFB style carbs, only a few have room for twin Holley carbs to fit mounted end to end due to fuel bowl length, on the Holley carbs
you can buy two 500cfm
http://www.jegs.com/i/Edelbrock/350/1404/10002/-1
or two 600 cfm edelbrock carbs
http://www.summitracing.com/parts/edl-1406
Ive always preferred the two 1406 carbs
keep in mind when your using DUAL carbs with 8 venturies they effectively reduce the engine created vacuum under each carb significantly , compared to the same size single carb on the same engine, so a carb rated at 500cfm as a single carb probably flows less than 350cfm as a twin carb, if your new to dual quad set-ups your going to be thinking 2 500cfm carbs equals 1000cfm, in reality your looking at about 700cfm-750cfm , and two 600cfm carbs flow about 800-850cfm due to the reduced vacuum signal under each carb.
Ive used both sizes and got good results from both. the 500cfm might be easier to tune for most applications but either will work.
4 barrel carbs are rated at 1.5" of vacuum doubling the available number of venturies from 4 too-eight effectively reduces the vacuum by at least 40% thus each carb will flow less air thru each venturie, while a single 500 cfm rated carb flows 500 cfm at 1.5 inches of vacum its only flowing 365 cfm at a bit less than half the draw like it would see in a dual quad setup at W.O.T.
http://users.erols.com/srweiss/calcdchg.htm
lets say your intake plenum vacuum reads 15" of vacuum at idle and 1" at wide open throttle and your running a single 650 cfm carb,lets assume you install a dual quad intake and install twin 650 cfm carbs, at idle. not much changes simply because all 4 pairs of venturies are closed , but remember the dual quads have the potential to have 4 sets of dual venturies open this now doubles the effective flow potential but reduces the vacuum reading under any set of venturies, you have doubled the number of venturies that can potentially flow fuel & air but they will NOT all be open at the same time in a progressive set-up so until there's more than the original air flow , youll see minimal changes. and as each additional set opens in progression the vacuum in the plenum is further reduced, thus the individual sets of venturies will generally see a REDUCTION in flow due to the reduced vacuum in the plenum, but you also now have four separate, steps of increased air flow entering the plenum,and with proper tuning this can provide not only more total flow but a smoother transition and more total air flow.
4 barrel carbs are factory rated at 1.5" of mercury vacuum.
youll find a properly tuned multi carb intake generally has very good fuel/air distribution, but total flow is significantly lower than the factory rated carbs individually rated flow.
(IF YOU KNOW THE PLENUM VACUUM READING AT EVERY 500rpm STEP FROM IDLE TO Wide .Open Throttle, YOU CAN CALCULATE THE CARBS FLOW RATE)
BTW IF YOU THINK OVER CARBING AN ENGINES A HUGE CONCERN,HERES A VIDEO OF A GUY RUNNING

4 750 quadrajet 4 barrel carbs

on a car engine, and once tunned for the application it seems to run decently
READ THESE, and sub links carefully
viewtopic.php?f=55&t=444&hilit=dual+quads
VIDEO
http://www.vetteweb.com/tech/1305_1958_ ... uel_monty/
viewtopic.php?f=55&t=1820&p=4706&hilit=1406#p4706

you really should read these related threads also
viewtopic.php?f=55&t=1820&p=4706&hilit=1406#p4706
viewtopic.php?f=44&t=5888&p=17984#p17984
viewtopic.php?f=55&t=5175&p=25996&hilit=tunnel#p25996
viewtopic.php?f=55&t=8126&p=28205#p28205
viewtopic.php?f=55&t=861
http://garage.grumpysperformance.com/index.php?threads/carb-tuning-info-and-links.109/
http://garage.grumpysperformance.com/index.php?threads/holley-accelerator-pumps-cams.1790/
http://garage.grumpysperformance.com/index.php?threads/holley-annular-vs-down-leg-boosters.5229/
http://garage.grumpysperformance.com/index.php?threads/holley-carb-power-valves.1639/
http://www.mjbperformance.com/rb200/product_rb200.html
http://www.superchevy.com/how-to/projec ... ld-part-5/
viewtopic.php?f=55&t=109
viewtopic.php?f=55&t=5175
viewtopic.php?f=32&t=6011&p=18597#p18597
http://www.allcarbs.com/detail.php?pid=406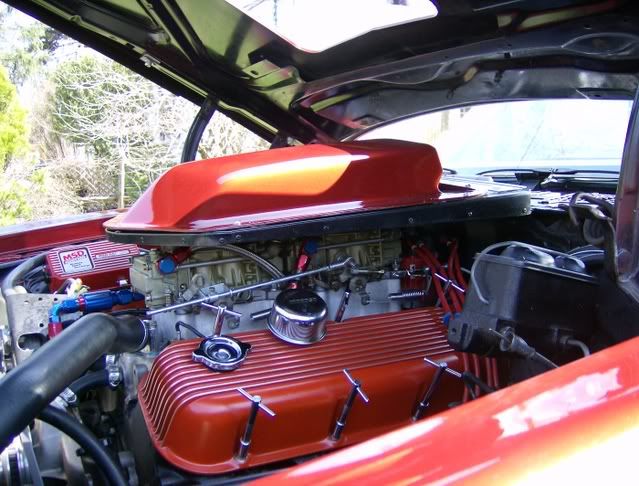 http://www.holley.com/20-28.asp
if your using two holley vacuum secondary carbs on the street.....this might prove useful
to try to maintain exactly even fuel distribution between runners...which will almost never happen if the carbs throttle bores open in a totally non synchronized manor
http://www.holley.com/data/Products/Tec ... 9R8291.pdf
but this may help you
http://users.erols.com/srweiss/calcdchg.htm
http://users.erols.com/srweiss/calccarb.htm
viewtopic.php?f=55&t=5175&p=17108#p17108
viewtopic.php?f=55&t=858
http://www.idavette.net/hib/vette_bbfh.htm
viewtopic.php?f=50&t=383
viewtopic.php?f=55&t=1115
http://www.centuryperformance.com/fueli ... g-140.html
viewtopic.php?f=44&t=777
http://users.erols.com/srweiss/calccarb.htm
http://users.erols.com/srweiss/calcafhp.htm
http://www.rbracing-rsr.com/runnertorquecalc.html
http://www.thecarburetorshop.com/Afterm ... setups.htm
http://www.engr.colostate.edu/~allan...a/effarea.html
http://victorylibrary.com/mopar/intake-tech-c.htm
http://www.bob2000.com/carb.htm
http://www.popularhotrodding.com/engine ... ewall.html
http://www.mortec.com/carbtip1.htm
http://www.rbracing-rsr.com/runnertorquecalc.html
http://www.centuryperformance.com/vacuum.asp
the question usually goes " what size carb do I need," or something similar, this is not a guessing game, having a good understanding of what your looking at and a few basic tools will provide more info,
http://www.harborfreight.com/fuel-pump- ... 93547.html
throw a vacuum gauge on the plenum under the carb and run the engine at w.o.t. under load and get a reading
if its higher than about 2 inches of vacuum you might benefit from a slightly larger carb.
YOU CANNOT JET OUT A MOMENTARY LEANNESS CAUSED BY AN INSUFFICIENT FUEL SUPPLY IN YOUR CARBS FUEL BOWLS, THE WRONG POWER VALVE,OR ACCELERATOR PUMP CAM, or the CARBS TRANSITION CIRCUIT THAT WILL NOT SHOW UP IN A NORMAL PLUG COLOR READING. !!!
viewtopic.php?f=44&t=777
viewtopic.php?f=55&t=2994
4v carbs are rated at a flow rate determined with a vacuum or pressure drop of 1.5" of mercury, your best power AT WIDE OPEN THROTTLE AT MAX RPMS will generally be found with a carb that lowers the pressure drop or vacuum to between 0.5" and 1.0" of vacuum, not 1.5" at full throttle,more vacuum at full throttle indicates a slight restriction to flow,
now on a street car that's not going to be much if any problem, but on a race cars engine its a sign that your potentially giving away some potential power.you might want to keep in mind that carbs are flow rated at 1.5 inches of mercury, heads at 28" of water and that anyone who has ever watched a vacuum gauge, will tell you the readings fluctuate rapidly, under most conditions and vacuum tends to vary with the cam,used the rpms the engines running, displacement and intake design,exhaust scavenging,ETC.
in most cases there factors are at least, mostly or on occasion, partly understood well enough that theres formulas and charts that can be used to define probable results, that parts selection will result in to a reasonable degree.
http://users.erols.com/srweiss/calcdchg.htm
If you decide to go with dual quads, remember when you double the venturie area with two carbs youve effectively cut the depression, or flow thru each carb on the same engine about in half
4 barrel carbs are measured at 1.5",of mercury, so a 500cfm carb that flows 500cfm at 1.5"", paired with a second 500cfm rated carb would be flowing about 350cfm at 1/2 or .75" of depression giving the new twin carbs about 700cfm as a paired flow rate, obviously the true flow is determined by the true depression or vacuum under the venturies but the ratio will be similar
lets look at your common 600cfm carb some of you guys use, a 0.5 inches of vacuum it flows only about 350cfm, at 1.0" it flows about 500cfm, at 1.5" it flows about 600 cfm , rated like a two barrel at 3.0" of vacuum it flows close to 780cfm, and if you stuck it on a 600 cubic inch big block spinning 6000rpm you'll pull about 6" of vacuum and it would flow about 1000cfm plus!
now remember you'll try to stay in the .5" to 1.5" range at full throttle, to make good power.
now some of you might notice that the flow dropped NOTICEABLY once the vacuum dropped and dropping the vacuum at wide open throttle tends to help power, provided the a/f ratio is kept near 12.5-13.0:1, AND the engine is set up to USE the flow available to it.
VOLUMETRIC EFFICIENCY
in theory a cylinder fills to 100% full, but the limited time the valves are open and the ports restrictive flow will only allow that to happen at a narrow rpm range
your engines torque curve on an rpm scale closely mirrors the engines efficiency at filling the cylinders, on that same scale, once the cam timing and port flow become a restriction power falls off because theres less fuel /air mix burnt per power stroke, the power tends to keep going up for a little further in the rpm band simply because theres MORE ,thou slightly less effective power strokes per minute.
at 1000rpm theres 500 intake strokes per minute that's 8 per second times the intake valve opens and closes, at 6500rpm that's 54 times a second, not much time when you think about what needs to flow thru that port in the limited time....especially if you remember that of that 720 degrees in the cycle only about 240 degrees have any useful flow potential, so you just cut even that time by 2/3rds
some of you may have figured out that to get the lower vacuum or restriction, you'll want a larger carb or perhaps two carbs, remember were trying to get that .5"-1.0" of vacuum at full throttle, and that 600cfm carb is not going to flow 600cfm, at that vacuum reading but between about 350-500cfm, so if you have an engine that can take full advantage of the flow it may, and usually does require a larger carb to make max power,that 383 might require an 800-850cfm carb or two 600 cfm carbs (since you double the venturie cross sectional area with two carbs the vacuum reading is generally cut to about 1/2 what it was and the two 600 cfm carbs now flow about 350cfm each or 700cfm per pair) yet the carb size is just NOT all that critical, to making fairly decent (NOT MAXIMUM POWER) simply because as the vacuum signal goes up, so does the carbs flow rate, and as the vacuum signal strength goes down so does the flow and to some extent the RESPONSE!
up till now we are talking only FULL THROTTLE POWER, but on the street,you operate under a wide range of rpms and loads, put that larger carb on a small engine and it makes good power at wide open throttle, but it also tends to have a weak vacuum signal at off idle rpm ranges and it may run like crap!
so a balance must be accepted. smaller carbs are generally more responsive, in a street combo,but slightly more restrictive with their smaller venturies.
this allows the DUAL QUAD SET UP TO HAVE SOME ADVANTAGES, remember your dealing with 8 small venturies, set up in distinct pairs, that can be set up to come in in series, or progressively not only 4 larger venturies on a single larger carb., and you can adjust most dual quads to come in in four distinctive stages, rather than just two larger ones, in most cases I set up STREET DUAL QUAD SET-UPS, so the rear carb primaries open about 1/4 of the way before the front carb primaries start to open and then the rear carbs secondaries start to open as the primaries on the front carb open about 1/4 of the way, then the front carbs secondaries open last, this is done with a progressive sliding linkage and changing the radias distance, on the carbs throttle linkage.
http://www.edelbrock.com/automotive_new ... 0/7094.pdf
http://www.streetsideauto.com/images/BD ... inkage.pdf
setting it up can be fairly easy if you understand what your doing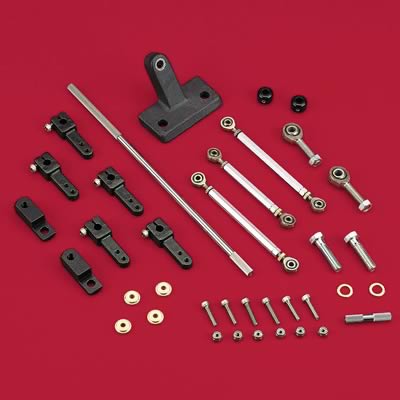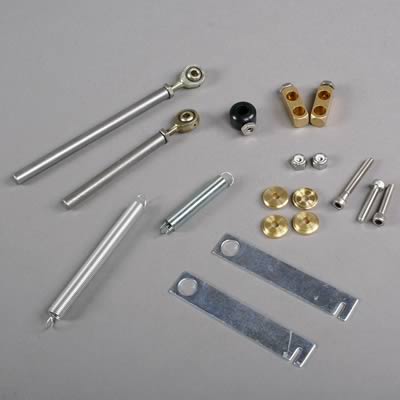 and having sliders, thread rod and small heim joints and springs helps
in most cases but not all,
your carb throttle opens as pressure is applied by the throttle pedal and (pull/tension) to the connected linkage,
a throttle linkage is closed due to throttle spring tension theres hundreds of different configurations,
brackets and springs and ways to accomplish this.
ITS been my experience that a properly set up,
throttle linkage using cables,
are generally less likely to bind or cause the geometry related issues
if you use connecting rods HEIM JOINTS HELP PREVENT BINDING ISSUES
https://www.zoro.com/qa1-female-rod-end-rh-516-24-cfr5/i/G4714683/feature-product?utm_source=google&utm_medium=surfaces&utm_campaign=shopping feed&utm_content=free google shopping clicks&gclid=CjwKCAjw0On8BRAgEiwAincsHOmXtmI0qgKNxUaCfdQw0-OerkhZyEzEMz40ZPEUIPk8iaNvhkojdBoCK2MQAvD_BwE
http://garage.grumpysperformance.com/index.php?threads/custom-throttle-linkage.861/#post-69903
http://garage.grumpysperformance.co...tment-info-700r4-related-info.604/#post-77496
http://garage.grumpysperformance.com/index.php?threads/dual-quads.444/#post-547
http://www.sracing.com/Store/Hardware_C ... d_ends.htm
http://www.thefind.com/cars/info-heim-joint-rod-end
http://www.carcraft.com/techarticles/03 ... index.html
http://www.superchevy.com/technical/eng ... index.html
http://www.speedwaymotors.com/Throttle- ... ,4369.html
if you want to build something responsive for street/strip use, these smaller 4 barrel carbs below ,make tuning easier on a car used mostly on the street
http://www.holley.com/0-8007.asp
BTW
the inline dual quad 360 open plenum, offenhauser inline intakes don,t work well in my experience
yes Ive tried several engines with that intake,
- it makes fairly decent power over 5500-rpm,
but compared to many other, intake manifolds,
its wholly lacking in low and mid rpm torque.
(a fact you can,t fully appreciate without back-to-back testing,
of several different intake manifold ,designs on the same engine)
and yes I.m fully aware that rarely happens unless either a couple of your buddies have similar dual quad intake set-ups,
and those friends are willing to spend a day swapping several intakes and tuning them,
to see the results, or you have several different intake manifolds on your shop shelf,
and again, your willing to go through the time and effort.....
.most people won,t, but being a
mechanic and masochist,

(almost mandatory in a good mechanic)
I've done it a couple times, and
yes theres a marked easily seen and felt,
difference,
between the designs that you can feel easily from the drivers seat.
and while a properly tuned dual quad intake can provide impressive power the tunnel ram design versions are almost universally the better designs, but of course hood clearance and the fact most people don,t want carbs sticking through the hood limits their wide spread appeal.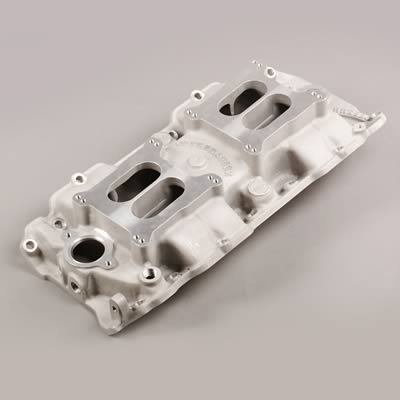 http://www.exeterautosupply.com/Docs/Of ... atalog.pdf
with every design change you get a compromise in some area, theres no free lunch, but there are choices to be made and at times those compromises benefit the application,
offy dual port intake manifolds, use a smaller separate lower set of intake runner passages,
to radically boost intake manifold runner air speeds too in theory increase the fuel to air mix and port filling efficiency
this actually works rather well in the lower rpms and as the secondary larger upper tandem ports open up that faster lower current of fast moving air tends to help the transition or slower air mix and keep up,the problem is that the divider wall between the ports is thick enough to limit the total available cross sectional area so that while low and mid rpm torque tends to benefit from the designs characteristic flow rates the peak power is slightly restricted over what you could potentially get from a more common, single larger, cross sectional area available in the intake runner port manifold like the wieand or edelbrock designs.

yeah Ive used several of the dual port offenhauser intakes in the past, they were dirt cheap at swap meets for years, so if your low on cash you could pick up an intake that would fit and function, (maybe not ideal but when your moneys tight you make do!) they were cheap, mostly because very few guys know how to effectively tune ANY carb or intake correctly, hell, Id bet 70% can't adjust valves correctly.

I,ve had guys that both loved and hated the offy intakes and

a good many times it was not the intake but the guys engine combo and his ability to tune it that made the difference,

the cross ram intake offy sells (pictured below ) can make very impressive power and it fits under many stock hoods making it a valid option if you want impressive looking dual quads on your cars engine

these work great if tuned correctly but only from about 3000-4000rpm and up and only if matched to the correct cam and heads and carbs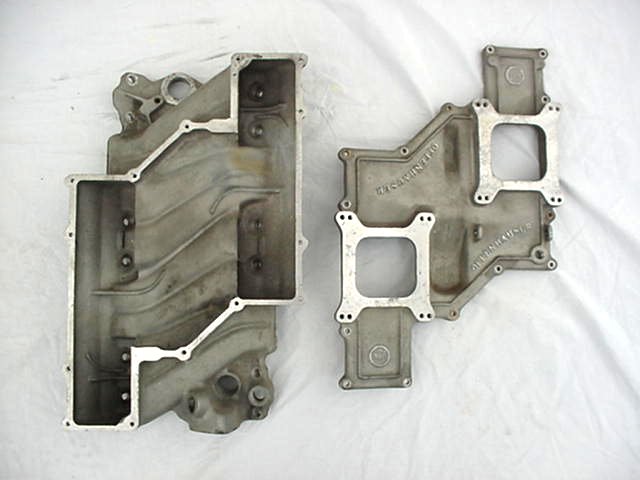 if you look closely at the cross ram design youll see it allows longer and straighter runners than almost any other design excepet some tunnel rams yet retains more hood clearance
those offy intakes are really nice on a few race cars but rules in most classes won,t allow them any more
http://www.hotrod.com/articles/cross-ram-manifold/
http://www.summitracing.com/parts/HLY-0-9776
we commonly used two 450cfm holley carbs and a crane 110921 solid lifter cam,
http://www.cranecams.com/index.php?show ... vl=2&prt=5
and a 11:1 cpr 383 with decent heads that flow about 250cfm @ .500 lift with that intake, a 3.90:1-4.11:1 rear gear and a manual transmission in a lightened camaro or vega engine swap, to produce a kick butt combo
if you want a current inline dual quad intake,ID suggest getting the newer edelbrock design even with the obviously higher cost
http://www.summitracing.com/parts/EDL-7525/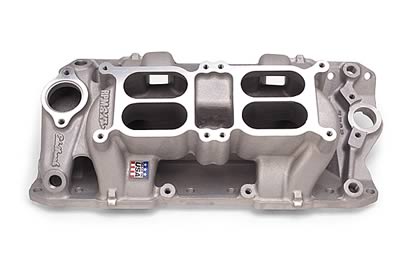 READ THRU THESE
http://www.superchevy.com/how-to/148-0403-dual/
http://www.superchevy.com/how-to/engine ... sults.html
http://www.superchevy.com/how-to/engine ... rison.html
http://www.superchevy.com/news/dual-qua ... all-block/
If you can,t get the carbs to fully open or smoothly transition, its usually a linkage issue ,if your local to the west palm beach fla area I can CURE that issue in under 30-90 minutes and get it operating smoothly, but theres a couple routes you can go and all of them will be superior to the current set up, you have if it won,t open the throttle blades fully
some thread rod,1/4 20 thread heim joints , and a couple bell cranks would cure that easily
btw the rollers they use on glass slide doors can be used as a roller pivot and the custom arms brazed to them to make nice smooth pivot points CHEAPLY
Last edited: