The Grumpy Grease Monkey mechanical engineer.
Staff member
Grumpy?
can i install a set of roller rockers,1.6 ratio in my l79 engine with having my pushrod holes elongated to accept the 1.6 ratio?
https://www.hotrod.com/articles/roller-rocker-ratio-test/
https://www.onallcylinders.com/2018...rease-horsepower-engine-masters-gets-answers/
https://www.hotrod.com/articles/hrdp-1305-rocker-arm-comparo/
If your thinking you can swap to the 1.6:1 rockers without checking clearances carefully, ...probably not, your certainly going to need to check and verify clearances , and yeah, youll find a dozen guys that say they did it with zero problems......many could also tell you that in a few months they experienced a cam lobe /lifter or rocker failure as the push rod binding in even only part of the rockers arc, tends to cause excessive wear on the valve train, it might take some time but it will result in component failure over time if parts can,t move freely as designed.
youll want too use a .060 clearance too the push rod to cylinder head slot clearance CHECKED CAREFULLY OVER THE FULL ARC OF THE ROCKER TRAVEL FOR A FULL TWO ENGINE ROTATIONS
if you need a LOUIS TOOL to lengthen the slots in the cylinder head I generally lay a section of plastic wrap in the lifter gallery and be sure to place two magnets on the blocks lifter gallery wall, to hold the thin plastic wrap in place firmly, below the cylinder head while drilling to catch the metalic debris the drill will generally produce, between the plastic sheat and the magnets youll generally catch 100% of the trash the drill generates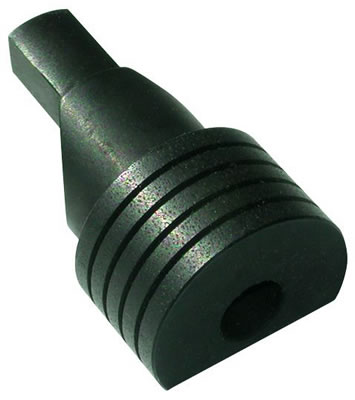 btw place a magnet like this under each pushrod slot to catch the drill chips from iron heads
These Proform pushrod slotting tools are designed to elongate the pushrod slot in the cylinder head. They will make room for higher ratio rocker arms. Use these tools with a drill and a 5/16 in. drill bit to elongate the pushrod slot.
http://garage.grumpysperformance.co...o-rockers-and-the-pushrods-rub.198/#post-3033
http://garage.grumpysperformance.co...swap-in-1-6-1-ratio-rockers.10671/#post-46039
http://garage.grumpysperformance.co...ch-is-best-steel-or-aluminum.3124/#post-12385
http://garage.grumpysperformance.co...e-train-clearances-and-problems.528/#post-664
Last edited: