Administrator
Staff member
its fairly common practice for race engines to install a course mesh screen over the oil return holes in the block to limit the travel of fragmented valve train components, should something rather nasty occur and bits and pieces of fragmented valve train find their way into the lifter gallery, Ive always used

3/16" -or 1/4" grid stainless screens and used epoxy too secure the screens to the block surfaces over the drain back holes,

along with high temp magnets, the reason is that a single roller bearing , bit of shattered valve spring,or valve keeper that gets into the lower engine can do an amazing amount of damage and its PREVENTABLE with the magnets and screens installed

if the magnets used with shrapnel screens in the lifter gallery drain holes,if you place one in the rear of the lifter gallery and at least two in opposite corners of the oil pan, you generally catch valve train trash like metallic grit and lost valve keepers before they can find their way into the oil pump, greatly reducing the chances of problems

engine building is about 75% technology and science and 10% art, and 15% skill gained through experience,over time.
doing it successfully mandates the person involved, in the process, can accurately observe, think, and recognize problems,
and if required, stop and think up solutions.


yes it involves knowing how components are intended to function and accurate precision measurement and access to some specific tools and a skilled well equiped machine shop you can trust, is a mandatory factor and skill set.


so many guys seem to be under the absurd impression that any and all solutions,
to any and all problems,
invariably involve, throwing away some component,
and installing some new out of the box part,
instead of acting logically and actually measuring,
thinking and potentially custom clearancing or at least reading the instructions,
and as most experienced engine builders will tell you ,


almost nothing you can buy fits and functions correctly in out-of-the-box, condition


,too near its true potential.after its ,


carefully, inspected, and correctly clearanced, and fitted.

many guys for some reason fail to think things through completely, adding magnets too the oil pan can prevent a great deal of metallic debris from entering the oil pump which it must pass through well before reaching the oil filter, and if theres a decent volume of debris already trapped in the oil filter, in most cases the lube system can bye-pass the restrictive flow past the filter, it only takes a single valve lock to destroy oil pump gears and the oil pump pick-up pre-screens don,t always prevent that
http://garage.grumpysperformance.com/index.php?threads/magnets.120/#post-49772
http://garage.grumpysperformance.com/index.php?threads/magnets.120/#post-49771
heres a good example of why keeping small metallic debris like valve locks and rocker arm bearing parts out of the oil pump gears is a good idea, shrapnel screens and magnets tend to reduce that from occurring.
DO NOT USE WINDOW SCREEN FOR THIS APPLICATION (SHRAPNEL SCREENS!)< THE HOLES ARE TOO SMALL AND THEY WILL CLOG UP, holes should be in the .100-.125 range, and used in conjunction with the high strength magnets
on a SMALL BLOCK RUNNING FLAT TAPPET LIFTERS ,ADDING THIS OVER THE SHRAPNEL SCREENS TENDS TO ADD ADDITIONAL PROTECTION FROM VALVE TRAIN FAILURE DAMAGE
25050 Lifter Valley Oil Baffle, Small Block Chevy, including 18° heads Only $33.99
http://www.jegs.com/i/Moroso/710/25050/10002/-1
* Increases horsepower by shielding bottom of intake manifold from hot oil
* Keeps surplus oil out of valve covers by eliminating oil splash
* Maintains oil pressure during pushrod or rocker arm failure by keeping lifters in their bores (except with roller cam)
* Due to slight variation in blocks, the baffle may have to be trimmed .060 - .100" before it will "snap" into place
*
Cannot be used with roller lifters
NATURALLY YOU'LL NEED TO DO OIL CHANGES REGULARLY WITH DECENT QUALITY OIL on a HIGH PERFORMANCE ENGINE OR THE SLUDGE BUILD UP FROM OLD OIL ON THE SCREENS PREVENTS OIL DRAINING BACK AFTER AWHILE, IF YOU ALLOW THE OIL TO GET THAT OLD,and DIRTY, YOU'VE GOT ZERO BUSINESS INSTALLING SCREENS IN AN ENGINE
#8-or-#6 mesh stainless screen, or 1/8" or larger perforated metal is about correct, but its a bit smaller than ideal if you don,t do regular and frequent oil changes

this PERFORATED SHEET METAL AND EPOXYS USED ABOVE IS GREAT, ESPECIALLY WITH MAGNETS
THIS SCREEN IS A BIT SMALLER THAN IDEAL IN THAT ITS EASILY CLOGGED
moroso sells kits but you can easily do it yourself
viewtopic.php?f=62&t=1518&p=3473#p3473
http://www.moroso.com/catalog/categoryd ... Code=13021
http://www.moroso.com/catalog/images/25000_inst.pdf
http://performanceparts.com/part.php?partID=5904
viewtopic.php?f=44&t=1518&p=22252&hilit=preforated#p22252
J&B weld works if the blocks been degreased before the epoxys used
http://jbweld.net/index.php
IVE used it for many years with zero problems
btw, add a few magnets to the oil pan and drain back area in your engine, the trap and hold metalic dust that comes from wear and increase engine life span by preventing that crap embedding in the bearings
http://www.kjmagnetics.com/proddetai...d=D66SH&cat=13
http://www.kjmagnetics.com/proddetail.asp?prod=D66SH
http://www.kjmagnetics.com/proddetail.asp?prod=D82SH
these are even more tolerant of temp swings and retain strength at even higher engine oil temps plus they are smaller and easier to use
custom made by HELICOIL, this shows hes thinking things thru!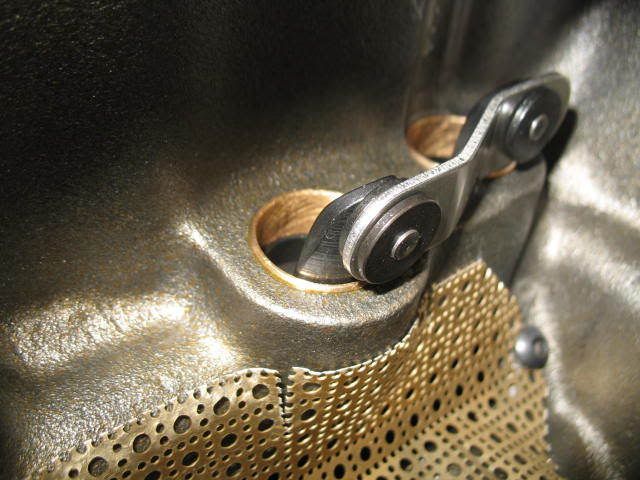 The SH material in the D66SH magnets, means that the magnets can be heated to 300° F without any loss of magnetic strength, unlike standard neodymium magnets that begin to lose strength at 175° F. Suitable for many high temperature applications.
http://people.msoe.edu/~yoderw/oilfilte ... study.html
http://www.kjmagnetics.com/proddetail.asp?prod=D66SH
if your worried about the potential for valve train shrapnel getting into your engine use several of these magnets in the lifter gallery and oil pan and shrapnel screens in the lifter galleries, its amazing the crud they collect and hold and prevent from getting into the oil pump
shrapnel screens in the lifter gallery and magnets in the lifter gallery , rear drain holes in the heads and oil pan sump, plus a decent screen on the oil pump pickup go a LONG WAY toward preventing metallic trash from reaching the oil pump, and a single valve stem keeper, ot bit of busted valve spring reaching the oil pump gears are all it takes to ruin an oil pump
http://www.kjmagnetics.com/proddetail.asp?prod=D66SH
http://forum.grumpysperformance.com/viewtopic.php?f=54&t=120&p=150#p150
use J&B WELD on future builds, it drys solid over night,
or if your in a hurry theres the 5 minute dry version
both formulas work up to over 300F, and your oil should NOT get that hot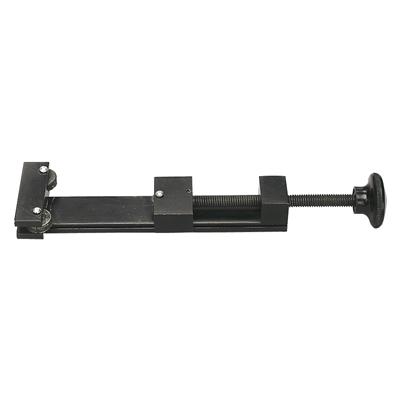 http://www.summitracing.com/parts/SUM-900510/
these work great, for inspecting what reaches the filter,but if you,
place several of these magnets (LINK BELOW) in your oil pan,and lifter gallery, it reduces significantly the metallic crud going thru the oil pump, thus reducing wear and preventing some issues like busted bits of valve train reaching the pumps gears
viewtopic.php?f=44&t=1518&p=12667&hilit=preforated#p12667
http://www.kjmagnetics.com/proddetail.asp?prod=D82SH
http://www.kjmagnetics.com/proddetail.asp?prod=D66SH
http://www.twpinc.com/wire-mesh/TWPCAT_ ... 8S0280W36T
BE AWARE magnets heat tolerance differs so ask for and pay attention to the heat limitations, a MINIMUM of 300F for any magnet expected to be used bathed in hot engine oil would be smart
if you want to build custom windage screens, oil cooler mount plates,grills, exhaust baffles ,LIFTER VALLEY SHRAPNEL SCREENS etc
perforated steel or aluminum sheet comes in really handy, THE SIZE AND MATERIAL USED WILL NATURALLY VARY WITH THE APPLICATION
home depot and lowes carry some types
heres more sources
http://www.onlinemetals.com/merchant.cfm?id=1004&step=2
viewtopic.php?f=44&t=1518&p=3473#p3473
shrapnel screens epoxied into the block to prevent valve train failure shrapnel from inducing bearing failure if crap gets sucked into the oil pump is a good idea IF you do frequent oil changes so the screens won,t get sledged up
THE SCREEN ABOVE IS CLOSE TO BEING IDEAL
THE SCREEN ABOVE IS TOO SMALL TO BE IDEAL
while I generally use stainless 6 or 8 mesh screens theres lots of options that will work just fine, just remember to keep the oil changed regularly or theres some potential for sludge to clog ANY size shrapnel screens
http://www.twpinc.com/twpinc/products/T ... 6T0350W36T
http://www.twpinc.com/twpinc/products/T ... 8S0280W36T

IVE typically used these magnets in an engine, one in the rear oil drain on each cylinder head, one near each lifter gallery drain and 4 in the oil pan sump
http://www.kjmagnetics.com/proddetail.asp?prod=D82SH
BE AWARE magnets heat tolerance differs so ask for and pay attention to the heat limitations, a MINIMUM of 300F for any magnet expected to be used bathed in hot engine oil would be smart
heres whats left of a failed roller lifter roller wheel,

Ive seen several similar failures , roller lifter life and valve train component expectancy tends to be rather short once spring pressures exceed about 500 psi and lifter exceed about .700 with that failing the cam lobe was nearly instantly destroyed, without several magnets and a shrapnel screen trapping most of the debris damage would be even worse to the bearings that what it was as easily 90% plus of the crap was trapped by magnets and never entered the oil pump,

if only a single one of those hardened roller bearings gets sucked into an oil pump the norma/ result is a seized or busted oil pump and almost instant loss of oil pressure
Last edited by a moderator: