Administrator
Staff member
look thru and READ THESE LINKS AND SUB LINKS ,this IS CRITICAL
stock replacement
http://www.vapinc.com/clutch/pressureplates.html
http://www.novak-adapt.com/knowledge/clutches-etc
http://www.ramclutches.com/clutchuniversity2.html
http://www.specclutch.com/products
http://competitionclutch.com/base/
https://www.autozone.com/drivetrain/clutch-set
http://www.powerperformancenews.com/tech-articles/clutch-and-release/
http://garage.grumpysperformance.com/index.php?threads/clutch-chatter-issues.14077/
http://garage.grumpysperformance.co...tion-about-throw-out-bearing.6258/#post-19699
http://www.hurst-drivelines.com/?page_id=7
http://extremeautomatics.com/th2004R.php#clutchTurbo400
http://auto.howstuffworks.com/clutch.htm
http://www.youtube.com/watch?v=6BaECAba ... re=channel
http://www.novak-adapt.com/knowledge/clutches_etc.htm
http://www.circletrack.com/drivetrainte ... ewall.html
http://www.usaperform.com/clutches-bell ... c-468.html
http://www.youtube.com/watch?v=6BaECAba ... re=related
http://www.enginebuildermag.com/Article ... ntrol.aspx
http://www.robbmcperformance.com/products/dowels.html
http://www.ramclutches.com/Products/str ... #Powergrip
viewtopic.php?f=71&t=9798&p=37141#p37141
http://www.dwclutch.com/D&W/D&W%20Clutc ... de%208.pdf
viewtopic.php?f=53&t=1042&p=1969#p1969
viewtopic.php?f=71&t=584&p=757&hilit=lakewood#p757
http://www.2carpros.com/articles/how-clutch-works
http://www.hotrod.com/techarticles/driv ... index.html
viewtopic.php?f=71&t=584&p=757#p757
http://www.vetteweb.com/tech/vemp_0910_ ... index.html
http://en.wikipedia.org/wiki/Clutch
http://www.haysclutches.com/ProductsLis ... election=3
http://www.circletrack.com/drivetrainte ... index.html
http://www.circletrack.com/howto/78378_ ... index.html
viewtopic.php?f=38&t=3900&p=10338#p10338
http://www.haysclutches.com/pdf/Perform ... h_Kits.pdf
viewtopic.php?f=71&t=584
viewtopic.php?f=39&t=385&p=472&hilit=+bellhousing#p472
https://www.novak-adapt.com/catalog/clutch/kit-hcr3/kit-hcrc
your local area is sure to have a decent clutch shop that can sell you a nice heavy duty clutch and pressure plate assembly at a reasonable price, especially if you know exactly what to ask for, get friendly with the guys, you'll be seeing them more than once, but be aware they generally won,t want to assemble a 3600-3800lb clamp load custom clutch unless you assure them its only going to be used for racing and youve fully realized the huge increase in petal pressure required to use it. theres always trade offs, but a good 11" borg and beck clutch set up with heavier springs on a 35-40 lb steel billet flywheel can take a great deal of abuse, on a serious engine and not cost you nearly what some of the more trick, newer versions would cost.
input shaft is the SPLINE shaft the clutch disk rides on not the smooth outer collar the throw-out bearing rides on, that 1.375 throw out bearing is most likely correct, the SPLINE shafts come in different tooth counts if you count those and order the matched disc its most likely going to fit
discs come in
10 spline
and
26 spline
count types and
10.4"
and
11" diam
. for most chevy clutches, naturally the spline count must match the input shaft and the diam. must match the pressure plate,
BRING OLD PARTS TO THE CLUTCH REBUILDER, OR AUTO PARTS STORE TO TEST MATCH AND COMPARE WITH THE NEW PARTS
keep in mind the less a clutch slips the less heat and wear it has, and in most cases the longer it lasts but to get less slippage usually requires a higher clamping pressure resulting in a stiffer petal, and a more pronounce GRABBING or smooth power application,as it seats.
now learning how to shift helps a great deal, and not riding the clutch helps, but everything a compromise in some area, and doubling the clutch surface with a dual disc design has advantages in some applications.
replacing a clutch in a car brings back memories, I remember installing a clutch disk withe the wrong side facing the pressure plate when I was about 19 years old and effectively had to do the whole clutch replacement job a second time because of that stupid move, but you can be 100% sure I never did that again , co its part of paying your dues in the hobby, a learning experience
mportance of Pressure Plate
The pressure plate is an integral factor in the function of an automobile's manual transmission. The pressure plate pushes the clutch disc, sometimes called the clutch plate, against the constantly spinning engine flywheel. The clutch disc, therefore, is either stationary or rotating at the same speed as the flywheel. Friction material, similar to that found on brake pads and brake drums, causes the clutch disc to spin at the same speed as the engine flywheel. It is this friction between clutch disc and flywheel that allows the engine torque to drive the wheels.
Pressure plates are, as the name implies, round, metallic devices containing springs and fingers, or levers, and controlled by the release fork connected to the shifter. All of the clutch components are enclosed in the bell housing of the transmission, between the rear of the engine and the front of the gearboxWhen the driver steps on the clutch pedal, a number of springs in the pressure plate are compressed by multiple — most often three — fingers. This compression of the spring(s) pulls the pressure plate and the clutch disc away from the flywheel and thus prevents the clutch disc from rotating. When the clutch disc is stationary, the driver can shift into the proper gear and release the clutch pedal. When the pedal is let up, the fingers in the pressure plate release their grip and the spring(s) expand to push the pressure plate into the clutch disc, thereby engaging the flywheel. This release process is often called the "clamp load".
There are three major types of pressure plates: (1) The Long style which contains nine coil springs for pressure against the flywheel and three thin fingers for release. The Long style plate is used mainly for drag racing. (2) The Borg & Beck style also contains nine coil springs and three fingers. The fingers are wider, however, and the Borg & Beck has the more robust materials and design necessary for street driving. (3) The diaphragm pressure plate is best suited for street use and is, therefore, the most common type found on later-model automobiles. It contains a single Bellville-style spring that applies a more even load from clutch plate to flywheel. Because the single-spring diaphragm is more effective "over-center", there is also less effort needed by the driver to hold the clutch pedal in the depressed position at a stop.
THESE LINKS and SUB LINKS MIGHT HELP
viewtopic.php?f=71&t=584
viewtopic.php?f=71&t=6899
viewtopic.php?f=71&t=6258&p=19699&hilit=pilot+bearing#p19699
viewtopic.php?f=71&t=4637&p=12635&hilit=pilot+bearing#p12635
viewtopic.php?f=71&t=2596&p=6689&hilit=pilot+bearing#p6689
viewtopic.php?f=39&t=1122&p=2236&hilit=hydraulic+bearing#p2236
standard diaphragm replacement clutch
Diaphragm pressure plates work well for street/strip applications, featuring maximum clamp load with minimum pedal effort, but have a bad habit of sticking to the floor in the cheaper designs if shifted at high rpms
GM Diaphragm Pressure Plates
If you need a clutch for your everyday driver, this is the clutch for you. RAM clutch sets are the first choice of professional installers because each set contains the correct, top quality replacement parts to ensure proper fit and operation in your vehicle. Every RAM premium clutch set is backed by our five year/50,000 mile limited warranty.
http://www.jegs.com/webapp/wcs/stores/servlet/product2_10001_10002_752681_-1
borg and beck style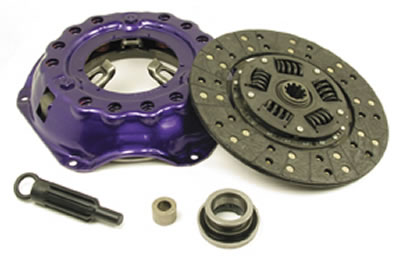 you can have stiffer springs installed in a clutch pressure plate that can significantly increase the clamp loads, this tends to increase petal effort but also increases clutch life in most cases
most of these BORG & BECK clutch pressure plate's don,t use the stiff springs or for that matter springs in all locations in that pressure plate.
This type of clutch will increase the pedal effort in order to achieve the extra holding power, and may require strengthening of your clutch linkage components for proper operation. Roller, or centrifugal assist models are available for non-shifting applications such as clutch less transmissions, or where shifting is done below 6000 RPM.
long style
look close AND notice the center location in each group of three coil springs is missing on this pressure plate
The Long Style is the preferred pressure plate for true competition clutch systems. These units provide a combination of static and centrifugal pressure. This characteristic allows setting up the clutch to suit the car and track conditions. Static pressure is provided by coil springs and remains constant throughout the RPM range of the motor. Additional pressure is provided by centrifugal force acting on the levers which impart this force to the pressure ring of the clutch. Centrifugal pressure is RPM sensitive, meaning the force increases as the engine RPM increases. Long Style clutches are available with fixed static and centrifugal pressure or with adjustable pressures to allow precise clutch tuning. Long Style clutches feature explosion resistant pressure rings, chrome vanadium springs for long life without loss of pressure, welded spring guide cups in a heavy duty cover, and all new heavy duty hardware. RAM can build Long Style clutches in any pressure range and with or without counterweight levers for non-shifting applications such as Lenco or other clutch less transmissions.
some pressure plate designs have counter weights on pivots to increase pressure holding the disc against the flywheel, as the rpms increase
Ive generally selected one of the two lower designs in a 3000lb-3600 lb design for a serious BBC, and had them custom assembled by a good local shop
once your over about 600 ft lbs of torque you may want a dual disk design
BTW the upper clutch of the four in the thread above is easy to push in,smooth and quiet, but not nearly as strong as the lower designs,( its stock) the lower clutches are noticeably harder to depress, and can be noisy because theres movable weights and they tend too grab hard and faster , making the clutch engagement harsher but they tend too hold noticeably better also
heavy flywheels absorb, and dissipate heat better,they make the engine idle smoother they tend to make the car accelerate smoother and launch from a standing start easier, lighter flywheels allow the engine to accelerate slightly faster, or change engine rpms during gear changes a bit faster but remember the cars only getting power transferred to the rear wheels from the engine while the clutch is fully engaged.............think about that, youve got a 60-80 lb rotating assembly, including the crank, damper, rods pistons etc, spinning 1000-6000rpm and your debating reducing the effective weight 10-19 lbs with a lighter weight fly wheel , thats less durable, and its only advantage will be when its loaded against a clutch, and dragging a 3000-4000lb car along with it., on the street....the lure of light weight fly wheels comes from circle track racers who, need to use engine compression to slow the car coming into tight corners and need to blast out of those corners under wide open throttle conditions, there engines rarely fall below 4000rpm, under those conditions in a 1800lb-2500lb car it makes some sense, on a street car its a bad idea.
generally you should consider anything in a flywheel under about 20LB to be too light weight for daily street use, (most are undercut to reduce weight or aluminum, requiring friction contact pads, and don,t absorb heat, and dissipate it well unless the average engine rpms are fairly high) in the average engine combo used on the street,where launching the car smoothly from IDLE rpms is pretty much required and anything much over 35 lbs is not required either as flywheels above that weight are usually designed for high rpm launches with few gear changes where its almost mandatory to let the clutch slip while the drive train catches up with engine rpms.
for street use the 25lb-35 lb range flywheel is a good compromise for most cars, don,t forget a good quality sfi rated flywheel and blow proof bell housing could save your feet from a clutch/flywheel failure
the first time I replaced a clutch I was about 16,years old,
and I was so damn proud that Id managed to remove and replace the transmission and replace the clutch....
until I found it would not release once it was back together....
so I was forced to go ask this old geezer who must have been something like 50 years old...
that worked at the local Pontiac dealership, and he instantly deduced,
that Id installed the clutch disc facing the wrong direction, from the symptoms.....
Like I said, we mostly learn by making mistakes and if were smart,
and by watching other people make mistakes.
.
.
and you can bet you remember which way a clutch disc faces after that
typical clutch
typical clutch linkage
btw, if your old clutch is wearing its a good idea to get the cause diagnosed,inspected and perhaps have him suggest either better parts or have yours rebuilt,
bring your old parts (clutch, pressure plate, disc,throw-out bearing and flywheel to a good LOCAL clutch re-builder to have him resurface, the pressure plate, and flywheel, re-spring and replace the throw-out bearing and clutch disc, and inspect the used components as he will be able to give you good advice once he inspects the worn components, plus refurbished components should cost less than 1/2 the new price, and if hes a good knowledgeable guy they will be built to higher tolerances and IF you insist on the better components during the rebuild he will use a bit better quality springs etc.
most better shops have about a 24 hour turn around time, some in under 4 hours
http://www.jegs.com/p/J-W-Performance/J ... 7/10002/-1
you TH350 and TH400 guys need this also
Throwout Bearing Installation
Example of Correct Bearing Installation One of the most common mistakes made on GM vehicles - mostly pickups - is the improper installation of the throwout bearing onto the clutch fork. The spring (in black) on the clutch fork (in red) should be placed in the gap between the rear flange on the bearing and the front flange. You should not be able to see the spring on the back of the bearing. Symptoms of an improperly installed bearing are poor release, a mushy feeling pedal, short clutch life, and not being able to adjust for correct free play on mechanical linkage systems. This bearing and fork spring combination has been used from the late 1960's up to the present.
https://www.novak-adapt.com/catalog/clutch/kit-hcr3/kit-hcrc
http://garage.grumpysperformance.com/index.php?threads/hydraulic-throw-out-bearings.1122/#post-2236
just a few thoughts, theres two potential ways to connect a pivot arm to a throw out bearing
THERES ALSO THREE COMMON INNER DIAMETERS to fit the sleeve on the transmissions 1 1/16:., 1 1/8" and 1 3/8" , if you get the wrong inner diam, it won,t slide back or it will rattle on the transmission
theres two basic throw out bearing designs, if your using the longer throw out bearing, in a application designed for a short or connecting the pivot arm incorrectly those could both be a problem
Full Size Chevy Clutch Release Throwout Bearing, Long, ACDelco, 1958-1972
Stock Replacement
1-7/8" Long
Diaphram Style Pressure Plate
This stock replacement long clutch release throwout bearing is manufactured by GM or by one of its authorized suppliers as a factory replacement part. You will find the fit and performance meets all GM specifications. Using stock replacement parts from Eckler's, such as this long clutch release throwout bearing, is a sound investment in the restoration or repair of your Chevy.
http://www.lategreatchevy.com/full-size ... -1972.html
http://garage.grumpysperformance.com/index.php?threads/what-fly-wheel.6124/#post-35034
http://garage.grumpysperformance.co...ch-master-and-slave-cylinders.3190/#post-8505
http://garage.grumpysperformance.co...ools-diagnosing-clutch-issues.3553/#post-9431
http://chevellestuff.net/qd/crank/crank.htm
Full Size Chevy Clutch Release Throwout Bearing, Short, 1958-1972
Stock Replacement
1-1/4"
3-Finger Borg & Back Style Pressure Plate
Works With 3, 4, 5 Or 6-Speed Transmission
This stock replacement short clutch release throwout bearing is manufactured by GM or by one of its authorized suppliers as a factory replacement part. You will find the fit and performance meets all GM specifications. Using stock replacement parts from Eckler's, such as this short clutch release throwout bearing, is a sound investment in the restoration or repair of your Chevy.
http://www.lategreatchevy.com/full-size ... -1972.html
Last edited by a moderator: