The Grumpy Grease Monkey mechanical engineer.
Staff member
grumpy? I bought a really nice rectangle port intake at a local swap meet, for a damn good price, but my 454 has the crappy peanut port heads.... I have heard it will work if I use the rectangle port gaskets but I'm wondering if I will have other issues
RELATED INFO


A couple days of


reading the linked and sub-linked info


could save you a great deal of wasted time and money
and money spent on wrong or un-necessary parts
read the

links

and

sub links

below
a day or so spent doing reading and research,


(reading links and threads)


will frequently save you

thousands of dollars

and

weeks of wasted work

.
if you want a fast dependable car you will need to either do the research required to know exactly how and why things should work, or pay someone else to do the work that has taken that time and effort.
the most common mistake made by many people is that they fail to look at an engine as an interconnected group of component sub systems and they don,t realize that changes to a single component, no mater how much potential that component has is not going to allow that component or change in the potential to be realized until all the matched and supporting systems have similar potential.
EXAMPLE ,
the heads may be capable of flowing (x) on a stock engine but with careful selection of a cam with the correct duration and lift, and with a tuned header, and matching valve train mods along with some port and bowl clean-up the resulting improvements can be significantly more impressive.
larger intake manifold plenum volume TENDS to allow higher rpms
throttle body efi acts like a carb, as the injectors dump fuel/air in the plenum


\


direct port fuel injection has a separate, individual fuel injector feeding each cylinder, the plenum essentially runs mostly dry air free of fuel


http://garage.grumpysperformance.com/index.php?threads/is-backpressure-hurting-your-combo.495/
http://garage.grumpysperformance.co...alves-and-polishing-combustion-chambers.2630/
http://garage.grumpysperformance.co...e-springs-and-setting-up-the-valve-train.181/
http://garage.grumpysperformance.co...lsa-effects-your-compression-torque-dcr.1070/
http://garage.grumpysperformance.com/index.php?threads/more-port-flow-related-info.322/
http://garage.grumpysperformance.co...2-bbc-rebuild-but-think-things-through.13604/
http://garage.grumpysperformance.co...t-intake-on-oval-port-heads.13146/#post-69975
http://garage.grumpysperformance.co...sue-based-on-mis-information.6414/#post-25995
http://garage.grumpysperformance.co...lock-chevy-heads-pictures-info.410/#post-1907
http://www.wallaceracing.com/calcafhp.php
http://hpwizard.com/engine-horsepower-calculator.html
http://www.hotrod.com/articles/airflow-research-cylinder-power/
http://www.powerperformancenews.com/tech-articles/cylinder-head-tech-airflow-vs-power/
http://www.calculator.net/engine-horsepower-calculator.html
http://www.calculatoredge.com/new/horsepower.htm
worth watching, just for the tips on new head inspection
14092360...86-90...oval...OPEN...454 Truck, "peanut" round ports
Peanut port BBC cylinder heads may not be ideal for peak performance engine builds,, but they are far from useless, if your willing to do minor port and bowl clean-up and correctly match components, to maximize potential.
yes you could be ahead with decent aftermarket heads , but most of us don,t have the deep pockets to buy everything we would like too.
http://garage.grumpysperformance.com/index.php?threads/casting-numbers-vin.93/
http://garage.grumpysperformance.co...-peanut-port-big-block-combo.2900/#post-61085
I would suggest you try it out, I've seen that combo work reasonably well in the past, it will seal and work on a functional basis, with the larger rectangle port gaskets that match the larger port size, but the sudden change in the port cross sectional area tends to reduce performance slightly,and can at lower rpms cause inconsistent fuel/air mixtures as the lip causes fuel to drop out of suspension, compared to a well matched intake design with runners similar in port cross sectional area.
but in a few cases the combo of overly large runners and plenum feeding the smaller ports, produces better results than the original intake if that intake was overly restrictive.
I at one time helped tune a guys car with peanut port heads, headers and adjustable valve train with new valve springs and a mild hydraulic, performance cam, similar to a crane, 103072 that he had installed, along with a rectangle port tunnel ram intake on that car.
I had my serious reservations at the time that it would work, but surprisingly, the tunnel ran with two 450 Holley carbs, once correctly set up and tuned,the combo provided a very noticeable boost in performance over the previous stock cast iron 4 barrel intake.
keep in mind the peanut port heads generally have a NON-ADJUSTABLE valve train and valve springs that will need to be upgraded to use any decent performance cam, and peanut port head benefit from port and bowl clean-up and a multi angle valve seat upgrade and better valve springs with adjustable rockers
carefully done, port work on the intake runners and plenum can produce significant flow rate improvements
rectangle port heads generally work best on 500 or larger displacement engines
with at least 10:1 compression and cams with at least 245 duration at .050 lift and valve lifts over .600 to take advantage of the potential port flow rates
HEAD GASKET COOLANT HOLES
Overheating – it's a major concern for many after rebuilding or repairing an engine, especially if an overheat was the reason it had to be repaired in the first place. A recent trending topic on the Fel-Pro® Forum and social media pages is the relationship between overheating and the size and/or position of coolant holes in our head gaskets:
"I'm concerned that the coolant holes in the gasket are way smaller and not the right shape compared to the block."
"…I noticed that the water jacket holes in the head gasket did not match those in the block and head."
"Why are the water jackets restricted on the gaskets & can they be drilled out?"
"…the holes seem pretty small in the gaskets and some holes in the gasket are only half open on the head side. Should I open up the gasket holes to max the flow or are they this small for a reason?"
Controlling the temperature of an engine is critical for longevity and drivability. Overheating can lead to gasket failure, casting warpage and severe engine damage. At the same time, an engine that runs too cool will experience lower fuel economy, increased emissions and wear more quickly. The temperature an engine runs at needs to be properly regulated. The thermostat, radiator, and coolant play a big role in this – but they aren't alone! Head gaskets are engineered with precisely shaped and sized holes to meter the flow of coolant through the engine.
Let's take a look at a Big Block Chevy as an example – on the left we have a bare casting, on the right, a Fel-Pro head gasket is installed:

The coolant holes in the block casting are much larger than those in the Fel-Pro head gasket – this is by design!
To better visualize how much the coolant holes really control the flow of coolant, we've superimposed the gasket on the block: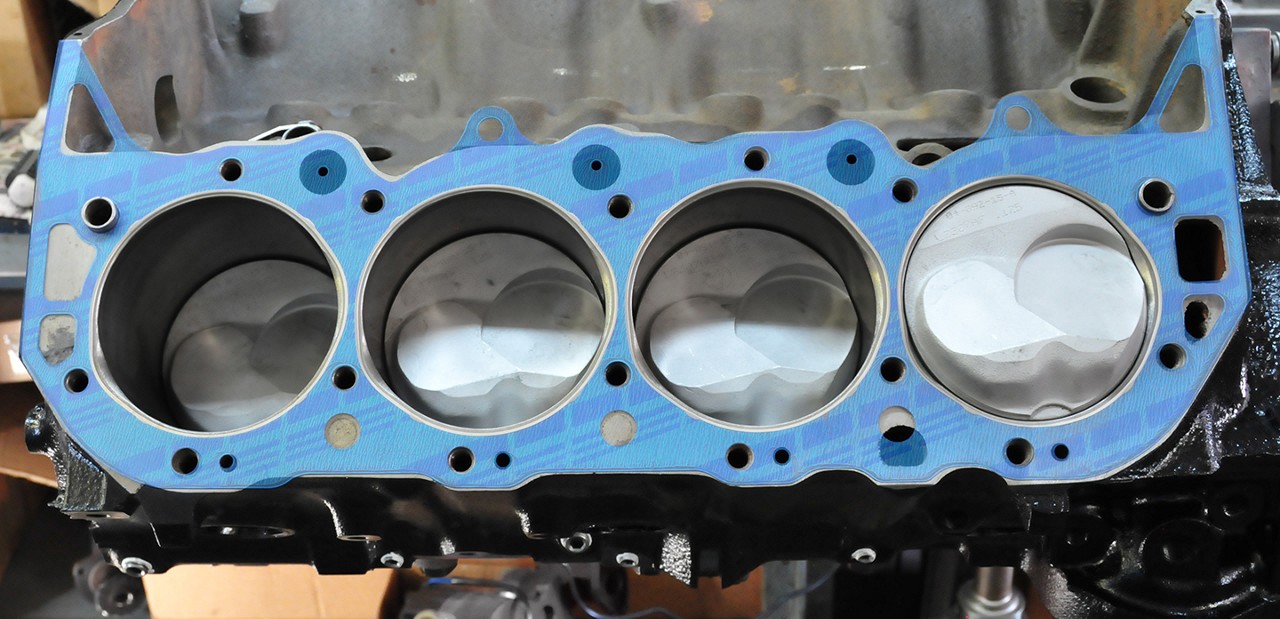 Aside from the reduction in size of the top coolant holes, the large coolant hole on the bottom right is partially blocked off. There are also holes in the gasket which are not open in the block. Some Big Block Chevy engines have these holes while others do not. This will depend on the generation, application and the intended use of the block. These are not design flaws or oversights – the size and placement of every hole in the gasket is intentional, and this is true for every gasket we manufacture.
What is the purpose of using smaller holes in the head gasket or blocking off holes in the block?
The holes in the head gaskets are there to meter the flow of coolant properly through the heads. In most engines, coolant flows from the water pump at the front of the engine block toward the rear, goes up into the head(s), to the thermostat and finally to the radiator once the thermostat opens before returning back to the water pump.
An improperly sized or placed hole can create a "shortcut" which prevents coolant from following the correct "path" through the engine. If the coolant takes a "short-cut" because a coolant hole is too large at the front of the engine, the rear cylinders can overheat. If the holes are properly placed, but too large, the coolant can pass through the engine too quickly and fail to absorb enough heat, also resulting in overheating.
So why are the castings made with holes that are larger than they should be or unneeded for proper coolant flow? Engine blocks and heads are sand-cast, meaning sand forms the mold for the casting. The holes must be large enough, and sometimes extra holes must be added, to allow the sand to be completely cleaned from the casting once it has solidified. Also on older engines the holes may not always line up due to "core shift" – that is, the blocks are not always perfectly cast, so the gasket needs to accommodate the fact that different castings may have slightly different hole positioning.
Fel-Pro® Gaskets Design Philosophy
During the Fel-Pro head gasket validation process, we sometimes find that holes should be added, deleted, changed in size or moved to better control the flow of coolant through the engine. On certain applications, holes in the head or block will be fully or partially sealed off with the head gasket. While the visual differences may seem extreme, you can install Fel-Pro gaskets with confidence because every hole is precisely placed and sized to ensure that coolant flow is properly controlled by the head gasket.
With this in mind, a Fel-Pro head gasket should never be modified in any way – doing so not only prevents proper coolant flow, but also can affect the gaskets ability to seal, as the specialized coatings can be damaged.
DOWNLOAD PDF
RELATED THREADS YOU SHOULD READ
http://garage.grumpysperformance.co...-peanut-port-big-block-combo.2900/#post-61085
http://garage.grumpysperformance.com/index.php?threads/porting-can-help.462/page-3#post-59145
http://garage.grumpysperformance.com/index.php?
http://garage.grumpysperformance.co...gine-build-up-for-the-street.3153/#post-11626
http://garage.grumpysperformance.co...tting-up-the-valve-train.181/page-2#post-7684
http://garage.grumpysperformance.co...a-peanut-port-big-block-combo.2900/#post-7532
http://garage.grumpysperformance.com/index.php?threads/cheaper-454-chevy-build.4620/#post-46849
http://garage.grumpysperformance.co...at-angles-and-air-flow.8460/page-2#post-32923
http://garage.grumpysperformance.co...olishing-combustion-chambers.2630/#post-50247
http://garage.grumpysperformance.com/index.php?threads/bbc-intake-manifold-choices.12949/
http://garage.grumpysperformance.co...ing-parts-and-a-logical-plan.7722/#post-57946
http://garage.grumpysperformance.com/index.php?threads/multi-angle-valve-job-related.3143/
Last edited: