Administrator
Staff member
Hey grumpy, my cars engine started running like crap, and the valve springs on two valves started ticking ,
( I pulled this picture off the internet, its not my engine) but it looks very similar to my engines valve springs
so obviously, Ill need to be removing,and replacing the valve springs,
removing,and replacing the valve springs,
testing and replacing valve springs can be done with the heads on the car, but its far easier to do correctly with the heads off the car.
youll eventually find a need to replace valve springs on any car that you either race or replace a cam in its engine so youll need the correct valve spring compressor tool
http://www.lislecorp.com/divisions/prod ... category=6
if you don,t think the trouble and expense of installing a few shrapnel screens and a dozen magnets is worth the time and effort consider how much metallic crap will circulate through the oil pump if they are not in place when something unpleasant happens
THIS TOOL WORKS OK ON SINGLE SPRINGS BUT NOT DUAL VALVE SPRINGS
http://www.summitracing.com/parts/otc-4573/media/images
http://www.summitracing.com/parts/wmr-w ... dia/images
THIS TOOL IS A BIT FLIMSY BUT WORK ON MOST HEADS WITH STOCK SPRINGS BUT ONLY WITH THE HEADS OFF THE ENGINE
http://www.summitracing.com/parts/sum-9 ... dia/images
THIS TOOL WORKS ON SOME HEADS BETTER THAN OTHERS, WITH THE HEADS ON OR OFF THE ENGINE
http://www.summitracing.com/parts/pro-6 ... dia/images
these links should help you understand the subject
THESE LINKS MAY ALSO PROVE TO BE USEFUL

http://www.buxtonengineering.com/on_head_valve_spring_tester.php

viewtopic.php?f=52&t=7716&p=29813#p29813

viewtopic.php?f=52&t=528&p=46440&hilit=shims#p46440

viewtopic.php?f=50&t=903&p=12435&hilit=valve+spring+compressor#p12435

viewtopic.php?f=52&t=2787&p=7220&hilit=valve+spring+compressor#p7220
valve spring compressors
the valve spring compressor design you use and the use of a large strong magnet can significantly reduce the tendency of those little S.O.B,s from poping off to parts unknown

http://www.kjmagnetics.com/proddetail.asp?prod=DCA
$12 or so spent on a decent magnet placed next to the valve keepers during the removal process tends to significantly reduce the chances of lost valve keepers
valve spring compressors


If your thinking you can swap to the 1.6:1 rockers without checking clearances carefully, ...probably not, your certainly going to need to check and verify clearances , and yeah, youll find a dozen guys that say they did it with zero problems......many could also tell you that in a few months they experienced a cam lobe /lifter or rocker failure as the push rod binding in even only part of the rockers arc, tends to cause excessive wear on the valve train, it might take some time but it will result in component failure over time if parts can,t move freely as designed.


youll want too use a .060 clearance too the push rod to cylinder head slot clearance CHECKED CAREFULLY OVER THE FULL ARC OF THE ROCKER TRAVEL FOR A FULL TWO ENGINE ROTATIONS
if you need a LOUIS TOOL to lengthen the slots in the cylinder head I generally lay a section of plastic wrap in the lifter gallery and be sure to place two magnets on the blocks lifter gallery wall, to hold the thin plastic wrap in place firmly, below the cylinder head while drilling to catch the metalic debris the drill will generally produce, between the plastic sheat and the magnets youll generally catch 100% of the trash the drill generates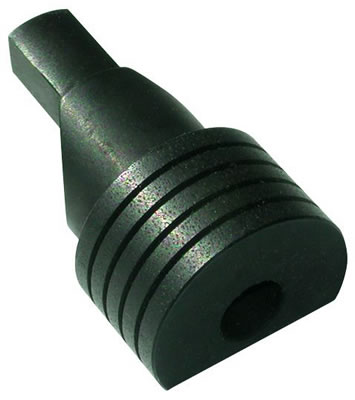 btw place a magnet like this under each pushrod slot to catch the drill chips from iron heads


These Proform pushrod slotting tools are designed to elongate the pushrod slot in the cylinder head. They will make room for higher ratio rocker arms. Use these tools with a drill and a 5/16 in. drill bit to elongate the pushrod slot.

http://garage.grumpysperformance.co...o-rockers-and-the-pushrods-rub.198/#post-3033
http://garage.grumpysperformance.co...swap-in-1-6-1-ratio-rockers.10671/#post-46039
http://garage.grumpysperformance.co...e-train-clearances-and-problems.528/#post-664
http://www.jegs.com/i/Moroso/710/62371/10002/-1



you need EITHER PUSH ROD GUIDE PLATES


BELOW

NOTICE SCREW IN ROCKER STUDS



OR SELF ALIGNING ROCKERS (BELOW)
USED WITH PRESS IN ROCKER STUDS
used with press in rocker studs
yes they DO MAKE ROLLER ROCKERS IN BOTH STANDARD AND SELF ALIGNING VERSIONS


pictured above you see the last rocked badly out of alignment with the valve center line,
a good example why you need adjustable guide plates, this rocker if left too run off center like this, on the valve stem tip , will quickly destroy the valve guide and rocker

if your heads have push rod guide plates you are not supposed to use self aligning rockers as yes they will frequently bind the push rods up and keep them from spinning, if you have guide plates you want the NON-self aligning rockers
as I've pointed out dozens of times a day spent reading links will save you a week of work and a wheelbarrow full of wasted cash.
http://garage.grumpysperformance.co...s-in-vs-threaded-rocker-studs.2746/#post-7475
http://garage.grumpysperformance.com/index.php?threads/valve-train-clearances-and-problems.528/
http://garage.grumpysperformance.co...-in-vs-threaded-rocker-studs.2746/#post-43539
http://garage.grumpysperformance.com/index.php?threads/push-rods-rub.13031/#post-67779
http://garage.grumpysperformance.co...-rockers-and-the-pushrods-rub.198/#post-56571
http://garage.grumpysperformance.co...e-springs-and-setting-up-the-valve-train.181/
http://garage.grumpysperformance.co...-pushrods-and-check-info-you-might-need.5931/
http://garage.grumpysperformance.com/index.php?threads/stock-gm-push-rod-length.3844/
http://garage.grumpysperformance.co...ve-spring-iinstalled-height.12790/#post-66037
http://garage.grumpysperformance.com/index.php?threads/more-bent-push-rods.12401/#post-61890
http://garage.grumpysperformance.com/index.php?threads/rocker-push-rod-wear-issues.9815/#post-54088
http://garage.grumpysperformance.com/index.php?threads/z28-valve-spring-upgrade.10409/#post-43176
http://www.corvettefever.com/tipstricks ... ewall.html
viewtopic.php?f=50&t=903&p=10020&hilit=change+valve+springs#p10020
http://garage.grumpysperformance.co...pressors-and-checking-springs.903/#post-10020
viewtopic.php?f=52&t=4957&p=13739&hilit=spring+bind#p13739
viewtopic.php?f=52&t=181&p=19783&hilit=change+valve+springs#p19783
viewtopic.php?f=52&t=6237&p=19552&hilit=change+valve+springs#p19552
viewtopic.php?f=52&t=4962&p=13780&hilit=change+valve+springs#p13780
Last edited by a moderator: