Administrator
Staff member
be aware that chevy small block water pumps can be either standard or reverse rotation designs, the 1984-91 corvettes use a reverse rotation pump.this allows the fan belt powering the water pump to travel in either direction provided the correct matching water pumps used, this DOES NOT change the direction of coolant flow in the engine block which in the standard small block chevy enters the front of the engine block , then travels to the rear and up into the cylinder heads then back to the radiator thru the intake manifold thermostat, into the upper radiator hose
THE LT1 or second design water pump pushes the coolant into the cylinder heads where its eventually forced down thru holes in the lower cylinder heads back into the block and back to the water pump, never flowing thru the intake manifold, on an LT1 the upper radiator hose exits the water pump.

ON MOST CHEVY WATER PUMPS COOLANTS DRAWN FROM LOWER RADIATOR HOSE TO THE CENTER AREA OF THE WATER PUMP WHERE IT ENTERS BEHIND THE IMPELLER, THE SPINNING IMPELLERS BLADES INDUCE INERTIAL LOADS DUE TO CENTRIFUGAL FORCE ON THE TRAPPED COOLANT TOO THE OUTER DIAM. EDGE OF THE IMPELLER, ON THE OUTER DIAMETER SIDE IS AN EXIT PORT TO DIRECT LOW PRESSURE COOLANT FLOW OUT OF THE PUMP,INTO THE BLOCK

http://www.daycoproducts.com/daycoweb.n ... gGuide.pdf
http://www.kwikperf.com/bbc_serp_kit.html
http://vintageair.com/DownloadsSection/ ... net%29.pdf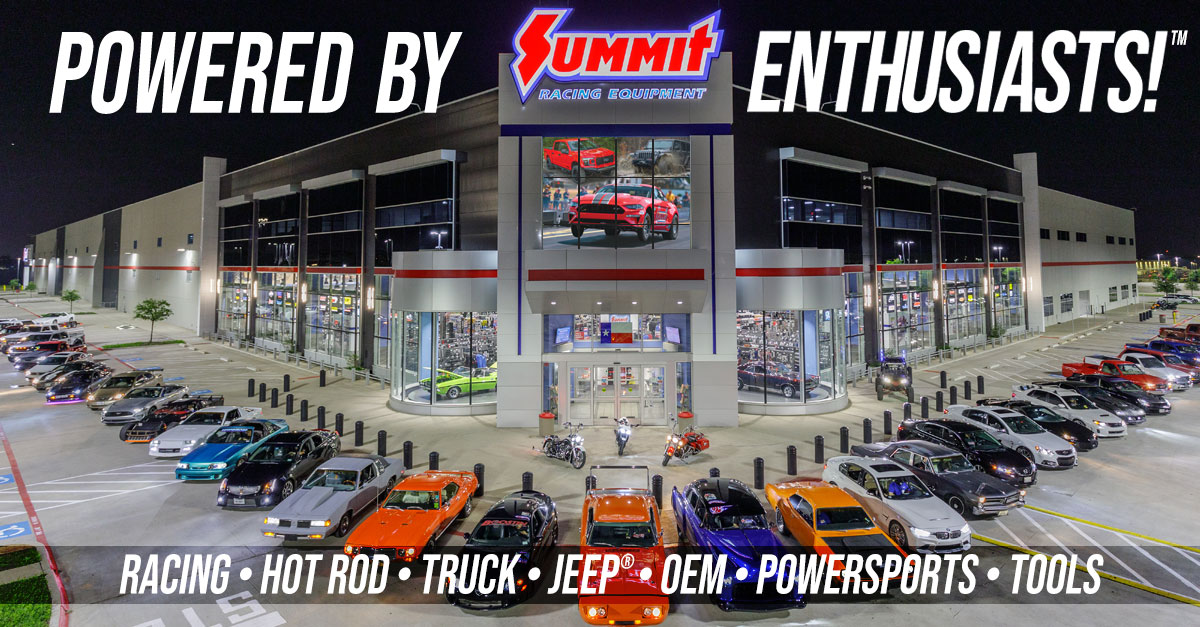 Guaranteed low prices on car and truck parts for most Chevy models, including Camaro, Corvette, Chevelle, Nova, Silverado, Suburban, Cavalier & more.
www.summitracing.com


now THATS A VERY USEFUL LINK!
http://www.stewartcomponents.com/index. ... path=60_66
http://www.circletrack.com/enginetech/c ... index.html
viewtopic.php?f=57&t=74&p=674#p674
http://store.summitracing.com/egnsearch ... wordSearch
http://store.summitracing.com/partdetai ... toview=sku
http://www.corvettefever.com/techarticl ... index.html
http://www.zip-corvette.com/Zip/product ... E93AE993E8
http://www.cruisecooler.com/FAQs.html
http://www.who-sells-it.com/cy/holley-p ... -9381.html
http://store.summitracing.com/egnsearch ... toview=sku
http://www.corvetteflorida.com/forums/s ... hp?t=26347
http://www.flowkoolerwaterpumps.com/sto ... index.html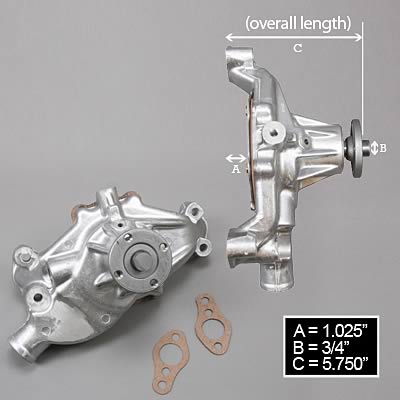 keep in mind theres theres BOTH




iron and steel water pump designs,




standard and high flow designs,




BOTH clockwise and COUNTER clockwise rotation,




long and short designs and at least two,




a 5/8" and 3/4" dia center axle size




that the pullies need to match

.

Running straight water in your corvettes in theory cools the engine better, because It transfers heat more efficiently BUT...straight water acts like the acid in a battery and greatly increases corrosion,it effectively causes electrolysis and that will destroy the aluminum in the cooling system very very quickly. As electricity flows thru the block the charge travels thru the water and this allows electrons from the aluminum to be carried away with it in a chemical reaction driven by the electrical charge. The end result is an aluminum head, intake and water pump that has the water passages will be eaten thru like someone poured acid in the cooling system.....There will be pits and holes at random spots where ever there is aluminum in contact with coolant. The solution is a zinc or magnesium anode to take the abuse of the electricity much like the zinc blocks that are mounted on the hull of a ship for the same reason. There are zinc anodes that can be attached to radiator caps that drop in the radiator for those that want that extra oz of protection against electrolysis. The use of the proper mix of anti-freeze & water slows or prevents this chemical/electrical process from taking place. The only other concern is the age of the anti-freeze as that anti-freeze eventually turns acidic over time.

ALWAYS use an ANODE in the block and at least 40% antifreeze to reduce corrosion, water cools slightly better but its electric conductivity tends to allow corrosion problems that are greatly reduced with antifreeze and an anode installed

better quality metal flex fans, when properly matched to a close fitting radiator shroud, can and usually do, move a huge increase in air flow rates over what can be expected from most electric radiator fans. this will generally reduce engine temps significantly and reduce loads on the alternator as you don,t need to run an electric radiator fan (s).

the problem's are that as the engine rpms increases much past 3500 rpm-4000 rpm they become a huge horse power wasting drag on the engine, and the blades by design tend to change angles to reduce the parasitic losses, that fan can require well over 35 extra horsepower to spin,

at over 4000 rpm, and thats a big problem, the flexing also eventually causes stress fractures in the blades and if used long enough over time the blades do occasionally come off and that can be a big problem as the blades fracturing instantly unbalance the fan, and shortly after the water pump bearings fail due to vibration related stress.

there are several sources for flex fans and quality and size , and designs obviously vary

so shop carefully and avoid the cheap fiberglass versions,

READ

http://www.haydenauto.com/Featured Products-Fan Clutches and Fan Blades/Content.aspx http://www.licorvette.com/Corvette Fan Clutch.htm http://www.popularmechanics.com/cars/how-to/a302/1772922/

and

REMEMBER CHEVY

WATER PUMPS,




FAN CLUTCHES


AND


FANS,


ROTATIONAL DIRECTION VARIES BETWEEN CARS SO YOU MUST MATCH THE INTENDED APPLICATION FOR THE COMPONENTS BEING USED FOR ALL THREE COMPONENTS https://m.summitracing.com/parts/der-19118 https://m.summitracing.com/parts/flx-1318 https://m.summitracing.com/parts/prm-83182
but there is a well proven and fairly inexpensive solution
installing a viscus fan clutch
if you install a viscus fan clutch at lower rpms the fan spins at almost engine rpms, the internal hydraulic friction clutch keeps the fan blades , spinning but as rpms increase and resistance to the fans blades increase, the internal clutch allows some of the engines energy to push the fan, but slippage increases, so your fan may only spin at 3700rpm-4500rpm ( this mostly depends on the fan clutch design, fan loads and clutch age and condition) the fan clutches do eventually wear out, but its been my experience they are generally good for 6-7 years before youll find any significant wear.
use of a fan clutch can easily reduce the parasitic drag loses , by over 50% from those the engine would see without the fan clutch.
Last edited by a moderator: