Administrator
Staff member
theres no way a c-4 will exactly match the weight distribution and handling of a C6,


BUT the strait line acceleration CAN be equaled

or exceeded

with a decent well thought thru and executed BBC swap,and you might be amazed at how well a properly set-up C4 with a big block engine handles in the road race style driving, and handling will not be so adversely effected that it makes the car handle a great deal differently than the original engine configuration.
obviously if you use aluminum cylinder heads, water pump and intake manifold on a big block swap the weight difference is almost negligable from its original SMALL BLOCK config.
Ive helped start and/or worked on several of these big block engine swaps in the c4 vettes these big block swaps have all been a bit different because every time different components were selected to be used by the cars owners over the last 25 years in c4 vettes. plus the years of the cars varied from 1984 cross fires to 1996 LT1 so a great many of the connections , sensors, and suspension components and clearances are slightly different.
but in every case the result was a car with a good deal more torque than the original engines provided, Ive seen guys use 427-540 big blocks and while obviously the power levels varied wildly the net result was a rather unique swap and almost every car was a vette I would have liked to own, personally, but obviously the condition of the body, suspension, interior electronics, in the base car your starting with and the skill and care thats applied to the drive train swap effects the end result.
I honestly think chevy made a HUGE mistake by not offering a big block option in these cars and if you ever visit the corvette museum , you might see the factory proto type, big block c4 corvette, they built that was on display there.
The typical problem you eventually run up against is not installing the engine or getting it installed or running correctly ,its the fact that the owners of the cars eventually get used to the significantly increased power and occasionally start doing stuff like drag racing the cars, and the stock differential, suspension and transmissions were not designed to handle what can easily be 500ft lbs to 600 ft lbs of torque these engines can supply, Id strongly suggest a 4L80E trans and a stronger rear differential, and bigger brakes and a much bigger radiator and a transmission cooler be considered almost mandatory for the swap. the stock 700r4 and a dana 36 rear differential will not last long under the stress of a driver with a big block that insists on jack rabbit launches.
btw Id suggest checking your fuel pressure at W.O.T. if you experience any tendency for the power to plateau or nose over at near peak rpms once you install a big block in a c4 if you retain the stock fuel lines (not ideal) as a few of the builds Ive helped on found that the original fuel lines, even with a fuel pump designed for carb use were not adequate for a big blocks flow requirements, Id suggest a fuel line upgrade to AN #8 or 1/2" inside diameter fuel lines and a fuel pump that supplies at least 120 GPH at 6 psi as a MINIMUM
the most important and effective performance asset you have is simply your ability to ask yourself questions, the ability to think logically isolate and test components carefully and doing the research if its required to find the best answer's you'll need.
viewtopic.php?f=55&t=211
http://www.jegs.com/p/Blueprint-Engines ... 1/10002/-1
viewtopic.php?f=55&t=1939
http://vintageair.com/DownloadsSection/ ... net%29.pdf
the headman tight tubes shorty headers are reported too fit the big block C4 engine swap ,with out modifications"
yeah your correct they can,t be really effective at scavenging but if they fit its obviously one option some guys will take rather than pay for custom headers
http://www.summitracing.com/parts/hed-68510
headman 68090 header can be modified to fit the C4 corvette, the pass side fits the drivers side need mods
- use stock small block engine mounts/brackets ok" />>>
- use GM oil pan 14091356 with Mark IV big block >>
use a small gear reduction starter to allow more header clearance
- use as-delivered pan with Gen 5 crate engines, they come with pan 10240721. No mention of Gen 6.>>
- use '65-'70 big block Vette short water pump and corresponding accessory brackets (factory serpentine system won't fit), modify as required >>
- clearance is especially tight between crank pulley and steering rack >>
http://www.kwikperf.com/bbc_serp_kit.html
- use a '91-'95 LT5 heater core case (passenger side valve cover hits stock heater core case) >>
- driver's side valve cover hits firewall inboard throttle cable pass
through, modify VC as required >>
- use small distributor cap >>
- use '70-'74 big-block Vette exhaust manifolds or custom headers
1963-1967 Hedman bbc corvette headers. Pass side had to be hammered on one tube,rather extensively,to the point it was almost useless, its better if you fabricate and re-weld a new tube like this guy did in the picture below
below you can see the mods one guy made to those headers
read thru these links and sub links theres a ton of related info you need.
well one minor "plus" too this process is that, if your starting from scratch,
or taking over a partly done and abandoned BIG BLOCK CHEVY ENGINE INSTALL in a C4 corvette,
by the time youve corrected a bunch of these issues the previous owner ,
(who obviously was not all that knowledgeable or skilled or even all that concerned with doing the engine conversion correctly,
is that you can,t help but be guided (almost forced") into learning the how, and why and basic mechanics of how a proper engine swap is accomplished,
this may not have been the initial expectation, but in the long term, if you stick with it to the end youll have vastly increased your skills ,
knowledge and significantly increased your appreciation for what is required in a proper performance car build.
youll also by default have gained the increased skills, tools and intuition, due to the process, to find and rapidly test isolate ind repair most of the sub-systems in the car!.
in most of those BBC engine swaps,
its engine & transmission COOLING,
fuel delivery, proper ignition, advance curve and spark delivery,
engine lubrication, enhanced suspension, better and larger surface area tires
and better , larger and more fade resistant brakes,
a larger and less restrictive exhaust,connecting the sensors and gauges
and cosmetics like the seating interior and paint,
that become the areas that need up=grades
thus by the time your done youll be dragged kicking and screaming into a vast knowledge base based on the c4 corvette plat-form.
http://www.myphotosonline.biz/albums/ph ... %2FHeaders
viewtopic.php?f=87&t=3060&p=8085#p8085
viewtopic.php?f=57&t=176&p=210#p210
http://www.corvettefever.com/featuredve ... index.html
http://vettextc.jiminees.com/jeff/C4_BBC/C4_BBC.pdf
viewtopic.php?f=35&t=3399&p=26865#p26865
viewtopic.php?f=32&t=151
and at about less than 1/2 the price of a new Zo6, and its no trick to easily exceed the hp of the stock Zo6, depending on the extent of the mods you want, and your fabricating and shopping skills somewhere between 15K and 35K should get you one very fast BBC C4 and that price COULD easily include the car itself, if youve already go the car you can knock a good chunk like 5K-15K of the cost off the total.
PLUS if your like me, having built or modified most of the car yourself, and owning something rather unique, has a strong draw to my pride of ownership vs paying huge bucks for a Z06 that anyone with a fat wallet can own.
plus theres nothing that sounds like the rumble and rolling lope of a high compression, BBC with over 500 cubic inch displacement.
personally opening the hood to display a nice BBC in a c4 seems to me to be the better option and it shows more hot rodding skills than paying $70K plus for a Zo6, and I like the looks of the C4 better
LINGINFELTER sold several c4 corvettes with fuel injected 540 BBC engines in the late 1990s , but by now those cars are close to 20 years old , you won,t know how badly they were maintained or abused by previous owners over the last 20 years so you might want to clone the cars with a new 502-540-572-632 BBC and upgrade the transmission to a new 4l80E-6L80E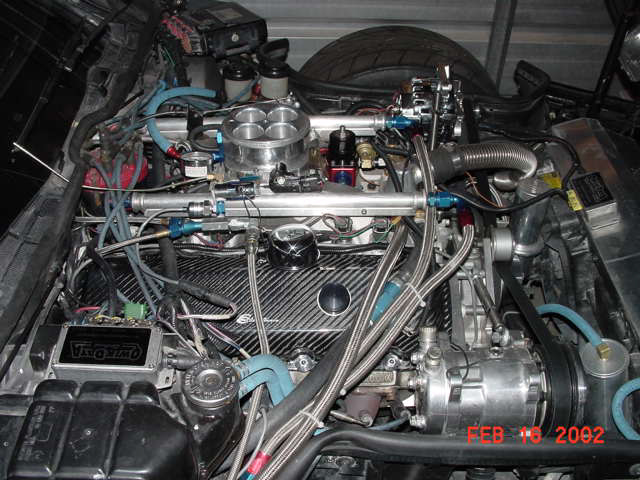 yes it can and IS regularly DONE! no its not a TRUE drop in, but its not that difficult either! and its a reasonable way to get 500hp PLUS in a c4
first, having done a few swaps,I can point out,a BBC with aluminum water pump,heads and intake only adds about 75-80 lbs over the front wheels compared to a standard sbc, Id bet your girl friend in the pass seat adds more weight,youll never notice if your the average driver, and adding a stiffer front sway bar can easily make up the difference for street use.
next. yeah you can get 500hp and 500 ft lbs very easily from an N/A sbc, but it won,t be traffic friendly to drive, hey throw a turbo on and 700 plus ft lbs and 700 hps plus easily with in reach, but with the mandatory intercooler, bigger radiator ETC.,ETC, your at the same weight and more complex than the BBC swap, and yes the turbo will allow the car to be faster than the average c5-c6 but it costs a bunch. look theres lots of options, each has its benefits and flaws, you could even just install a new C6 engine, or add a centrifical supercharger to your stroker SBC.
but the fact remains, you can buy a decent c4 for under $7K-$15K and throw a $9K-$13K BBC engine in it and for under $22-$30K have a faster car (at least for 1/4 mile accelleration) than a zo6.....each of us has a choice and if your not into BBC engines you may not like that option, that doesn,t make it non-workable for the more mechanically inclined engine swap crowd!
personally opening the hood to display a nice BBC in a c4 seems to me to be the better option and it shows more hot rodding skills than paying $70K plus for a Zo6
how do you install a 454-502 in a C-4
if you put a bbc with aluminum heads, intake and water pump in , in place of the standard iron small block you only gain about 50-70 lbs, not enough differance to cause any problems at all, , I have worked on several of these swaps now and Im in the process of getting ready to do another one,heres whats needed
steering rack mounts cut and rewelded 3/4"-1" farther forward (that of course means the power steering pump lines/steering shaft, need to be extended 3/4" also)
small notch (starting at rear and going 3" forward from rear edge X 3/4"deep X 5" wide works well in rear top surface of (K) frame cross member to clear damper and pulley)(if you use an internally balanced big block with the 6.75" diam. damper you can most likely skip the notch but with the 8" diam damper its necessary, and some oil pans will also require the back 1 1/2 of the (K) frame to be notched at an angle sloping to the rear to clear them so you'll probably need the notch of some kind anyway)(and yes before you ask you could shim/modify the motor mounts up to get the clearance, but that would slightly raise the weight center and slightly effect the handling, and that also makes the windshield motor and distributor clearance a bigger problem)
air conditioner shrouding fiber glass on pass side foot well around the air conditioning on the firewall needs to be modified for clearance, (the fiber glass cover from a LT5 makes this easy)(evaporator housing cover)
1971 bbc vette exhaust manifolds (or custom headers) and all brackets/pulleys (mods needed here)
(see the post on building your own headers)
oil pan needs to be only 7.5" deep max
3" hood scoop unless you run a low rise intake and carb or a low height efi system
for a step by step instructions with pictures get a copy of the august 1998 vette magizine article( starts on page 34)it helped quite a bit the first time
http://vettextc.jiminees.com/jeff/C4_BBC/C4_BBC.pdf
front/back adjustable location motor mount
https://www.dirtydingo.com/shop/product_info.php?cPath=348&products_id=1363
otherwise its almost a drop in deal, but keep in mind that youll need a bigger radiator, the trans will not last to long with that amount of torque and it may not pass emission testing and a small size starter is needed, and your windshield wiper motor needs to be replaced with a much smaller one,(I don,t remember where we got them but a little measuring and a trip to the salvage yard took care of that problem, and no tall valve covers don,t work well!
btw install the short block then add the heads with it in the car its FAR EASIER THAT WAY than trying to install the long block
BTW the earlier cars like the 1984-86 (Im not sure what years exactly)don't have the heavier forward frame bracing above the steering rack that makes this swap more difficult to do! I have worked on this swap on the 84, 85, and 86 cars so I know they work fine, the later cars like the 1992 with the heavier forward frame braces above the steering rack look like they will be more difficult but still do-able with some extra work, btw theres a guy at ARIZONA SPEED AND MARINE that has one you might want to talk to .just a few points
an all aluminum bbc WEIGHS LESS THAN AN IRON SMALL BLOCK so the HANDLING IMPROVES
an aluminum head, intake and water pump bring a bbc engines weight to within 70 lbs of the stock iron small block, so handling is almost unchanged
any un-supercharged small block not using nitrous or some other power adder that makes over 550 hp is highly likely to be at least somewhat un-streetable as a daily driver and your not likely to build a small block that makes "764 HP & 695 lb/ft at the flywheel" likely costs as much or more than a big block makeing similar power, look, good engine choice
_______
http://vettextc.jiminees.com/jeff/C4_BBC/
it will of course depend on the engine combo you chose , and traction is usually a problem but low 12 second to mid 11 seconds is not at all hard for the cars Ive worked on. now you could build a kick butt engine and get into the 10s with ease but at that hp level the rear suspension and rear end itself tends to need work! the strong point here is that unlike a high hp sbc engine with nitrous and a huge cam, these cars are relatively easy to drive as daily drivers and the passing power with just part throttle is necessary to feel to be believed. plus the viper guys get really upset when you pull next to them at 50mph and pull away like they have a dead cylinder with the better chevy bbc engine combos, but you really are better off with aluminum heads/water pump and intake. btw getting a kick butt bbc is very easy, and far cheaper than a viper engine. btw the 700r4 trans or the manual trans that comes in the corvettes won,t handle a 550hp plus engine for long, but the 4L80E OVERDRIVE automatic TRANSMISSION chevy installs in the larger trucks can be used (EXPENSIVE BUT THATS WHAT I BOUGHT FOR MY FUTURE SWAP)
http://www.ideasandsolutions.biz/Hoover/top.html
http://shop.theengineshop.com/dr/v2/ec_ ... &xid=42186
&V1=30014126&V2=30014126&V3=1&V5=1100018 5&V4=10&S1=&S2=&S3=&S4=&S5=&DSP=0&CUR=84 0&PGRP=0&CACHE_ID=0
keep in mind the cost versus performance ratio, a nice C-4 vette can be purchased for $6000-$20,000 add that $9000-$15,000 BBC drive train and you'll have a car that kicks 99% of the cars on the roads butts (INCLUDING MOST VIPERS) for about $16,000-$35,000
the rear ends hold up fairly well until you use slicks, street tires won,t normally get enough traction to break things unless you use nitrous
both the 4 plus 3 manual and the 700r4 trans will work for awhile especially if your not trying 3000rpm launches all the time, the 700r4 trans can be built fairly tough but if your intent is to get 10 second 1/4 mile drag times then no! youll need to upgrade the trans to a 4L80E or TH400 with a serious big block or one of the sturdier manual transmissions
heres a few links
Last edited by a moderator: