Administrator
Staff member
press in studs work fine on stock cams because the stock cams valve spring loads are low, in most cases the stock springs have load rates in the 110-130lbs seat and 300-320 lbs fully depressed range,
keep in mind stock cams rarely get close to the fully depressed lift range so average peak loads are lower.
if the open valve spring pressure exceeds about 320lbs, or engine rpms regularly exceed 6000rpm or the valve lift exceeds .475,
Id suggest screw in rocker studs should increase durability.
you can run EITHER push rod guide plates OR self aligning rocker arms but NOT BOTH. keep in mind guide plates REQUIRE screw in rocker studs and rocker stud bosses that are machined to match guide plates
It may surprise many people but even many corvettes came with pressed in rocker studs, the fastest way to visually verify is to look for the hex stud base thats used to screw them in, if theres no hex base chances are excellent that they are press in studs.
some roller rocker too retainer combo clearance issues cause problems easily solved with beehive springs and smaller retainer diameters


for several years even stock BBC engines ,(the markVI and mark V) as opposed to the (mark IV earlier BBC engines)
also don,t use adjustable rocker arms,
if your running a stock cam and valve train with stock O.E.M. heads you probably can get by without them,
swap to a higher lift cam and a longer duration and aftermarket heads and better valve strings and in my opinion,
you would be very foolish to build and use a performance BBC engine without adjustable push rod guide plates
what you really should do is order these
Dart 27001230-4 - Dart Pushrod Guideplates


viewtopic.php?f=44&t=2839&p=7344&hilit=adjustable+guide#p7344
pictured above you see the last rocked badly out of alignment with the valve center line,
a good example why you need adjustable guide plates, this rocker if left too run off center like this, on the valve stem tip , will quickly destroy the valve guide and rocker
READ THIS THREAD
viewtopic.php?f=87&t=10976
typical pressed studs
http://www.mcmaster.com/#thread-forming-taps/=ke38k5
http://www.mcmaster.com/#standard-taps/=ke36u2
check all valve train geometry and clearance on any engine you assemble or modify the valve train on.

long slot rockers are far less likely to bind on rocker studs
STUD GIRDLES ADD A GREAT DEAL OF RIGIDITY TO THE VALVE TRAIN
typical factory pressed in rocker studs
it should be obvious that the slot clearance in some rockers , especially with poly locks significantly limits rocker movement before clearances become an issue
it should be noted that if the rocker stud protrudes into the port it should be trimmed to the port roof as any threads sticking down into the runner disrupt flow and don,t supply extra support to the rocker stud,and stud threads should use loc-tite tread sealant
BEEHIVE SPRINGS and FORGED STEEL ROCKERS GIVE A GOOD DEAL MORE ROCKER TO RETAINER CLEARANCE
screw in rocker studs
http://www.maxchevy.com/tech/2007/ii_12-stud-1.html
step one
use a thread cleaning tap to chase the threads
(assuming your using push-rod guide plates and you've had the rocker stud bosses spot faced square naturally)
(YOU MAY WANT TO READ THESE THREADS)
viewtopic.php?f=27&t=1262&p=6142&hilit=taps+dies#p6142
viewtopic.php?f=50&t=1222
step two
verify the threads in the head are deep enough so the lower stud end won,t bottom out, ESPECIALLY if your not using push rod guide plates and are using self aligning rockers, because the studs screw deeper without the push-rod guide plates acting as a spacer washer
step three
degrease and dry the threads with solvent and high pressure air
step 4
install studs thru push-rod guide plates after you've degrease the threads and added a couple drops of LOC-TITE
tighten only until the lower mid shank hex you use to tighten the rocker stud, stop when they start to bear on the guide plates, and verify push-rod clearance and rocker geometry, only when thats verified correct tighten with a torque wrench to spec. torque.
step 5
whack each stud with a
plastic mallet like your driving a nail, and re-torque to verify the studs correctly compressing the push-rod guide /alignment plates
screw in studs are mechanically locked into the heads with a thread and will easily hold far greater loads, as a general rule if you want to exceed .500 lift or 6000rpm with your valve train on a SBC its a good idea to upgrade to screw in thread style rocker studs, rather than the press in stock versions.
press in rocker studs generally don,t use push rod guide plates and in many cases even stock valves springs can eventually cause them to pull out and change your clearances if the engine frequently operated at high rpms and load rates with a slightly higher lift aftermarket cam that exerts more than the designed spring loads on the studs.
upgrading to threaded studs is not all that difficult, but if your not at least semi-experienced with minor machine work ID strongly suggest having a local machine shop do the work because getting the angle and depth of the stud holes threaded correctly and machining the top of the stud boss on each location dead on square to mount the guide plates correctly is not as simple as it first might appear.
ID suggest swapping to screw in rocker studs when you exceed 220 duration or .480 lift,expect to exceed 6000rpm, or swap to springs with over 300lb open pressure
KEEP IN MIND, MANY PEOPLE THAT HAVE BROKEN ROCKER STUDS HAVE FAILED TO VERIFY THE PISTON TO VALVE, CLEARANCES, ROCKER STUD TO ROCKER SLOT CLEARANCES,AND SPRING BIND CLEARANCES, etc.
read thru the links and sub-links as theres valuable info you'll need later
MOST PEOPLE WOULD THINK...this is a machine shop only thing to do.
first there a few things you need to do the procedure
small drill press, because a free held drill will not maintain the exact angle
stud puller and guide 21.00
stud boss cutter 55.00
cutting oil 6.00
7/16 x 14 taps 8.00
screw in studs 25.00
guide plates 20.00
http://www.tooldiscounter.com/ItemDispl ... =POW351360
http://teamc.com/i-4566671-competition- ... utter.html
these are the places you can get these tools , and info on upgrading the studs
powerhouse products
http://www.compperformancegroupstores.c ... re_Code=PH
http://www.goodson.com/
http://www.jegs.com/i/Comp+Cams/249/5306/10002/-1
http://www.jegs.com/i/Milodon/697/84327/10002/-1
http://performanceparts.com/part.php?partID=184869
http://www.summitracing.com/parts/SUM-G1675/?rtype=10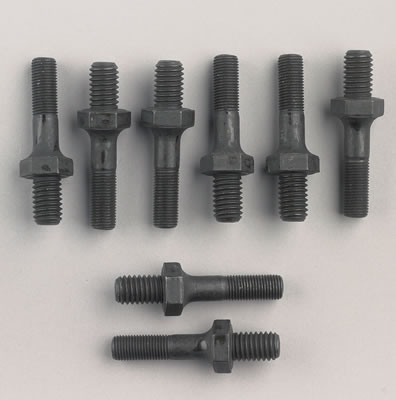 viewtopic.php?f=52&t=689&p=956#p956
http://www.2quicknovas.com/vortecheads.html
http://www.chevyhiperformance.com/techa ... index.html
http://books.google.com/books?id=G2kUib ... ds&f=false
viewtopic.php?f=52&t=181
viewtopic.php?f=52&t=181&p=215#p215
http://www.iskycams.com/pdfcatalog/2004-05/page38.pdf
http://www.arp-bolts.com/Catalog/Catalog.html
http://www.summitracing.com/parts/NAL-1 ... /?rtype=10
viewtopic.php?f=52&t=2875
guide plates and screw in studs
keep in mind that you can use EITHER
self aligning rockers OR guide plates
BUT NOT BOTH at the SAME TIME
with properly installed screw in rocker studs
self aligning rockers have ridges to prevent the rocker from moving off the valve stem
anyone who has extensive engine assembly experience will have at some point had an experience related to a failed valve train component, and ID bet the vast majority of the guys who had a cam or lifter or rocker arm , valve spring,
component fail, were certain to blame the failure on a defective component,
when the truth is that in many cases the person installing that component failed to carefully check clearances, check the valve train geometry or provide the correct lubrication, or follow the manufacturers installation instructions.
yeah I've had guys ask for help when their muscle car or corvette engines had serious issues, and I've done more than my share of screwed up engine autopsies, guys install a cam, never checking the valve train clearances , and invariably, so & so brand cam SUCKS because it failed .... the fact the guy never checked for coil bind, rocker to rocker stud clearances or piston to valve clearance or even ever applied moly lube or has a clue how to properly adjust valves and has never seen a degree wheel, has zero to do with the component failure????
yeah, so & so brand cam SUCKS because it failed
I have got to point out , that in my experience , its far more likely that the part was not properly installed and clearances were never properly checked, I've had guys tell me they bent several push rods, or busted valve springs...but it never occurred to them that there must be a reason ...and checking clearances or using a degree wheel and dial indicator....NAAAAA, thats not required
hell you just line up the dots and your good to go!!!
yeah the valve trains stock, the orriginal valve lift is .450 , and the new cams lift is .615, but thats only a change of a little over 1/6th" what could go wrong???
read these links
http://garage.grumpysperformance.com/index.php?threads/cam-wear-articles-you-need-to-read.282/
http://garage.grumpysperformance.com/index.php?threads/oil-system-mods-that-help.2187/
http://garage.grumpysperformance.co...e-springs-and-setting-up-the-valve-train.181/
http://garage.grumpysperformance.co...ectly-and-get-it-to-last-cam-install-info.90/
http://garage.grumpysperformance.com/index.php?threads/checking-piston-to-valve-clearances.399/
http://garage.grumpysperformance.co...tched-valve-spring-required.13774/#post-77425
http://garage.grumpysperformance.com/index.php?threads/rocker-push-rod-wear-issues.9815/
Last edited by a moderator: