Administrator
Staff member
no its not a TRUE drop in,and drive engine swap, it will require some fabrication skills to do correctly, but its not that difficult either!
and its a reasonable way to get 500-600 hp, and 500-600 ft lbs of torque PLUS in a c4 corvette.
Ive built engines for . and helped work on, some of the local circle track guys cars, and far more engines for street performance,
muscle car enthusiasts, and drag racers, I,d love to own a new corvette or build a car to race at sebring or lemans,
but making my monthly bills , while supporting both my and my son's family,is already a huge challenge
personally I think owning a dependable transportation car that can, when asked too, run 11 second 1/4 mile et
and still drive on vacation with little chance of it breaking down,
is about the largest challenge most of our bank balance's can hope to cover
I get asked on occasion, why I don,t just buy a new corvette or viper?
I just can,t get too enthusiastic over cars that cost a minimum of $65K -$96K and up!
especially when all it takes to own one is a health checking account balance!
I'm much more impressed when some guy BUILDs a car from the ground up or makes MAJOR modifications to that car, that IMPROVE a cars performance in acceleration, braking , cooling, endurance and looks, rather than just basically flaunting a health bank balance. when some guy BUILDs OR MODIFYS a car at least you know he has some concept of how and why it works
READ THE THREAD THRU TO THE END AND BE AWARE IT, AND ALL OTHER THREADS ARE CONSTANTLY UPDATED WITH NEW LINKS AND INFO
all Im strongly suggesting is do the financial home work and research into what parts and machine work might be required , what further mods the increased power or heat or speed may require, before jumping into this project with both feet, I see far to many guys get 1/4 to 2/3rds into something similar and either lack the funds or interest to complete the project, many forget that increasing power to the engine is not where performance starts and stops, if you double or triple the original engines power you damn sure will need bigger brakes, a bigger radiator, better oil cooling, and a stronger drive train, and a near endless list of minor upgrades in support components and gauges to allow you to use that extra power effectively, think things thru and you can have an exceptional car when your done. this is a fact lots of guys seem to ignore, a good deal of ingenuity by the cars builder in selecting the components and and a great deal of thought going into getting a good power to weight ratio ,and setting up the frame suspension and brakes and drive train, regardless of the cars appearance, can result it some amazing performance characteristics, reducing weight is just as effective as adding power so think long and hard about reducing weight with aluminum heads,custom aluminum, intakes aluminum,water pumps,ALUMINUM BRACKETS, lower weight seats, bigger more effective brakes ETC. but obviously strength and durability must be considered in your component selection.
theres a ton of options if your checking account balance allows
well one minor "plus" too this process is that, if your starting from scratch,
or taking over a partly done and abandoned BIG BLOCK CHEVY ENGINE INSTALL in a C4 corvette,
by the time youve corrected a bunch of these issues the previous owner ,
(who obviously was not all that knowledgeable or skilled or even all that concerned with doing the engine conversion correctly,
is that you can,t help but be guided (almost forced") into learning the how, and why and basic mechanics of how a proper engine swap is accomplished,
this may not have been the initial expectation, but in the long term, if you stick with it to the end youll have vastly increased your skills ,
knowledge and significantly increased your appreciation for what is required in a proper performance car build.
youll also by default have gained the increased skills, tools and intuition, due to the process, to find and rapidly test isolate ind repair most of the sub-systems in the car!.
in most of those BBC engine swaps,
its engine & transmission COOLING,
fuel delivery, proper ignition, advance curve and spark delivery,
engine lubrication, enhanced suspension, better and larger surface area tires
and better , larger and more fade resistant brakes,
a larger and less restrictive exhaust,connecting the sensors and gauges
and cosmetics like the seating interior and paint,
that become the areas that need up=grades
thus by the time your done youll be dragged kicking and screaming into a vast knowledge base based on the c4 corvette plat-form.
COMP PRODUCTS DART SHORT BLOCK ASSEMBLIES
http://www.competitionproducts.com/Short-Blocks-Chev-BB/products/1611/
http://www.shafiroff.com/sportsman/582_975.php
http://www.jegs.com/p/Blueprint-Eng...Big-Block-Chevy-Short-Blocks/1582611/10002/-1
http://www.ohiocrank.com/chev_bb_shortb.html
http://www.cnc-motorsports.com/shor...bb-chevy-540-588-short-blocks-short-deck.html
http://www.shafiroff.com/drag-race-short-block/540-big-block-drag-race.php
http://www.shafiroff.com/ssrelinks.php
http://www.shafiroff.com/chevy-crate-engine/540-realstreet-lite.php
http://garage.grumpysperformance.com/index.php?threads/installing-a-big-block-chevy-in-a-c4.6/
http://www.jegs.com/p/Blueprint-Engines ... 1/10002/-1
I think most guys stick with the sbc because switching requires changes from the components they may already have purchased like headers, accessories, and dozens of small things you need for a swap to be a direct "bolt in" swap that requires little thinking , fabrication or more than hand tools plus The added expense of converting,plus building the larger engine requires a few other changes but the end result of a well done drive train, swap results in a rather rare almost unique car, when you consider the average TPI corvette had less than 250 rear wheel horse power, and how easy it is to build a big block with 500 hp this is almost a total "no brainer" idea
Id strongly suggest using the aluminum heads,intake manifold and water pump, adding a larger aluminum radiator as those items significantly reduce the weight, and replacing the wiper motor and using the LT5 air conditioning evaporator cover, making the swap much nicer, if you use the internally balanced crank on your engine the diameter can be smaller and while you still need to move the steering rack about 3/4" forward the k-frame only needs minor clearance work , you'll need to select the intake and hood combo with clearance issues in mind and a 3" full length exhaust is really mandatory.
this may help
as most of the longer term readers know I have a well built 383 designed to run nitrous in my 1985 corvette, and yes if I use nitrous it tends to shred stock u-joints and twist half shafts so those were upgraded
http://www.corvetterecycling.com/category_s/63.htm
viewtopic.php?f=38&t=6
http://www.digitalcorvettes.com/forums/showthread.php?t=163177
http://forum.grumpysperformance.com/viewtopic.php?f=32&t=430
http://www.streetdreams.org/interactive/
viewtopic.php?f=44&t=10961&p=48185#p48185
http://www.summitracing.com/parts/ctr-15-320/overview/year/1971/make/chevrolet/model/chevelle
http://www.megamanual.com/MSFAQ.htm
http://high-performance-engines.com/Mer ... Code=HP44C
viewtopic.php?f=38&t=6&p=6&hilit=hood+scoop#p6
viewtopic.php?f=57&t=10955&p=48167#p48167
https://www.shafiroff.com/chevy-drag-race-engine-sportsman/598-lowdeck-big-block-drag-race.php
Ive replaced u-joints regularly,and half shafts needed upgrading and Ive burned up and trashed 3 pro built 700r4 transmissions, Id strongly suggest upgrading to a 4l80e and a dana 44 or a solid dana 60 if your making over 500 ft lbs of torque, or youll very likely find you need to replace stock components.
I set about collecting what I need for a serious BIG BLOCK swap, funds are limited but I purchased a 4l80e,a bunch of big block parts and Im looking for a dana 60, there are cars running 10 second 1/4 mile times with the dana44 rear,
but I doubt a serious big block that makes in excess of 600hp/600ft lbs will play nice for long with a dana 36-or-dana 44
http://forum.grumpysperformance.com/viewtopic.php?f=33&t=653
http://forum.grumpysperformance.com/viewtopic.php?f=33&t=379
http://www.transmissioncenter.net/4L60E_to_4L80E_Swap.htm
http://www.griffinrad.com/load_details3.php?PartID=441&year=1987&make=Chevrolet&model=Corvette
keep in mind that any trans fluid cooler should have a minimum of AN#8 or 1/2" line size and an electric cooling fan, normally youll see ratings like (22000, lb vehicle weight )
the problem many of us have is in finding the room to install the cooler and for many of us the price seems a bit high, but if you can spend $150-$350 on a cooler that will easily prevent the vast majority of transmission failures related to running too hot
(MANY IF NOT MOST DURABILITY ISSUES RELATE TO THIS)
and a decent performance transmission and torque converter could easily cost 10 too 15 times the cost of the transmission cooler
the cost seems to be easier to justify.
yes the coolers with the AN#6 /3/8" line size are cheaper , but they generally are flow restrictive and in my opinion a waste of time and money
https://www.summitracing.com/parts/der-15820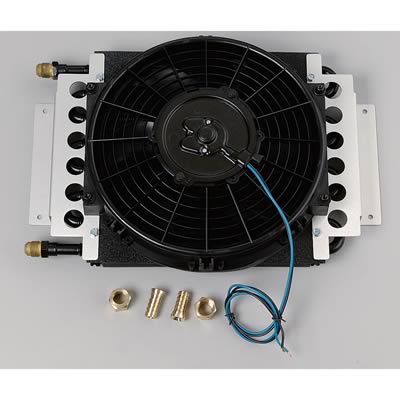 https://www.summitracing.com/parts/der-15830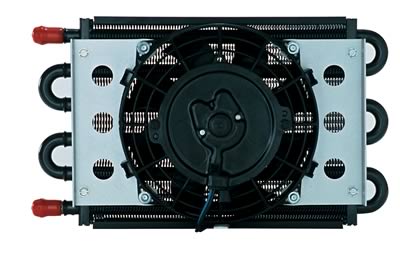 https://www.summitracing.com/parts/flx-45951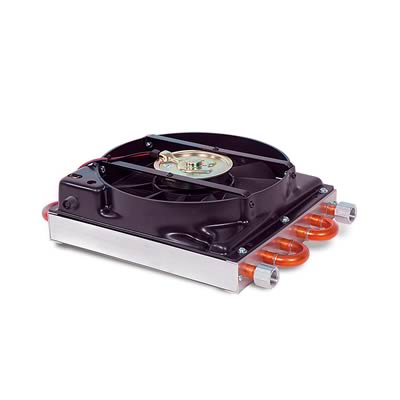 read these links also
viewtopic.php?f=38&t=6
http://www.kwikperf.com/bbc_serp_kit.html
http://www.vortecproperformance.com/eng ... tions.html
viewtopic.php?f=45&t=8610&p=30272#p30272
viewtopic.php?f=87&t=3060&p=8085#p8085
http://www.corvettefever.com/featuredve ... index.html
viewtopic.php?f=57&t=176&p=210#p210
http://markitude.wordpress.com/2009/03/ ... -corvette/
http://marchperf.com/pg26.html
http://www.vortecproperformance.com/eng ... tions.html
http://www.airflowresearch.com/17-23.pdf
viewtopic.php?f=56&t=255&p=303&hilit=stainless+welding#p303
http://www.fidnet.com/~harleyms/serpentine page.htm
viewtopic.php?f=39&t=1234
http://forums.carcraft.com/70/679503/ge ... index.html
http://vettextc.jiminees.com/jeff/C4_BBC/C4_BBC.pdf
viewtopic.php?f=57&t=9489&p=34906&hilit=swivel+t+stat#p34906
solid rear info
http://forums.corvetteforum.com/c4-tech ... -kits.html
first, having done a few swaps,I can point out,a BBC with aluminum water pump,heads and intake only adds about 75-80 lbs over the front wheels compared to a standard sbc, Id bet your girl friend in the pass seat adds more weight,you'll never notice if your the average driver, and adding a stiffer front sway bar can easily make up the difference for street use.
I don,t know what oil pan most guys have used in the big block engine swaps, as I stated, I have used several oil pans as a start point and I may have used that one,posted below. but Ive custom cut, and re-welded the sumps,on several oil pans we have used, to increase the volume and add baffles etc. to be about 3/8" deeper than the oil pump sits below the blocks oil pan rails and too maximize the oil pan capacity between the headers on the engines Ive BUILT. Im not sure what oil pan was used by the guys who supplied their own oil pans ,obviously a GEN IV ENGINE REQUIRES A DIFFERENT OIL PAN THAN A LATER GEN VI BIG BLOCK.
most GUYS USING THE OLDER MORE COMMON gen IV, ENGINES, tend to use the oil pan from the 1970 big block corvette but again Im not positive of that particular part number although its very likely its that same part number 14091356
http://paceperformance.com/i-6255398-14 ... chevy.html
YOULL MORE THAN LIKELY FIND READING THRU THIS THREAD USEFUL
viewtopic.php?f=54&t=65
ITS always a good idea to try and test-fit the engine your about to install,
and accurately measure and mark on the cross member what clearance you need and where you need it!
and look into any oil pan, and other engine clearance mods that might be required
if you have the newer GEN VI engine this oil pan MAY WORK
https://www.cantonracingproducts.com/pr ... IECE-SEAL/
viewtopic.php?f=35&t=3399&p=26865#p26865
http://garage.grumpysperformance.com/index.php?threads/a-well-designed-c4-exhaust.786/
front/back adjustable location motor mount
https://www.dirtydingo.com/shop/product_info.php?cPath=348&products_id=1363
be careful when cutting the upper surface of the cross member for damper clearance the spring inside sits close to the surface
when custom welding up a big block oil pan sump on a c4 corvette youll want to start by installing the block in the car and test fitting your current oil pan, noting and carefully measuring the clearance on the front (K FRAME) for the damper diameter and front oil pan sump, and be aware of the

braces "see gree arrows"

that prevent many UN-modified oil pans from fitting correctly, some duct tape and some card board can be very useful in mocking up a modified sump, and measuring the required depth, needed, so it helps to have the headers and starter and oil filter in place as you mock up and plan the oil pan design.
youll also want to notice that the oil pump sticks down about 7.25"

(MEASURE YOURS DIFFERENT BRANDS VARY SLIGHTLY)

you can weld up a 7-8 quart baffled sump but it takes planing and careful measuring and you might find a remote oil filter is a good option.

next. yeah you can get 500hp and 500 ft lbs very easily from an N/A sbc, but it won,t be traffic friendly to drive, hey throw a turbo on and 700 plus ft lbs and 700 hps plus easily with in reach, but with the mandatory inter cooler, bigger radiator ETC.,ETC, your at the same weight and more complex than the BBC swap, and yes the turbo will allow the car to be faster than the average c5-c6 but it costs a bunch. look theres lots of options, each has its benefits and flaws, you could even just install a new C6 engine, or add a centrifugal supercharger to your stroker SBC.

but the fact remains, you can buy a decent c4 for under $7K-$15K and throw a $9K-$13K BBC engine in it and for under $22-$30K have a faster car (at least for 1/4 mile acceleration) than a zo6.....each of us has a choice and if your not into BBC engines you may not like that option, that doesn,t make it non-workable for the more mechanically inclined engine swap crowd!

personally opening the hood to display a nice BBC in a c4 seems to me to be the better option and it shows more hot rodding skills than paying $70K plus for a Zo6

http://www.transmissioncenter.net/4L60E ... E_Swap.htm viewtopic.php?f=55&t=8961&p=31945#p31945

how do you install a 454-502 in a C-4

Early std cars (84/85 at least ) never had the extra frame braces.

It and the 2 braces from X -member to frame under engine were part of the Z51 handling option to support

the frame rails, and to tie them together.

All became std on all later cars
you can temporarily do away with the solid brace in the front, to gain extra swap access room by making the upper front brave removable, so that it unbolts. ID suggest (4) 5/16" end plates welded in place and bolted with at least (4) grade 8 3/8" bolts on each end plate.
yes you can make a custom brace that bolts in place, obviously the cuts must be vertical and parallel and carefully measured and youll need 4 matched end plates welded and drilled correctly but any decent fabrication shop should be able to easily do it once you explain whats needed
If your going to swap in some engine like a killer 700 hp 540 cubic inch big block, adding a roll cage to strengthen the frame and add considerable extra rigidity or stop flexing is a really good idea as it tends to limit the fiberglass body cracks that might result from the constant stress the far larger and far higher torque levels might cause
http://www.andysautosport.com/products/ ... 400DO.html
http://www.autopowerindustries.com/Roll-Bars-Cages/Chevrolet-Corvette-_C4-1984-1996
http://www.livermoreperformance.com/camaro_vette_safety.html
I have seen it done (having a car with a welded removable brace) I know it was tig welded and its been driving several years and even raced occasionally so I doubt its highly stressed or subjected to stress levels that cause problems , keep in mind all most all the potential stress on that upper cross brace is in compression not tension or torsion so its not a highly stressed application
if you put a bbc with aluminum heads, intake and water pump in , in place of the standard iron small block you only gain about 50-70 lbs, not enough difference to cause any problems at all, , I have worked on several of these swaps now and Im in the process of getting ready to do another one,heres whats needed
steering rack mounts cut and re welded 3/4"-1" farther forward (that of course means the power steering pump lines/steering shaft, need to be extended 3/4" also)
if your reading this and are not familiar with the c4 corvette drive train configuration or what a c-beam is this may help



YOU SHOULD START WITH A CAREFUL TEST FIT AND MEASUREMENTS TO SEE EXACTLY WHATS REQUIRED
small notch (starting at rear and going 3" forward from rear edge X 3/4"deep X 5" wide works well in rear top surface of (K) frame cross member to clear damper and pulley)
(if you use an internally balanced big block with the 6.75" diam. damper you can most likely skip the notch but with the 8" diam. damper its necessary,
and some oil pans will also require the back 1 1/2 of the (K) frame to be notched at an angle sloping to the rear to clear them so you'll probably need the notch of some kind anyway)(and yes before you ask you could shim/modify the motor mounts up to get the clearance, but that would slightly raise the weight center and slightly effect the handling, and that also makes the windshield motor and distributor clearance a bigger problem)
no thats NOT my black c4 corvette,
but yes Id love to own it! but Ive been supporting both my own and my sons family with a wife and three kids, for over a decade (hes got serious medical issues)
Ive helped at least 7 guys do this swap over the last 25 years , most of those swaps were done in the owners home garages,
and in most case it took months of off and on random, weekend work, as most guys just don,t have the finances, and tools, to do the job in a few days,
so the swap process is done step by step, as time and cash flow allows,potential problems like exhaust systems,
larger radiators, higher stall converters, oil coolers and accessory drives are added or swapped as the owners finances allow.
the corvette in the pictures was a linginfelter built high dollar car
https://www.lingenfelter.com/
youll occasionally see them used, for sale and if yourr not mechanically inclined purchasing a used one might be a good option,
but theres certainly no reason a semi skilled hotrodder can not build something similar ,with his own unique mods and tweaks.
to me the swap should start with, looking over the cars interior and over all body condition should be assessed , as you certainly will be
investing a good deal of time cash and effort into the project. on the up side youll have a unique and rather impressively fast car once its complete,
so you dont want to be driving a car with a crappy interior,rusted frame and body that needs massive reworking and paint or a new drive train.



air conditioner shrouding fiber glass on pass side foot well around the air conditioning on the firewall needs to be modified for clearance, (the fiber glass cover from a LT5 makes this easy)(evaporator housing cover)
1971 bbc vette exhaust manifolds (or custom headers) and all brackets/pulleys (mods needed here)
there are several shorty style headers that are designed for the c3 bbc corvettes that are easily modified to fit
these c3 headers fit on the pass side but require re-routing a tube and re-welding or denting primaries to clear the application on the drivers side, which can be done by an experienced welder or fabricator easier than building custom headers from scratch
http://www.summitracing.com/parts/HED-68090/
(see the post on building your own headers)
theres a good deal of info in this section
viewforum.php?f=56
the oil pan you use needs to be only 7.5" deep max, from the pan bottom to the block, and 7" would be better
3" hood scoop unless you run a low rise intake and carb or a low height efi system
for a step by step instructions with pictures get a copy of the august 1998 vette magazine article( starts on page 34)it helped quite a bit the first time
otherwise its almost a drop in deal, but keep in mind that you'll need a bigger radiator, the trans will not last to long with that amount of torque and it may not pass emission testing and a small size starter is needed, and your windshield wiper motor needs to be replaced with a much smaller one,(I don,t remember where we got them but a little measuring and a trip to the salvage yard took care of that problem, and no tall valve covers don,t work well!
http://www.myphotosonline.biz/albums/ph ... %2FHeaders
btw install the short block then add the heads with it in the car its FAR EASIER THAT WAY than trying to install the long block
BTW the earlier cars like the 1984-86 (Im not sure what years exactly)don't have the heavier forward frame bracing above the steering rack that makes this swap more difficult to do! I have worked on this swap on the 84, 85, and 86 cars so I know they work fine, the later cars like the 1992 with the heavier forward frame braces above the steering rack look like they will be more difficult but still do-able with some extra work, btw theres a guy at ARIZONA SPEED AND MARINE that has one you might want to talk to .just a few points
an all aluminum bbc WEIGHS LESS THAN AN IRON SMALL BLOCK so the HANDLING IMPROVES
an aluminum head, intake and water pump bring a bbc engines weight to within 70 lbs of the stock iron small block, so handling is almost unchanged
any un-supercharged small block not using nitrous or some other power adder that makes over 550 hp is highly likely to be at least somewhat un-streetable as a daily driver and your not likely to build a small block that makes "764 HP & 695 lb/ft at the flywheel" likely costs as much or more than a big block making similar power, look, good engine choice
_______
it will of course depend on the engine combo you chose , and traction is usually a problem but low 12 second to mid 11 seconds is not at all hard for the cars Ive worked on. now you could build a kick butt engine and get into the 10s with ease but at that hp level the rear suspension and rear end itself tends to need work! the strong point here is that unlike a high hp sbc engine with nitrous and a huge cam, these cars are relatively easy to drive as daily drivers and the passing power with just part throttle is necessary to feel to be believed. plus the viper guys get really upset when you pull next to them at 50mph and pull away like they have a dead cylinder with the better chevy bbc engine combos, but you really are better off with aluminum heads/water pump and intake. btw getting a kick butt bbc is very easy, and far cheaper than a viper engine. btw the 700r4 trans or the manual trans that comes in the corvettes won,t handle a 550hp plus engine for long, but the 4L80E OVERDRIVE automatic TRANSMISSION chevy installs in the larger trucks can be used (EXPENSIVE BUT THATS WHAT I BOUGHT FOR MY FUTURE SWAP)
theres no way a c-4 will exactly match the weight distribution and handling of a C6 BUT the strait line acceleration CAN be equaled or exceeded with a decent well thought thru and executed BBC swap, and at about less than 1/2 the price of a new Zo6, and its no trick to easily exceed the hp of the stock Zo6, depending on the extent of the mods you want, and your fabricating and shopping skills somewhere between 15K and 35K should get you one very fast BBC C4 and that price COULD easily include the car itself, if you've already go the car you can knock a good chunk like 5K-15K of the cost off the total.
PLUS if your like me, having built or modified most of the car yourself, and owning something rather unique, has a strong draw to my pride of ownership vs paying huge bucks for a Z06 that anyone with a fat wallet can own.
plus theres nothing that sounds like the rumble and rolling lope of a high compression, BBC with over 500 cubic inch displacement.
personally opening the hood to display a nice BBC in a c4 seems to me to be the better option and it shows more hot rodding skills than paying $70K plus for a Zo6, and I like the looks of the C4 better
When your planing to build a performance car, I've found it helps,
you see progress being made and prevents you from getting discouraged as easily,
if you work on accumulating components for each of the 8 basic sub assemblies,
and checking off your list those components and grouping those on a separate shelf,
as doing so tends to allow you to see more consistent progress,
being made, and you get a feeling your getting someplace.

(1) BLOCK (bearings, freeze plugs main caps and machine work)

(2) ROTATING ASSEMBLY (crank, rods pistons, rings, flywheel,damper etc.)

(3) CYLINDER HEADS and VALVE TRAIN ( valves, valve springs, cam, timing gears, rockers, valve guides, push-rods lifters . etc.)

(4)INDUCTION(manifold, throttle body, sensors, carbs, supercharger, injection , fuel pump, fuel pressure regulator injectors etc.)

(5) DRIVE TRAIN ASSEMBLY COMPONENTS(clutch, stall converter, transmission ETC.)

(6) ignition system (distributor,coils, ignition wires, magneto etc.)

(7) LUBE SYSTEM (oil pan, oil pump, windage tray,oil cooler, ETC.)
these threads and links and sub-links might help

(8) EXHAUST (headers and exhaust system, mufflers ETC.)
BTW theres at least three versions of the big block engine
From Here:
http://reviews.ebay.com/Big-Block-Ch...00000001563647
Mark IV: The engine that most people think of as the "big block Chevy". Released partway into the 1965 model year as a 396, superseding the older 409. It is a development of the Mark II and using similar but not identical canted valve (semi-hemi/porcupine) cylinder heads. It was later expanded to 402 (often still labeled as a 396, or even a 400,) a 427, a 454, and a few "special" engines were produced in the late '60's for offshore boat racing as a 482. There was a 366 and a 427 version that each had a .400 taller deck height to accommodate .400 taller pistons using four rings instead of the more usual three rings. These tall-deck engines were used only in medium-duty trucks (NOT in pickup trucks--think in terms of big farm trucks, garbage trucks, dump trucks, school buses, etc.) The tall-deck blocks all had 4-bolt main caps, forged crankshafts, and the strongest of the 3/8 bolt connecting rods. All-out performance engines used 7/16 bolt connecting rods, along with other changes. This engine family was discontinued in 1990, with the Gen 5 appearing in 1991.
Gen 5: General Motors made substantial revisions to the Mark IV engine, and the result was christened "Gen 5" when it was released for the 1991 model year as a 454. There were 502 cu. in. versions, but never installed in a production vehicle, the 502s were over-the-parts-counter only. Changes to the Gen 5 as compared to the Mk IV included, but are not limited to: rear main seal (and therefore the crankshaft and block) were changed to accept a one-piece seal, oiling passages were moved, the mechanical fuel pump provisions were removed from the block casting, the machined boss for a clutch bracket was eliminated, the cylinder heads lost the ability to adjust the valve lash, and the coolant passages at the top of the cylinder block were revised. The changes to the coolant passage openings meant that installing Mk IV cylinder heads on a Gen 5 block could result in coolant seepage into the lifter valley. Frankly, the changes (except for the one-piece rear main seal) were all easily recognized as cost-cutting measures which also removed some quality and/or utility. All told, the Gen 5 engine was not well regarded by the Chevy enthusiasts because of the changes to the coolant passages and the lack of an adjustable valve train. As always, the aftermarket has provided reasonable fixes for the problems. The Gen 5 lasted only until 1995.
1996 and up are MARK VI
they share some of the characteristics of both earlier versions and add some different features
YOU NEED THIS BOOK
http://www.amazon.com/Rebuilding-Gen-Bi ... 617&sr=1-1
4l80e install in a c4 vette info
http://jobyteknik.homeip.net/corvette/2003-10-13_4L80E/
http://www.joby.se/corvette/mods/2004-12-26_4l80/
http://www.fbperformance.com/ViewTransm ... ssionID=89
http://www.transmissioncenter.net/4L60E ... E_Swap.htm
swapping to a MUCH STRONGER 4L80E trans in a c4 vette
or TKO
viewtopic.php?f=33&t=586
now notching the frame is not mandatory because with the correctly modified oil pan it can be done without notching the frame but notching the frame makes several oil pans fit
yes, the finished result shows a great deal of both skill and persistence, a combo that many guys simply lack!
CONGRATS ON A WELL DONE SWAP!
Ive worked on several of these BBC/C4 swaps and each was unique but every one was impressive and Ive yet to find one that was correctly completed that the owner regretted doing the swap on , and on every last one the owners had a half dozen other mods they wanted to do, these varied from transmission and differential swaps to just up graded interiors but as I stated everyone of the owners was pleased with the results
FINDING A DECENT BBC CAM ON A TIGHT LSA CAN BE A PROBLEM AT TIMES< HERES A FEW
http://www.claysmithcams.com/big-block-chevy-11/
http://rehermorrison.com/product/wet-sump-system/
http://aviaid.com/shopsite_sc/store/htm ... s_bbc.html
http://www.kevkoracing.com/wetsump_chevy.htm
http://www.summitracing.com/parts/edl-49550
Edelbrock and Pat Musi are a powerful combination, and Edelbrock Musi Carbureted 555 C.I.D. 676HP crate engines are no less impressive. They start with a Dart Big-M block and load them with a Scat forged steel crank, forged H-beam rods, and forged pistons. The top end is finished with a hydraulic roller camshaft, roller rockers, Victor Jr. manifold, Thunder Series AVS 800cfm carburetor and the big feature--E-CNC cylinder heads. These cylinder heads are CNC-ported where it counts to achieve optimal airflow, gaining you maximum horsepower and torque in high performance street applications. Plus, the key advantage is the stock location of the exhaust port, allowing you to use readily available, off-the-shelf headers. These Edelbrock Musi Carbureted 555 C.I.D. 676HP crate engines come ready to perform just bolt them in and fine tune them to pack big block power in your ride.
trust me when I tell you that
you could spend that much, or even more cash, rather easily and not have nearly as good of an engine built, at many engine builders shops
or thru careful research and planing spend a bit less and build a significantly better and more durable engine!
MUSI used to have a shop in my neighborhood and while hes talented, keep in mind EDELBROCK is making a significant profit and hes collaborating with edelbrock to use their components in the build where ever he can rather than select the best available component in every part selected, now that MAY or MAY NOT be an edelbrock supplied part in every case , so its not necessarily the best value, but you can be assured that its at least a well tested and durable combo.
the 572 CID G.M. crate engine is a similar example of a well tested crate engine, that is built under similar limitations
http://www.summitracing.com/parts/nal-19201334
Chevrolet Performance Parts largest, most powerful engine is here. These ZZ572/720R's are built around an all-new generation VI one piece main seal tall deck 572 cid with approximately 12.0:1 compression, 720 horsepower at 6250 rpm, and 685 ft./lbs. of torque at 4500 rpm with a recommended max rpm of 6750. These all-new race blocks have a forged 4340 steel crank, shot peened forged 4340 H-beam rods, and forged aluminum pistons with full floating wrist pins. Redesigned rectangular port aluminum cylinder heads with 118cc combustion chambers, Stainless steel valves at, 2.25 in. intake side and 1.88 in. exhaust side. Mechanical roller camshafts are used with valve lift being .714 in. intake, and .714 in. exhaust side, duration at .050 in. for intake is 266 degrees and 274 degrees exhaust side. Hardened chromoly retainers are used with dual valve springs 1.50 in. coil diameter. Aluminum roller rockers with 1.7:1 ratios, high performance one-piece push rods are installed. New Chevrolet Performance Parts tall deck single plane intake manifold and a 1090 CFM King Demon carburetor delivers the air. A multiple spark discharge distributor handles ignition, spark plugs and wire are included. New screened and louvered windage trays and high rpm torsional dampers are used.
http://garage.grumpysperformance.com/index.php?threads/engine-build-grumpy-please-help.9894/
the correctly done BBC c4 swap makes the c4 run with the more modern corvettes in the power range most of us really enjoy, consider that 345-405 hp was about max from a stock c4 and simply swapping in a mild big block can boost both the torque and power curve far above that range, and with the correct aluminum heads, intake and water pump a bbc weights only about 75 lbs more than the l98/lt1 it replaces
Ive helped on 7 of these swaps in the last 12 years and while each was different all of them ran at least as well as the LT4 vettes and most performed remarkable better
look at the cost vs performance
a new z06 costs over $70K
a new 5 speed manual transmission and a 500 cubic inch big block, better brakes and a heavy duty rear and other mods on you c4 could cost you $20-$25k or less if you have some parts already,and you would have something far more unique, for a few weeks work, personally I think the c4 looks better anyway
http://forum.grumpysperformance.com/viewtopic.php?f=32&t=151
viewtopic.php?f=54&t=4576&p=12177#p12177
http://paceperformance.com/index.asp?PageAction=VIEWPROD&ProdID=244
heres a post showing one BIG BLOCK C4 corvette hood scoop on a big block swap
cutter1 said:

I Started hood some will like other oh well.

Think i will cut scoop along side to lower

cowl near windshield and to even top.

Don't care for the pointing up.

http://www.tristarengines.com/catal...ttm-big-m-block-and-pro-1-cylinder-heads.html https://www.digitalcorvettes.com/forums/showthread.php?t=163177

First test fit

Report this image

Report this image

Report this image

Report this image

Report this image

This image has been resized. Click this bar to view the full image.

Report this image

This image has been resized. Click this bar to view the full image.
ITS NICE TOO SEE THE HOOD SCOOP AND PAINT JOB , (CAR ABOVE)WORKED OUT WELL (SAME CAR BELOW)
ITS,GREAT to see further progress! youll have a rather unique car and something to be proud of once its complete! while Im sure everyone will have a different opinion , I personally can,t see using a hood scoop thats quite that massive in size, it just looks like it would block a bit more of the windshield vision,area you need to see thru to allow the car to be safely driven under all conditions.
so yes, you might want to modify it or select a different hood scoop, I know that theres dozens to choose from, and with some fabrication skills you obviously have, youll have even more options.
luckily you can most likely cut a section out of each side panel of the hood scoop to modify its height and contour and correct the surface stress distortion (LIGHT GREEN ARROWS) that seems to indicate the curve of the hood doesn,t match the hood scoop lower edge curve, and because fiberglass is reasonably easy to work with its not very expensive or difficult, to fabricate or correct minor issues with.
theres little doubt that a slightly smaller hood height can be made to work if the induction system selected is carefully measured and selected for maximum or at least reasonably low clearance. but in most cases you will need a hood scoop to clear the intake system.
a HOOD SCOOP LIKE ONE BELOW THIS EASILY CLEARS SOME BIG BLOCK ENGINE SWAPS IN A C4 CORVETTE
Last edited by a moderator: