Administrator
Staff member
I get asked frequently if installing a larger than the stock 48mm TPI or LT1-4 throttle body will significantly help on a corvette engine, Ill save you some reading right off if you want,
problem one, is that the STOCK TPI MAF sensor inside diameter,and available cross sectional area, as a flow restriction, and the stock cylinder heads and stock TPI or LT1 intake design , air flow restrictions.
NOT the 48mm throttle body.
the O.E.M. cam is also very restrictive if your looking to maximize the LT1 or TPI engines potential



is significantly less than the total area of a twin 58mm throttle body which is slightly more than 8 square inches, while the stock throttle body twin 48mm is a better match to the MAF sensor size, being almost 6 square inches in area, so unless you increase the maf sensor flow which is also about 6 square inches in cross sectional area,the air flow feeding the 58mm throttle body will remain restricted

BTW the stock HOLLEY FUEL PRESSURE REGULATOR ON THE STEALTH RAM, is know to have frequent failures, heres a link to a higher quality unit, part #6547
http://www.kirbanperformance.com/produc ... 36547.html
http://garage.grumpysperformance.com/index.php?threads/reading-plugs.5428/
Keep in mind even the factory 502 cubic inch big block used the stock L98 TPI throttle body size and made 500 horse power
yes a 58mm can potentially increase hp if your engines highly modified and your still using a stock 48mm throttle body, but its hardly a big restriction, and your probably going to gain more with other mods
http://www.wallaceracing.com/chokepoint.php
If you calculate the point where dual 48mm throttle bores become a significant restriction to flow on a 383 SBC
youll find you need to spin it to well over 8,000 rpm
http://www.bbkperformance.com/products/ ... -body.html
Ive used this type on several engines, swapping to the 52-or-58mm won,t hurt or help much on a mildly modified engine but you might want to go that route if your contemplating future mods.
but the restriction a stock 48mm throttle body represents is not as significant and the gains to be had are not that large, or non-existent in most cases,, if the engine does not have better heads, and a cam that allows significantly higher than stock flow levels and even then a minimum of about a 383 displacements required to see minor gains

your STOCK intake manifold and cam plus your heads are the major restrictions.
the stock 48mm throttle body flows about 700cfm and has more than enough flow to support about 500hp-550hp, bored to 52mm it will support about 550hp,-575hp, a 58mm can support about 600hp-750hp,
but keep in mind theres lots of factors other than just throttle body size that determine potential hp
youll need to port most intake manifolds to open the plenum entrance to get the full 58 mm flow potential
stock plenum has 48mm openings for Throttle-body (TB) and 39mm openings for stock runners.
if you fail to read the sub links youll miss a great deal of info
http://www.eecis.udel.edu/~davis/z28/winter01/dyno/
http://www.cis.udel.edu/~davis/z28/buildup/plenum/
http://www.ws6transam.org/efi.html

you'll need this info in these links if you do install a new throttle body viewtopic.php?f=32&t=168 viewtopic.php?f=50&t=3110&p=12074&hilit=multi+meter#p12074 viewtopic.php?f=32&t=169

using or modifying a throttle body to flow more than 1000cfm -1200 cfm like a 58mm twin bore potentially flows is usually a waste of money, heres why

the largest displacement sbc your likely to build is a 434cid, that requires a 4" stroke crank and you'll be limited to about 6500rpm even with top quality parts if you want the engine to last any time at all, now you might not realize it but the time necessary to fill the cylinders gets limited very quickly at higher rpms and the volumetric efficiency falls off quickly after about 5000rpm simply because theres just not en ought time to allow the cylinders to fill completely. at 5000 rpm theres 41.6 intake strokes per second, per cylinder, by 6500 rpm its up to 54 intake strokes per second, per cylinder thats only 0.018 seconds for the intake port to flow into the cylinder per intake stroke. but theres yet another factor!!! thats the time for the full intake stroke!!!, while theres 720 degrees in the repetitive cycle and Ive given you a full 360 degrees worth of time, the truth is that your cam/engine combo, seldom allows anywhere near that duration!!!! even a radical race cam seldom exceeds 250 degrees in effective duration for port flow, so you'll need to knock about 45% off that time, now your down to only about 0.012 seconds or less of effective flow per intake stroke per cylinder, is it any wonder the cylinder can,t fully fill at high rpms??

now the theoretical 434 were working with here even if it could fill its cylinders 100% at 6500rpm which is totally impossible at that rpm would require 434 (the displacement) x 3250(the number of intake strokes)=1410500 (the full 100% in cubic inches /1728(to change to cfm) =

only 816cfm.... now even if you could ram tune the exhaust and intake pulse perfectly and get the cylinders to pack the cylinders to 120% (a total impossibility without a supercharger or turbo) thats till only 979 cfm

but in the real world your volumetric efficiency falls off fast after 5000 rpm with a 4" stroke and you'll be exceptionally lucky to pull 80% efficiency at over 5000rpm

drop your displacement to a more common 383 and your rpm limit to the fairly common 6500rpm and you'll drop even the theoretical air flow requirement to below 875cfm

http://users.erols.com/srweiss/calchpaf.htm http://users.erols.com/srweiss/calccarb.htm

heres the ramjet ZL1 454

http://www.sallee-chevrolet.com/ChevyBigBlockV8s/ramjetzl1.html yeah you might not believe it but it got a stock 48mm twin bore TPI style chevy throttle body feeding that 454 engine, do you think chevy would do that if it was a significant restriction to hp production??

the restriction is not the throttle body its the port size, valve size and flow the heads have and intake manifold runers restriction,and cam lift and duration... install an intake manifold,cam and heads that can flow 300cfm and the 58mm aftermarket throttle body will still effectively feed the engine, remember that while even 300cfm ports at full flow only pull air about 250 degrees out of 720 degrees in the cycle and are spaced 90 degrees apart, that means that 1000cfm can feed all 8 cylinders a full 833cfm they could in theory flow ,and that 300cfm per port can support roughtly 600hp OK IVE JUST GOT TO ASK?
why would you buy a 52mm vs a 58MM throttle body????

now PLEASE don,t get me wrong,

the 52MM has a nice improvement in air flow over the stock throttle body, but in most cases that extra air flow is not used, especially on a mild engine or one with stock gearing and displacement, and the 58mm won,t in most cases increase the performance, and yes IM well aware from testing that the MAF sensors and the intake manifolds , and heads are the big restrictions, and that with out inproving those areas the stock throttle body works just fine.

BUT NEITHER WILL THE 58MM HURT a damn thing EITHER??

I tried BOTH on my 383 with BOTH the TPI and STEALTH RAM intakes, (I borrowed a friends 52mm to test) and there was no real differance untill I was up in the 6000rpm range, and even then the differance was minor, but again WHY buy the smaller unit, that could potentially be a restriction with future mods done??

its NOT like a carb, you won,t get a big loss of throttle response, in fact I could detect ZERO difference once it was correctly tuned) or for that matter experience any down side to the larger unit provided of course your tuning skills are decent.

and before you guys get crazy, do some research!

I don,t remember ever seeing a dyno on anyone else s engine EITHER that showed a LOSS to the larger unit, just a few that showed no IMPROVEMENT in a particular application, and if your thinking of pointing out a lack of throttle response thats been repeatedly shown to be due to tuning issues like low fuel pressure, too small of injectors,or the TPS voltage was off the mark, the IAC was not set correctly or the ignition timing curve was not ideal, or in a few cases the compression ratio was to low for the cam selected, get the LCA or duration wrong for the application and AIR FLOW REVERSION in the runners CAN cause problems, like a bog when you transition from idle to W.O.T. almost instantly, but in no case IVE seen was the extra potential air flow a problem, especially once you realize that the plenum/ports carry only AIR, and the fuels injected in the last 4 inches of the runners.

for some reason many guys seem to think the throttle body size is far more restrictive than it is while IGNORING the fact that as your engines horse power expectations increase the need to supply fuel to the engine also will increase and they find the engines tendency to loose power at 4500 rpm-5000 rpm , and blame it on a lack of air flow exclusively, when in fact its generally BOTH a lack of fuel and air flow rates that cause the power curve to nose over as rpms increase.
yes youll need a larger flow rated set of fuel injectors AND A BETTER FUEL PUMP, if you plan to exceed 400 plus hp

Inj Flow Rate (@ 40psid) Naturally Aspirated hp (@ 0.50)

19 lb/hr 258 hp @ 85% Duty Cycle

24 lb/hr 326 hp @ 85% Duty Cycle

30 lb/hr 408 hp @ 85% Duty Cycle

32 lb/hr 435 hp @ 85% Duty Cycle

39 lb/hr 530 hp @ 85% Duty Cycle

42 lb/hr 571 hp @ 85% Duty Cycle

47 lb/hr 639 hp @ 85% Duty Cycle

60 lb/hr 816 hp @ 85% Duty Cycle

BTW To TEST an INJECTOR with a multi meter for OHMS resistance, remove the connector from the injector, push carefully in the middle of the locking clip, with your thumb, This will make the sides, and tips move OUT WARD in their connector slots allowing the tips that hold the injector into the connector to slide out of the way from the injector body, and you can then pull the sides away. WATCH the locking clip - IT can and WILL come off and get lost, if your not careful put your V.O.M. meter on OHMS and put the leads across the two connectors ON THE INJECTOR ,

it should read about 11-16 OHMS in most cases, a few are designed to read up to 19 ohms, or

as low as 9 ohms

, BUT GENERALLY READINGS LOWER THAN 11 OHMS tends to point to a problem with the injector , The Ford motorsport injectors in the 24lb-hr flavor test a little lower (14.1-14.3 ohms) than the bosch's @ 22lbs/hr. (15.9-16.3)

BUT ALL INJECTORS IN A SET SHOULD READ WITHIN ONE OHM OF EACH OTHER

if its out of that range by a wide margin ITS MORE THAN LIKELY DEFECTIVE, c

hecking the OHMS reading as a first step will frequently detect a defective injector, naturally using your trouble codes , a shop manual and a fuel pressure gauge won,t hurt and a shop scope , or engine analyzing software with a read out to your laptop computer helps and can further isolate the problem, at IDLE speeds placing a finger tip on the side of the injector will usually allow you to feel it (CLICKING) adding a couple cans of injector cleaner and about a pint of MARVEL MYSTERY OIL to a full tank of fuel can sometimes free a sticky injector that partly clogged, but don,t do it frequently as its very hard on the CATS and O2 SENSORS if done constantly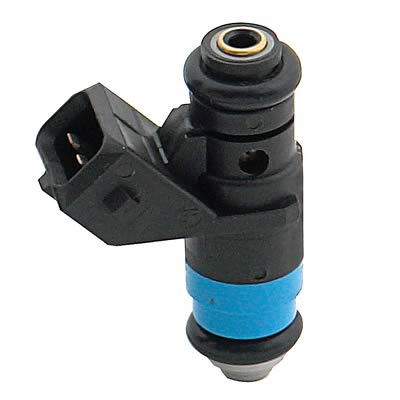 partly clogged injectors tend to reduce power and increase emissions
notice, the injector resistance is usually stated in the description
Brand: ACCEL
Product Line: ACCEL Fuel Injectors
Part Type: Fuel Injectors
Part Number: ACC-150826
Injector Advertised Flow Rate (lbs/hr): 26 lbs./hr.
Injector Advertised Flow Rate (cc/min): 269.0cc/min
Injector Impedance: 14.4 ohms
Driver Type: 12 V saturated circuit
Overall Height (in): 2.880 in.
Seat to Seat Height (in): 2.270 in.
Manifold O-Ring Outside Diameter (in): 0.573 in.
Fuel Rail O-Ring Outside Diameter (in): 0.574 in.
Outside Diameter (in): 0.943 in.
Injector Plug Style: Bosch/Amp-style
Wiring Harness Included: No
O-Rings Included: Yes
Quantity:
http://www.megamanual.com/v22manual/minj.htm
BTW
http://www.sallee-chevrolet.com/frame.html?/sales.html
RAM JET 502 - FACTORY FUEL-INJECTED BIG-BLOCK POWER
P/N 12499121 [Old P/N 12497323]
The recipe is simple; one part attitude, one part driving perfection, one part leading factory technology, and five hundred and two parts hungry rat motor. Ram Jet 502, you either have one, or you want one! When the idea of an all new big block fuel injection system first came up, we all thought it was a good one. When it was proposed that it be integrated with our 502 crate engine, we thought someone had clearly lost their mind. Who could possibly need the awesome, flat, broad torque curve only available with a long runner dry manifold? And who would want the neck-snapping throttle response of MEFI 4 controlled port fuel injectors? And what would be the need for aggressive tunnel ram styling? But then we remembered we're not building 100 mile per gallon, 0 to 60 in a week, eco scooters. We're in the hot rod business! So we called together engine management system experts from GM Powertrain, our own GMPP engineers, and fuel injected race engine builder and GMPP Pro Mod racer Harold Martin. After some great discussions, a little debate, a lot of late nights and 50 gallons of coffee we had an intake manifold design like no other. By leveraging leading fuel management technology, numerous production developed components, the industry standard MEFI 4 controller and the great Ram Jet name from the 50's, the Ram Jet 502 is reality.
The new undisputed heavy weight champion, the Ram Jet 502, makes 502 horsepower at 5100 rpm and 565 ft.lbs. of torque at 3200 rpm. The instantly throttle responsive Ram Jet 502 drives like no other big block you've ever driven. With over 500 ft. lbs. of torque from 2,200 to 5200 rpm, the Ram Jet 502 is a tire shredding monster making more torque throughout its operating range. This is possible because Ram Jet has a larger plenum and runners than would ever be possible in a carbureted application. This means greater intake efficiency and greater torque without sacrificing driveability.
The Ram Jet manifold is so efficient that were able to make all of this horsepower and torque with a production L98 throttle body assembly, you know, the one that Firebird and Camaro owners always replace when trying to make more power in their 350 engines.
Its all about airflow quality, velocity, and fuel and spark management. Youll just have to drive one to appreciate it. If the one-second cold starts, no stalling, instant throttle response, and the solid pull from idle to red line dont convince you that a Ram Jet 502 is for you, then maybe you would be more interested an a competitors futuristic dream of a 100 mile per gallon, 0 to 60 in a week, eco scooter or a good old fashion bicycle for those weekend events to impress all your friends at the local hot rod club or for those weekend cruses out on the highway to impress everyone else on the road.
The Ram Jet 502 is designed for ease of installation needing only 12V, ground, fuel feed and fuel return to run. Included are an instruction sheet, service manual and diagnostic tool for ease of installation and service. As with any GM Performance Parts Ram Jet engine, an in tank fuel pump is recommended to avoid possible vapor lock. See instruction sheet for fuel pump recommendations. Also included is complete throttle linkage that accepts your production throttle cable and transmission cable. Includes pre-programmed MEFI 4 ECM and wiring harness. This revised electronic and closed loop system gives a much smoother idle and better performance then the MEFI 3 ECM system it replaced.
The Ram Jet manifold stands eleven inches tall as measured from the front and rear â china wall on the cylinder block. Thats just half an inch taller than a typical single plane high rise manifold, Holley carb and air cleaner combo.
RAM JET 502 TECHNICAL INFORMATION
Last edited by a moderator: