Administrator
Staff member
PEANUT PORT HEADS WITH RECTANGLE PORT GASKET ABOVE

346236 1975-87 454 Open 113cc .PEANUT
SLIGHTLY LARGER, COMMON EARLY OVAL PORT HEADS WITH RECTANGLE PORT GASKET BELOW
polishing and smoothing these combustion chambers,surfaces, removing the sharp ridges etc, has shown noticeable benefits in both reduction in a tendency to detonate, and a bit better power and since its not all that difficult to do its well worth the effort
properly prepped, or mildly ported peanut port heads (most are p/n 346236 )
flow a bit better than small block vortec heads which are rated fairly well as stock small block heads, the peanut port heads have the obvious advantage of slightly larger ports and canted valves and larger valves but the important fact is that if mildly ported on a 454 they can support over 450 hp if matched to the proper combo
viewtopic.php?f=52&t=462&hilit=porting+help FIRST GEN, SBC CLOYES ROLLER TIMING SET https://www.summitracing.com/parts/clo-9-1100/overview/ MARK

IV

BBC CLOYES ROLLER TIMING SET 1965-90 https://www.summitracing.com/parts/clo-c-3024x/overview/ MARK

VI

BBC CLOYES ROLLER TIMING SET 1991-95 https://www.summitracing.com/parts/...-specific/engine-family/chevy-big-block-gen-v

READ THIS LINK OVER CAREFULLY TWICE

http://garage.grumpysperformance.com/index.php?threads/finding-a-machine-shop.321/#post-55314 http://garage.grumpysperformance.com/index.php?threads/can-t-find-matching-pistons.14206/

the stock OEM heads are limited to about a .500 lift clearance so if you intend to use a cam with greater lift you'll need to verify clearances and in many cases upgrade the valve train to both better springs with more clearance and a adjustable rocker valve train as the stock rockers are not adjustable like the older bbc design




READ THROUGH THIS LINK

http://garage.grumpysperformance.com/index.php?threads/finding-a-machine-shop.321/ http://garage.grumpysperformance.com/index.php?threads/big-block-head-comparison.319/ http://garage.grumpysperformance.co...ck-chevy-gen-v-vi-to-adjustable-rockers.4564/ http://cranecams.com/?show=browseParts& ... howAll=yes
Ive never figured out why guys get all giddy over using vortec heads on a SBC and then dismiss the peanut port heads on a BBC, if you put vortecs that flow about 230cfm, on a 383 or 400 sbc, with a matching compression and cam timing, you generally can build a real mid rpm torque monster, but guys don,t seem to realize mildly reworked peanut port heads easily flow 260 cfm, and on a 396-427 that flow rate can easily result in a 500hp plus combo, with the correct cam and compression
READ THRU THIS LINK
http://www.superchevy.com/technical/eng ... ewall.html
viewtopic.php?f=52&t=3960&p=10599&hilit=articles+block+oval#p10599
if you have the chance de-shroud and polish the combustion chambers on peanut port heads and blend the chamber edges slightly to remove sharp edges that can cause hot spots/detonation at times
port throats generally run 80%-85% of total valve diameter because you need to maintain sufficient valve seat contact area to allow sealing and cooling and some wear during operation
viewtopic.php?f=52&t=2630&p=6788&hilit=shrouding#p6788
http://books.google.com/books?id=XGxGDL ... rs&f=false
http://garage.grumpysperformance.co...ck-chevy-gen-v-vi-to-adjustable-rockers.4564/
Ok you have the small peanut port heads and everyone you talk to says dump them in the nearest dumpster, but your budget, won,t allow you to buy a nice set of performance heads, what do you do?
Here is an excerpt from an AERA TB,,
===================
Exhaust Valve Guide Caution On
1965-98 GM Big Block Engines
These engines' valve guides were not intended as a replacement item from GM.
The guides were located into the head castings after the head was cast and
the exhaust guide is "water cooled".
The water-cooled guide also has two different size press fit diameters. Adding additional confusion to the matter, they also switched the location of the larger diameter sometime in 1985.
To determine which outside diameter guide you have and which direction to
remove an exhaust valve guide, the following procedure is suggested:
Drive the guide no more than .250" (6.35 mm) toward the valve spring side of
the head and stop. Then, measure the newly exposed area of the guide
OD next to the spring pad.
If the measurement is .620" it is the first style guide. To remove this
style guide, continue driving it toward the valve spring side of the head.
If the measurement is .616" , it is the second style guide. To remove
this style guide, you must drive it the opposite direction toward the combustion
chamber side of the head.
well your far from alone in the budget restrictions and if your building a street car combo those ("WORTHLESS PEANUT PORT HEADS") may actually have a good deal more potential than most guys would believe....what many guys don,t realize is that those heads with a minor valve pocket bowl clean up will out flow the sbc vortec heads many guys rave about, and the canted valves also increase flow rates.
be aware that use of full length headers and a low restriction exhaust system is almost mandatory to building a responsive low to mid rpm big block combo, with a 454 using peanut port heads.

mildly porting those heads in the bowl area under the valves and getting a good blended valve seat and pocket area and back cutting the valves with a 30 degree back cut to increase low rpm flow rates will be well worth the time and effort
theres a very limited selection of matching intake manifolds available
http://www.summitracing.com/parts/WND-8122/?rtype=10
http://www.dragzine.com/tech-stories/engine/ultimate-guide-to-budget-bbc-cylinder-heads-under-2000/
http://books.google.com/books?id=hSjHst ... q=&f=false
http://books.google.com/books?id=XGxGDL ... q=&f=false
but if you take the time to cam the engine to maximize the torque/hp in the 4000rpm-5000 rpm and get the compression ratio up in the 10:1 range, you can build a surprisingly effective combo, If your familiar with building basically stock Pontiac and caddy engines you'll be familiar with the restrictive port flow and having to limit your power curve to under about 5500rpm,and having to rely on that lower rpm torque curve, so the gearing obviously needs to match,to maximize that torque curve, but on the plus side you can just about forget about valve float, and bearing wear issues from high rpm detonation problems
heres some results a home porting job had on peanut port heads
(easily enough flow to support 530hp, if used with the correct matched components)
lift int..........stock int_ported exh_stock exh_ported
0.200..........125 ..........129 ..........87.......... 95
0.300 ..........183.......... 196.......... 111.......... 125
0.400 ..........215.......... 242 ..........130.......... 146
0.500 ..........233.......... 259 ..........144 ..........162
0.600.......... 235 ..........269.......... 150 ..........182
Both data sets are at 28†water, with no pipe on the exhaust ports. This is for stock 2.07â€/1.72†valves with stock (rather poor) valve job and 3/8†valve stems.
INTERESTING LINK ON MAKING STOCK BBC OVAL PORT HEADS WORK
http://www.maliburacing.com/patrick_budd_article.htm
FINDING A DECENT BBC CAM ON A TIGHT LSA CAN BE A PROBLEM AT TIMES< HERES A FEW
http://www.claysmithcams.com/big-block-chevy-11/
http://rehermorrison.com/product/wet-sump-system/
http://aviaid.com/shopsite_sc/store/htm ... s_bbc.html
http://www.kevkoracing.com/wetsump_chevy.htm
https://www.chevydiy.com/oil-lubrication-systems-guide-big-block-chevy-engines/
a decent vacuum secondary 750cfm holley helps on a 454 bbc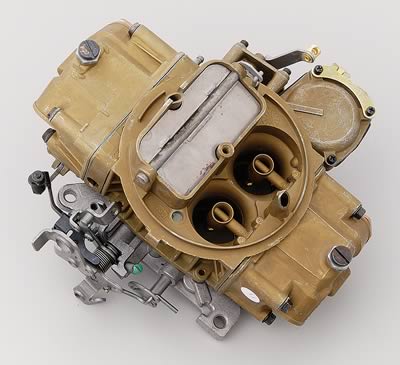 http://www.summitracing.com/parts/HLY-65-3310/
if your looking for a flat tappet cam
http://www.crower.com/misc/cam_spec/cam ... x=27&y=10(
crower 01915)
good choice c for heavy car, towing and stock converter
http://www.crower.com/misc/cam_spec/cam ... &x=27&y=10
(crower 01292)
slightly more radical, and pushing clearances, but decent stock engine choice
if your looking for a hydraulic roller?(very definitely you'll need to verify clearances)and youll need an adjustable valve train and new springs that handle a .620 lift, and a 3.54-3.73 rear gear and a manual transmission or 2800rpm stall speed converter)
crower 01404LM
youll want better pistons if your serious about maximizing power, something in about a 10.3:1 cpr range would be good if used with the correct cam and drive train gearing
http://www.kb-silvolite.com/icon/icon.p ... s&P_id=367
this ERSONS well known for working well with a manual trans and at least 10.5:1 compression , and a 3000rpm stall converter and 3.73:1 rear gears , used in several engines
http://usaperform.com/performance-lifte ... rers_id=27
http://www.iskycams.com/pdfcatalog/2004-05/page112.pdf
http://www.wallaceracing.com/Calculators.htm
http://reviews.ebay.com/Big-Block-Chevy ... 0001563647
http://garage.grumpysperformance.com/index.php?threads/magnets.120/#post-49772
Last edited by a moderator: