Administrator
Staff member
youve installed 1.6:1 ratio rockers and the pushrods rub...in the guide slots in the cylinder heads,
this is a comon problem,easily solved...
YOU NEED A
louis tool,
YOU WANT ABOUT .060 CLEARANCE, IT MAKES THE JOB EASY
https://www.summitracing.com/parts/pro-66485
its used to hold a drill in the exact location to elongate the push rod slot, giving the clearance required
One of the most frequent questions I hear, is
" will adding 1.6:1 roller rockers really do much for my engine vs the standard 1.5:1 ratio roller rockers?"
changing just the rocker ratio but sticking to the cheaper stamped ball & socket stock rocker design tends to have a minimal power advantage, the fact that the aftermarket stamped rockers do tend to be a bit more consistent in effective ratio helps but gains of 5-8 hp are common, not the 10-12 hp commonly quoted from what IVE seen on dyno results.
keep in mind the flat side of the rockers axle or trunnion faces up to mate with the adjustment nut, and the rounder side faces the cylinder heads, if you change the rocker ratio the push rod alignment changes and you might need a LUIS TOOL to lengthen the cylinder head clearance slots in the cylinder heads.
swapping to 1.6:1 ROLLER ROCKERS from your old standard ball & socket stock rockers is usually worth 15-20hp, occasionally a bit more, the change in lift at the valve with the new higher ratio rocker is a minor factor compared to the reduced friction decent roller rockers provide, but together the two factors, higher valve lift and less friction are usually worth the time and effort, swapping from a 1.5:1 to a higher 1.6:1 ration can at times provide little if any benefits but on other combos the results are very noticeable (ON A DYNO) especially if your really UNDER CAMMED for the application
keep in mind that on an LT1/LT4 engine, in a corvette, that had about a 330-350 hp rating, the rockers having a gain of 12hp-17hp like I mentioned is about a 4%-5% boost, while its not going to pin you back in the seat during acceleration it might put you an extra 8-10 feet ahead in a 1/4 mile drag race as you go through the lights compared to the old comb
o
if you change the rocker ratio the push rod alignment changes and you might need a LUIS TOOL to lengthen the cylinder head clearance slots in the cylinder heads.
be sure to check clearances carefully like coil bind,and push-rod to guide plate alignment and clearances ,verify the rocker slots don,t bind on the rocker studs as this is a common problem with stock stamped style 1.6:1 ratio rocker, verify the push rods don,t bind in the slots in the cylinder head, if they do even for an instant at one point in the rockers arc, they can bind the lifter rotation on the cam lobe and cause the cam to wipe, out the lobe and the lobe & lifter contact area resulting in a quickly failed cam,and/or restrict oil to the rockers
s
check all valve train geometry and clearance on any engine you assemble or modify the valve train on.
http://store.summitracing.com/partdetail.asp?autofilter=1&part=PRO-66485&N=700+115&autoview=sku
https://www.summitracing.com/parts/pro-66485
These Proform pushrod slotting tools are designed to elongate the pushrod slot in the cylinder head. They will make room for higher ratio rocker arms. Use these tools with a drill and a 5/16 in. drill bit to elongate the pushrod slot.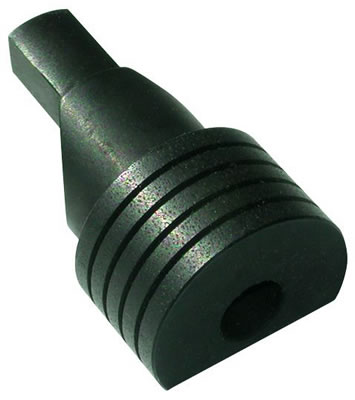 btw place a magnet like this under each pushrod slot to catch the drill chips from iron heads
http://www.kjmagnetics.com/proddetail.asp?prod=D82SH&cat=167
using a louis tool, this tool is a GUIDE /tool for use with a high quality DRILL,its made of HARDENED STEEL that FORCES the DRILL BIT to drill thru the head to correctly lengthen the pushrod slot for increased clearance, they usually come WITH INSTRUCTIONS AND THE NECESSARY DRILL
many, but not all, aluminum performance cylinder heads already were manufactured with the longer slots, now I generally use ALUMINUM ,BRODIX,TRICKFLOW,AFR, ocasionally DART, heads and I can,t remember a recent set that was needing to be clearanced there. but remember the rockers you sellect, pushrod length, spring height all effect the geometry and the clearances can easily be changed
a rocker stud girdle helps also, as it tends to stabilize the studs flex and minimize the changes in clearances as the springs load/un-load
keep in mind most performance heads your pushrod guide plates not the slots in the castings to align the pushrods
(BOTH the pushrod guide plates and rocker girdles are usually unique to that particular heads geometry, so make sure what you want fits the application when ordering parts)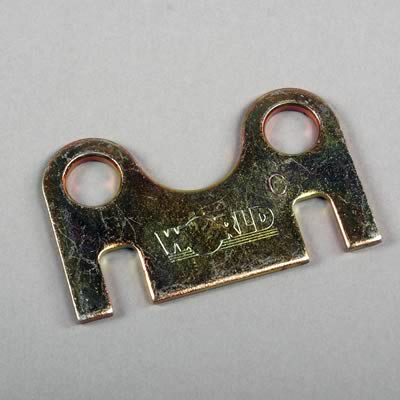 http://www.airflowresearch.com/car-craft-nov-2014-pushrods.php
http://store.summitracing.com/partdetail.asp?part=TFS-30400700&autoview=sku
http://store.summitracing.com/partdetail.asp?part=TFS-30400701&autoview=sku
its very common to find you'll gain a couple horsepower with the addition of a rocker stud girdle employed,
as youll have both more precise valve train control and less deflection, Ive seen guys instantly gain an extra 150 rpm-200 rpm,
before they started feeling valve float or loss of valve train control and its certainly less stress on the cylinder head casting and rocker studs.
the one thing ID suggest is that before you buy any rocker stud girdle you ask questions, many cylinder head designs use non-standard rocker stud spacing.
its not horsepower, its the stress on the valve train, that makes a rocker stud girdle and its increased rigidity useful,
and thats more closely related to average stress levels, RPM and VALVE SPRING LOAD RATES
any time your occasionally exceeding 6000rpm or getting close too 330 lbs of open valve load rate Id strongly suggest screw in rocker studs
any time your intentionally exceeding 6000rpm and exceeding 350 lbs of open valve spring rate a rocker stud girdle might be a good idea.
and if your regularly exceeding 6500rpm and 400 lbs of open valve spring load rate its use is going to become almost mandatory
http://www.summitracing.com/parts/pro-66950

http://www.summitracing.com/parts/sum-141010
If your ordering any cam, be very sure you explain what year block and what cylinder heads will be used as there are differences in the cams. between early and later SBC, block s and the cams they require,and on big blocks theres similar issues, a mark VI cam is different from a MARK IV cam
READ THRU THESE LINKs ALSO
viewtopic.php?f=52&t=1719&p=4265&hilit=aligning#p4265
viewtopic.php?f=52&t=181
Last edited by a moderator: