Administrator
Staff member
Ill make this real easy, CLOYES TRUE ROLLER TIMING CHAINS are a FAR more durable option than the cheap single roller imports, and many of the import double roller clones, that look like the CLOYES TIMING SETS and they are far less likely to stretch or fail easily, or quickly, and the timing marks and indexing are usually very close to correct unlike some of the imports from china and India I see sold at auto parts stores for $20 and under, yes theres no doubt the cheaper sets work (at least for awhile) and that the CLOYES BRAND COST MORE!, and yes there are other well built timing sets and even gear drives available
but you tend to get a better quality steel,more precise indexing, and heat treatment with the name brand parts in my experience
IVE had two REALLY badly indexed import timing chain sets that were easily 4-7 degrees out of index Ive inspected in the shop , so I try not to allow their use in any serious engine being built.
BTW one little trick you might want to know is placing a timing set in a pot covered with a mix of moly assembly lube about 15%-20% and marvel mystery oil about 80%, add a cooking thermometer and heat to about 230 degrees on a stove , stir it with a metal fork slightly to remove air and let it cool slowly before installing it, this tends to get the lube into the rollers and reduce wear.
its also a real good idea to drill the pass side oil plug under the timing cover with a .030-.035 drill so oil constantly sprays on the timing chain during use,and while IM discussing cam timing sets Id say that about 90% of the time a good CLOYES timing chain set should be used on street cars vs a gear drive if that's one option your thinking about.

a basic timing chain set like this from cloyes works great in most SBC applications
https://www.summitracing.com/parts/CLO-9-1100/

drilling a .035 hole in the pass side lifter oil gallery oil feed plug to provide a constant spray of oil to the back of the top timing gear helps reduce wear
drilling the pass side oil passage plug with a 1/32" bit so oil constantly sprays on the timing gears helps extend chain and gear life.
be sure not to insert oil passage plugs into oil gallery passages too deeply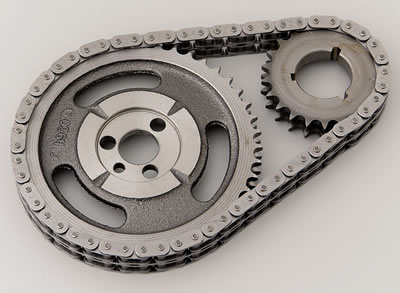 http://www.summitracing.com/search/Part ... Gear-Sets/
http://www.milodon.com/gear-drives/gear ... -chrys.asp
http://www.petejacksongeardrives.net/
http://www.petejacksongeardrives.net/in ... dfaqs3.htm
viewtopic.php?f=52&t=205&hilit=jackson
http://www.summitracing.com/search/?key ... ller&dds=1
http://www.summitracing.com/parts/CLO-9-3100/
viewtopic.php?f=52&t=90
viewtopic.php?f=54&t=206&p=242&hilit=+gasket+synthetic#p242
http://www.summitracing.com/parts/CLO-9-3510TX9/
Last edited by a moderator: