Administrator
Staff member
Jack brought his friend over yesterday to have me look at his newly acquired pride and joy, a 1970 Pontiac that some previous owner had installed a 396 BBC engine and TH400 transmission into, now the car runs reasonably well but it sounds like its got a valve train problem, because while its got that sewing machine like rhythmic clicking, at idle, that USUALLY more than likely indicates a solid lifter cam, its not uniform, and adjusting, what would usually be the OBVIOUSLY hydraulic valve train doesn,t make the valve train run quietly.
so the first step I suggested was looking at the rockers ,and after pulling the valve covers too inspect those, we found , he had comps roller tip, stamped rockers on the car. when he purchased the car.so after the valve covers were removed and a quick visual inspection for obviously busted push rods and valve springs etc. was completed,
we started looking closely and listening to each rocker individually,, and placing a hand palm down on each rocker as the car idled to see if that pressure changed the sound which might help locate and isolate the source, if one rocker seem looser that might indicate a cam lobe wear issue.
you always need to verify the true problem before looking for solutions,logically you would start with a visual inspection to verify the ignition firing order, ignition timing are good , and doing a compression test on all the cylinders, a careful inspection of the valve train, and re-adjusting the rockers.
logically if you adjusted the valves that were previously too tight, and the compression increased it was the result of a more effective seal as the piston moved up working against sealed valves.
BTW its very common for the stroker crank, counter weights or connecting rods in a 383-400 SBC too touch a stock UN-modified 350 oil pan, and make a ticking or knocking sound, if you don,t clearance it correctly a bit more, with the necessary grinding on the block or a bit of oil pan dimple work with a ball peen hammer on the oil pan rail area, Id also check the dip stick as some touch the rotating assembly,id also suggest inspecting the rockers carefully , a burnt trunnion bearing or rocker ball can sound like a bad rod bearing , a cracked flex plate or exhaust leak can also make a similar noise
and if you have similar issues with an engine, if post CLEAR detailed color pictures of all the spark plugs labeled as to the cylinder they came from it would help diagnose the problem.
If theres some chance you previously over tightened a rocker and caused either valve train or cam lobe damage as a result, locating that damage and correcting it will obviously be required.
ok, step by step, first the plug pictures, then we will get into isolating the cause,if you need to pull and inspect a cylinder head, look for detonation damage, or track down a valve train , fuel distribution or ignition issue.
its just a mater of logically breaking down the problem to each potential source and testing to verify if thats the cause. Assuming youve located the lifter tick to a single cylinder location, do this quick test, look carefully for an exhaust gasket leak, if you don,t find one .swap a couple rocker arms that are NOT near each other and see if the problem stays with the lifter or rocker arm location
a good many lifter ticks are rocker related
do yourself a favor and swap the rocker and push rod thats clicking with one at a different location on the other cylinder head, and see if the clicking moves with the rocker and push rod or remains at the original location, and check the valve spring and rocker stud during the swap process as a first test.you might also very carefully inspect the push rod slot to push rod side clearance , AS I have seen cases where it rubbed and would not allow the push rod to seat centered in the lifter seat during the full cycle thru the rocker arc.
because once we had the valve covers off you could place your fingers on the rockers at idle and feel the roughness there was obviously a mechanical problem ,in many cases a close visual inspection or simply placing your hand on each rocker for a few seconds as it cycles thru its 720 degree repetitive cycle, will allow you to feel and roughness or binding or clearance issues enough to warrant further inspection when you feel the rockers not moving silky smooth, and they won,t move effortlessly if the rocker balls burnt from previously being starved for oil, or the rocker slots binding on the rocker stud.
as with most problems its best to start with the basics and do some testing, its very common to find valve train clearance issues, well before you start any engine, issues like
getting close to spring bind, piston to valve clearance, failing to degree in the cam.
Or having retainer to valve seal clearance issues
or rocker stud to rocker slot binding.
or rocker body to rocker adjustment nut clearance issues,
or rocker body to retainer issues, incorrect rocker geometry from the wrong spring install height or push rod length,that can cause valve keepers to rapidly wear. anyone of which can easily result in a valve train failing or cause it to self destruct.
pre-spraying all bearing and valve train components with a moly based spray, helps embed micro moly lubricants in the metallic surface micro fissures , a good paste lube like cranes assembly lube over the spray surface helps insure a good lubricant surface coating, that is far stronger than just the ZINC and PHOSPHATES in oil

as always its isolate and carefully test,don,t assume you know whats causing the noise, or problem like most guys do, and try to prove it, look at the facts!as you find them,and let them lead you to the cause, don,t ever assume a new part can,t be defective or that you could not have installed it incorrectly, WE ALL SCREW UP OCCASIONALLY!. THINK THINGS THRU,BE OBSERVANT! Id suggest you pull the valve covers, and carefully inspecting the rockers and valve train components for indications of excessive wear,and look at the valve springs and check for coil bind , and rocker to rocker stud clearance,and rocker to jam nut clearance, rocker to retainer clearance,especially if the cam you installed has over .480 lift and your still using the stock valve springs,and then place your hand on each rocker as the engine idles and listen for changes in the sound and feel the rocker movement, a defective or improperly installed rocker arm,or one binding on the jam nut can and will make that sound and exhaust rockers are more prone to fail, if you adjusted the rockers without having the engine idle try it the old way at idle ,yeah, I know,what you heard, try it any way.
you might also find that pulling one spark plug wire off the distributor cap at a time and replacing it then moving to the next and removing that one, etc. etc. will help you locate the cylinder causing the ticking sound, by the change in sound when that cylinder does not fire.
you might also do a compression test and check your ignition timing curve, look for vacuum leaks and post clear detailed pictures of each spark plug labeled as to the cylinder as its condition can tell you a great deal about the combustion in that cylinder
http://garage.grumpysperformance.com/index.php?threads/rocker-push-rod-wear-issues.9815/#post-54232
some roller rocker too retainer combo clearance issues cause problems easily solved with beehive springs and smaller retainer diameters


look through this thread
http://garage.grumpysperformance.com/index.php?threads/two-loose-valve-locks.9687/#post-47884
http://garage.grumpysperformance.co...e-springs-and-setting-up-the-valve-train.181/
similar issues honestly this first video, might have been made about almost any engine, and most parts, and no brand of parts is flawless, as all parts given enough stress, and time , will eventually fail or wear out! that this happened is not surprising as it might happen in any...
garage.grumpysperformance.com
IM seriously considering/ thinking about putting roller rockers on my 327.do i have room to put 1.6 ratio or just stay with 1.5s http://garage.grumpysperformance.com/index.php?threads/louis-tool-swapping-to-1-6-1-ratio-rockers.14761/...
garage.grumpysperformance.com
BE aware you need to verify rocker adjustment lock nut to rocker slot clearance and yes it varies even with the same manufacturers different rocker designs
at times lash caps or longer push rods will be needed to change the valve train geometry to gain rocker clearance or get the proper geometry
AND YES CAM LOBES AND LIFTERS FAIL..even ROLLER LIFTERS
obviously buying an oil filter can opener tool, and doing some close personal inspection of what your dealing with won,t hurt.
http://www.summitracing.com/parts/sum-900510/overview/
http://www.homedepot.com/s/paint+filter?NCNI-5
almost any auto paint store and most hardware stores sell these disposable throw away paint strainer filters , that cost about 20-35 cents each, or a bit less in bulk packs, honestly I don,t see why most guys don,t invest the dollar it takes for a magnet and a couple filters
heres a helpful diagnostic tool,(the oil filter cutter pictured below) and yes I still cut open the oil filters and inspect the filter element on my cars oil filter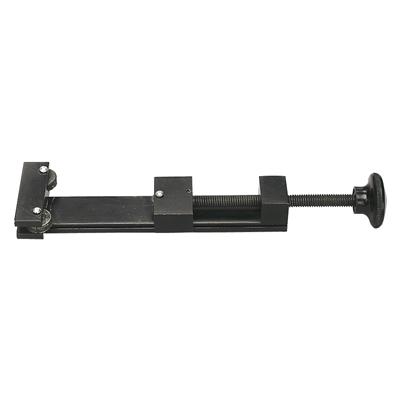 http://www.summitracing.com/parts/pro-66490/overview/
[/COLOR]
related info
viewtopic.php?f=52&t=181&p=215&hilit=broken+rocker+stud#p215

viewtopic.php?f=52&t=6237&p=19552&hilit=broken+rocker+stud#p19552

http://www.hotrod.com/how-to/engine/ctr ... ubricants/

viewtopic.php?f=44&t=4949&p=13698&hilit=broken+rocker+stud#p13698

LIKE THESE

which had worn to the point of being junk due to low oil flow rates
these four pictures below are off the internet but notice the heat discoloration on the rockers, and Ive seen more than a few roller tip stamped rockers fail over the years
looking closely I found several with loose roller tips that looked about ready to self destruct and two had obviously heat scars and rough rocker pivot balls that at some point had been run with limited oil flow to cool them, looking further it seemed rather obvious from the layer of internal sludge that previous maintenance and oil changes were less that frequently done, I suggested after pointing out the impending valve train failure that he replace the rockers,and do a oil and filter change and an engine flush, as the current parts were a disaster waiting to occur.
now let me be clear here I,M NOT suggesting a commercial solvent engine flush that breaks loose sludge as that frequently causes problems
I,M suggesting he drain the oil, replace the oil filter and fill the car with 4 quarts of 10w30 oil and 2 quarts of MARVEL MYSTERY OILand let it idle with that mix in the engine for about 30 minutes than take a short 30 minute drive , and drain the oil and replace the filter again with 4 quarts of 10w30 oil and 2 quarts of MARVEL MYSTERY OIL as its sure to remove a good percentage of the sludge without doing much if any engine bearing damage, then to run the car for the next 2500 miles and change the oil and filter, to remove the remaining sludge. I also removed the push rods one at a time and used carburetor cleaner solvent and high pressure air to clean sludge out of the interior passages
I had him purchase new roller rockers pbm805-16 from erson and in the mean time gave him a set of used factory stamped rocker arms to get the car running,
Id also suggest you closely inspect rockers for wear and rocker stud to rocker slot wear or contact markings
read these threads also
viewtopic.php?f=52&t=7716&p=29797&hilit=broken+valve+springs#p29797
viewtopic.php?f=52&t=126&p=35548&hilit=longer+slot#p35548
viewtopic.php?f=52&t=181&p=19781&hilit=long+slot+rocker#p19781
viewtopic.php?f=52&t=5931&p=18267&hilit=long+slot+rocker#p18267
http://www.airflowresearch.com/car-craft-nov-2014-pushrods.php
http://www.pbmperformance.com/store.php?catId=24
the difference in engine sound even with the stock rockers, I provided after the engine flush and fresh oil was amazingly smoother and softer, very noticeably better
Last edited by a moderator: