The Grumpy Grease Monkey mechanical engineer.
Staff member
Hi all,

I have a fairly healthy (~460hp) 406 SBC with a 800cfm DP Holley, a Carter M4891 (120gph) mechanical fuel pump and 3/8" hard line front to back with a 3/8" pickup.

This fuel system has worked great for me the last three seasons of driving and ~30 passes down the quarter mile.

But when I took it to the dragstrip this past spring, I was having an issue where my Biscayne would gently fall on its face when I hit 3rd gear. Ran strong in 1st and 2nd, but not 3rd. Seemed to be a fuel issue. So I recently dropped the tank to clean it out (figuring rust flakes might be clogging the sock?) and found very little debris. But I went ahead and cleaned the tank, blew out the lines (replaced the rubber sections) and put it all back together again. But before backing it out of the garage, I installed a fuel pressure gauge/line from the fuel inlet "T" at the carb up to the cowl so I could track FP at WOT.

It idles and part-throttles dead on 7psi. But at WOT, the pressure dropped all the way down to 2.5-3psi throughout my test hits. This seems pretty scary to me. Is this really bad? Or as long as I've got some sort of positive pressure, I'm fine?
lets locate the reason your fuel pressure is not correct! and consistent?
where in the fuel line or fuel system, are you measuring the fuel pressure drop and under what conditions?
does your fuel pressure regulator or fuel pump have a return line?
do you have at least 7 gallons of fuel in the cars fuel tank?
have you replaced the fuel filter lately?
have you verified BOTH the fuel bowl float levels are correct?
where is the fuel filter located?
do you have a fuel pressure regulator?
if so what kind?
it was rather common cure for loss of fuel entering the carb under rapidly applied inertial loads,( DRAG RACING) and hard acceleration, with higher than normal inertial loads, the correct mods to your fuel delivery system help.
that tend to reduce the volume of fuel reaching the carbs fuel bowls under hard acceleration, is as follows
one old hot rodder's trick, back in the muscle car era (1960s-1980s) is to place a larger than average size fuel filter forward of the engine, up near the radiator shroud, mounted higher than the carbs inlet ports, with the filter feed line facing the filter and pointed back towards the engine, and the feed line to the carb mounted at the rear of the fuel filter facing the engine, so inertial loads tend to drain the filter contents, back towards the carbs fuel bowls, this tends to momentarily supply the extra required fuel to the engine as the filter drains, and flow from the fuel pump is momentarily low.
its always a good idea to mount fuel lines away from hot exhaust like headers and
ideally
protected from accident damage and clutch explosion shrapnel, and away from bell housings, run along frame rails and protected from heat and
corrosion
damage.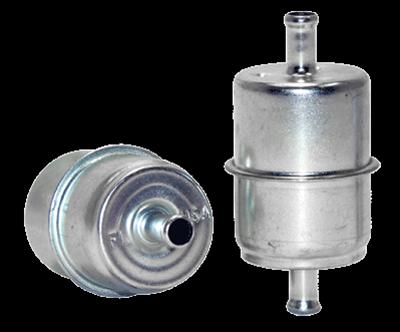 3/8" inlet lines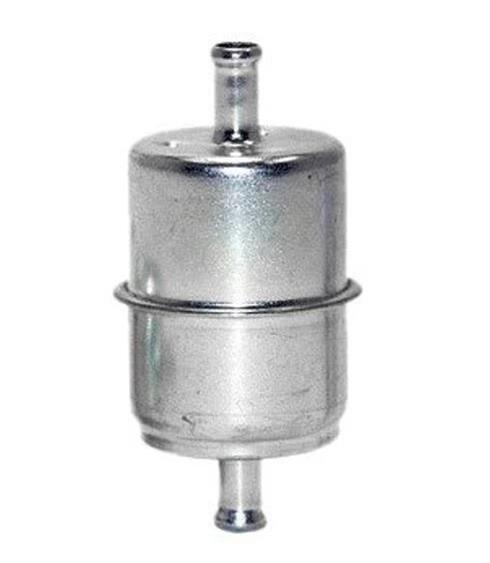 Free Shipping - WIX Filters Fuel Filters with qualifying orders of $109. Shop Fuel Filters at Summit Racing.
www.summitracing.com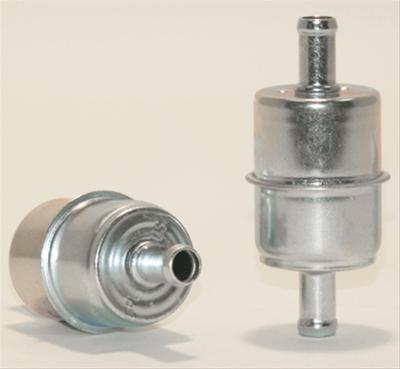 1/2" inlet lines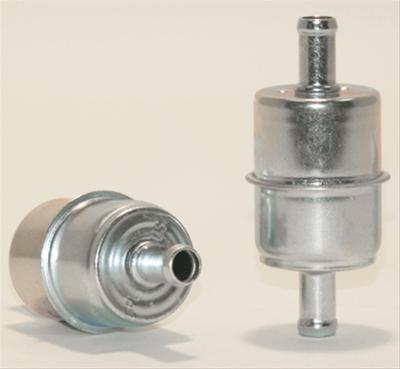 Free Shipping - WIX Filters Fuel Filters with qualifying orders of $109. Shop Fuel Filters at Summit Racing.
www.summitracing.com
obviously having a fuel pressure regulator, and correct sized fuel lines and adequate fuel pump helps,
having the carb inlet port between the pump and fuel pressure regulator is the preferred set up.
fuel systems set up with the fuel pressure regulator between the fuel pump and carb inlet port are generally not as consistently reliable in my experience.
Use these ratings to decide your return line sizing based upon fuel pump output:
if your engine makes over 400 hp plus, you should have a AN-10 or 1/2" fuel lines and filter and a fuel pump that supplies you with at least 90-100 GPH and 7 PSI consistently with a fuel pressure regulator with at least a 3/8" return line,
*
Up to 45 GPH = 5/16" or -04 AN
*
Up to 90 GPH = 3/8" or -06 AN
*
Up to 250 GPH = 1/2" or -08 AN
*
Up to 450 GPH = 5/8" or -10 AN
*
Up to 900 GPH = 3/4"or -12 AN
Use these figures as a fuel line sizing standard: if your feeding a carburetor with the typical 8-10 psi fuel pump feeding to the fuel pressure regulator
* Up to 250 HP = 5/16" or -04 AN
* Up to 500 HP = 3/8" or -06 AN
* Up to 700 HP = 1/2" or -08 AN
* Up to 1000 HP = 5/8" or -10 AN
* Up to 1500 HP = 3/4" or -12 AN
never use fuel filters like these as they are a huge fire hazard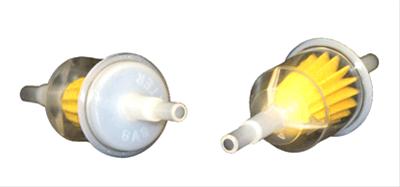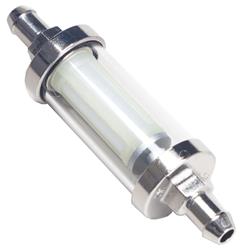 there's several tests you can do to verify what component might be at fault
info you might need
2001 s-10 4.3l 135000 mi. Friends truck. It has slow start and stumbling. I havent really dug in to this yet, but an initial check of the fuel pressure shows that as soon as the pump stops (just turning the key on/off, not starting the engine) the pressure goes to zero. With the pump running...
garage.grumpysperformance.com
Volume vs. Pressure FUEL Volume and FUEL pressure are two completely different things when you talk about fuel,supplied to an engine, but they must work together to give you the proper air/fuel mixture delivery. Both carburetors and EFI systems require the proper fuel volume to make the desired...
garage.grumpysperformance.com
for a decent performance engine, that many guys build, I think your generally going to find an engine used on the street having under 450 rear wheel horse power equipped, with a carburetor(S) you'll need consistent fuel flow at 5-6 psi,and 80-110gph ,Holley,G.M. PERFORMANCE, SUMMIT RACING...
garage.grumpysperformance.com
when your setting up your cars fuel delivery system, you'll obviously need to know the physically requirements of the engine your about to feed, For your older carburetor, equiped muscle car, this will generally be for most performance cars 5-6 psi of fuel pressure at the carb inlet port, a fuel...
garage.grumpysperformance.com
Hi, Im wanting to check the float levels on my holley (2) 750 carbs. both carbs are installed on the vehicle but Im concerned about doing this with the engine running. the motor has a mech fuel pump and reg just ahead of carbs. Is this normally done running or not? If not what is the procedure...
garage.grumpysperformance.com
Got a 350 in my Corvette with a Holley 670 avenger carb. I am having a terrible time keeping the secondaries from flooding out. Bought a new fuel pump, and put a gauge on it, and getting 10-12# output pressure. The carb is rated input pressure to be 4-6#, so I guess the extra pressure is...
garage.grumpysperformance.com
Last edited: