Administrator
Staff member
I was asked "whats your current engine, combo, Ive listed it below,
KEEP in mind the whole concept of the build, a dual personality engine that, the idea was too build an engine combo that would work well N/A, for cruising on highways, with a bit over 440 hp (NA) yet
primarily
designed too still kick butt with a healthy boost of a
wet
nitrous,plate on the plenum,
the question always comes up about the drive train and gearing, thats always critical, and a good question with several answers and limitations on what you can do based on what rear differential you have and what your willing to do or can afford to do.
most guys feel its a two step process and a first step is a high stall torque converter , ideally matching your engines power curve, generally allowing you to jump in where your torque curve starts to pick up strongly at about 3300rpm-3500rpm stall speed and with a 3.73 rear gear ratio, this usually fits or at least works fairly well with most performance engines built for street/strip use, used on the street, as it allows a fairly long duration cam that will allow a 383-406 sbc engine most guys build with about 10:1-10.5:1 compression ratio to maximize the engines potential,your limited by the cars tire diameter on a c4 corvette is about 24"-24.5" so thats not likely to be changed due to rear wheel well clearance limitations, if you have a dana 36 rear differential youll be limited to a 3.73 rear gear set , some dana 44 rear differentials will accept a 4.11 rear gear set.
yes I have to admit that when I personally swapped from a stock stall speed converter
,in my 383 sbc corvette and a 3200 rpm stall speed converter the difference in performance was amazingly better.
swap too a 3.73:1 rear gear and you've noticeably further enhanced that seat of the pants and slam in the back acceleration.
people tend to not fully appreciate the fact that the performance cars drive train gearing, power to weight ratio and the converter stall
(in the case of automatic transmission) must match the engine torque curve if the car is to perform to anything close to its best potential.

obviously knowing your engines effective operational power band and matching the drive train gear ratios to operate most of the time well with in that power band makes sense.
your over drive 700r4 or 4l60 you may have replaced it with has an over drive top gear in the .70 range, a trans like that has limited strength, upgrading to the larger / strong 4l80E takes fabrication and modifications but pays off in a much stronger platform
yes a couple different parts could have been selected that would have easily boosted the power level significantly higher , but it would have resulted in a trade-off that reduced the street drive-ability,in exchange for peak power numbers that were seldom used on the street


"yes IM fully aware it will take hours to read all the sub linked info, youll save weeks of work and thousands of dollars if you take the effort, theres not much sense in not taking advantage of several decades of research and dozens of engines built and finding out what did or didn,t work correctly is there?"


Im always amazed at the number of guys who jump into modifying something like an intake without doing the first basic test to find out what the stock runners flow, or to establish a base line for the mods they intend to do. guys fail to test, or measure what parts of the intake ,like runners,cross sectional area, plenum volume or look at port matching needed to be modified to make it flow better , and theres a huge number that never bother to test the results of the mods they do, so they may not be getting the expected improvements or they may stumble on a significant way to improve flow rates.
(you might be amazed to find some mods make a very noticeable improvement while others have minimal effect.)
Id also point out that cam timing matched to the exhaust scavenging has a huge effect on potential intake flow rates


viewtopic.php?f=52&t=3293&p=8709#p8709
but keep in mind its not peak hp but ease of effective nitrous use and decent driving characteristics when not using nitrous that were the main goals in the parts selection, OF MY PERSONAL 383, but theres a TON of related info you can benefit from in the links that has zero to do with use of nitrous,and yes I need to run 92-93 octane fuel and have a slow advance curve and keep the coolant and oil temps at the lower edge of the average range to prevent detonation from being a problem ,running that much compression, and let me state that the component choices were made over 12 years ago, today there are much better component choices available especially in cylinder heads. if they were available at that time I would have selected some of the newer heads, the trickflows are good but certainly not state of the art now.

http://garage.grumpysperformance.co...-heads-for-small-block-chevys.3293/#post-8709
even without mild porting these TWISTED WEDGE TRICKFLOW heads have exceptionally good exhaust flow numbers, once ported they are easily able to run with the more expensive 195 AFR heads

keep in mind the engine combo in my corvette was designed primarily to maximize the results of a nitrous system NOT to run great hp numbers running N/A.
but theres dozens of engines in the links, and the sub-links in those threads, posted that were designed to run without nitrous
yes the rules at most race tracks are there mostly to improve the car and driver safety,
but it also greatly increases cost, and reduces participation.
I rather enjoy the , local Saturday night "run what your brought"
racing, yes your limited to about a 13 second car,
but its still fun to watch because its mostly guys in street driven cars
what screws it up is theres always some guy that could run low 10 seconds with $5000 plus in computer controlled equipment,
that basically lets the car run the race, and click off boringly consistent runs
making the guys with basic street driven cars at a huge disadvantage in the long term.
when I first got my 1985 corvette it would consistently run about 14.5 seconds in its O.E.M. condition,
once I tweaked a few things and added a few parts .
consistent 13.3 second runs.
at this point I had a great deal of fun with the corvette.
yeah I decided to tweak the combo a bit, changed cams, several times, ported heads,
swapped to a custom ported and significantly modified stealth-ram,much larger injectors, a new ignition,
added a better 3" full length and well designed low restriction,exhaust ,
and low 11 second runs, with a 250 hp, wet nitrous kit ,
and getting told I could no longer race the car was a huge P.I.T.A.

Last edited: A moment ago

a HOLLEY STEALTH RAM BENEFITS A GOOD DEAL FROM CORRECTLY PORTING THE RUNNERS


a second options the aftermarket FIRST TPI intake with larger runners

stock un-ported runner entrances
porting the stealth ram, adds noticeably to the intakes flow potential, of course the extent and quality of the porting work varies but its well worth the effort
be sure to accurately calculate the injector flow rate needed at the delivered fuel rail pressure
example on my corvette a 470cc in each runner port injector is approximately a 44 lb injector
https://fuelinjectorclinic.com/flow-calculator
https://www.injectorrx.com/injector-size-calculator/
https://injector-rehab.com/shop/Injector-Flow-Conversion.html
https://fuelinjectorclinic.com/hp-calculator
https://www.witchhunter.com/injectorcalc1.php
http://www.raceworks.com.au/calculators/injector-hp-calculator/
http://www.rcfuelinjection.com/Technical
http://www.enginelabs.com/news/calculating-fuel-demands-and-injector-sizing-with-efi-university/
http://garage.grumpysperformance.com/index.php?threads/ideal-tpi-build.12203/#post-76070
below is a picture I took about 9 years ago, a very early proto type version on my test mule corvette 383 engine where I was testing cams with versions of the custom intake during research.
IF YOU HAVE THERMOSTAT TO THROTTLE BODY CLEARANCE ISSUES
don,t forget all that potential extra air flow from a correctly ported stealth ram intake and matching heads that can flow in excess of 300cfm per runner, requires 36lb -44lb injectors and a cam with enough lift and duration to allow that air flow rate to be effectively used if you expect the intake to perform to near its full potential, and remember if the cylinder heads you select, at the cam lift and duration you select and the low restriction headers and exhaust system behind the headers can,t flow similar CFM flow rates the extra intake flow potential is wasted to some extent.
POSTED ABOVE theres a picture of a TEST MULE engine,in my corvette, itS nothing fancy to look at, for sure, but it put out over 500 hp,AND IT GETS TESTED WITH NEW CAMS , INJECTORS ETC. CONSTANTLY. Ive built/fabricated and tested dozens of custom plenums and several stealth ram, runner modifications and about 20 cams now, so I have a good grasp on whats required to boost power levels, this early plenum custom built mod, easily out flowed the stock plenum, but the current versions even better. once you own a TIG welder and a MILLING MACHINE this type of fabrication is far easier to do and your no longer limited to stock part modifications.
keep in mind the basic stealth ram intake is a modified tunnel ram designed to operate in the 3500rpm-6500rpm range, so a cam matching that power band in the 230-245 duration at .050 lift range on a fairly tight 106-110 lsa , and enough lift to allow the heads to flow at the max rate, (usually .550-.630 lift) with the proper intake mods to allow the heads to reach max flow rates would maximize the results on a 383-406 displacement with a matching required compression ration and heads matching the intake and exhaust flow requirements.


Correctly done porting helps air flow significantly, just keep in mind its part of a complete system, so the injector size, fuel pressure, and air cleaner restriction to air flow, the cams lift, duration,LSA, intended power band, cylinder head flow rates and exhaust restriction, & scavenging , all play a major roll in your results
HOLLEY changed the STEALTHRAM casting to a thicker flange a few years ago , notice the lower intake is marginally thicker allowing larger ports to be cut when porting
."yeah! didn,t take long after I built my first 383 for the 1985 corvette, to find out that the 700r4 and the dana 36 rear u-joints were not up to even the rebuilt engine let alone the wet nitrous once you mounted decent tires, if you use stock tires they spin and loose traction acting like a fuse and preventing drive train failures, but once your making 500 ft lbs plus of torque both the u-joints and stock trans are on borrowed time

comparing this to the super ram, after having run both Im telling you guys at least on a highly modified engine the STEALTH RAMS THE WAY TO GO! YEAH I KNOW THE STOCK STEALTH RAMS PLENUM IS 3/4" too tall to shut the hood , HOOD CLEARANCE sucks but the powers great if you can use the air flow potential which is quite a bit better that the super ram and the more I tweak the EFI tuneing the better the STEALTH RAM runs


http://garage.grumpysperformance.co...gine-project-dart-shp.3814/page-35#post-23579
http://garage.grumpysperformance.co...ther-efi-intake-manifold-info.431/#post-48733

http://garage.grumpysperformance.com/index.php?threads/throttle-body-size-52mm-vs-58mm.641/#post-859

http://garage.grumpysperformance.co...m-on-your-vette-but-want-more.2614/#post-7114
some of you may have missed the pics of a stealth ram installed in a c-4 corvette(one of mine, the 85) this is installed on a full roller 383 with ported trickflow heads and a #119661 crane roller cam ,yeah it ain,t much for looks but it can go slightly faster than it appears, and I have not reinstalled the giggle gas throttle plate yet,I figured on tuning the stealth ram EFI first,
compare this to the super ram, after having run both Im telling you guys at least on a highly modified engine the STEALTH RAMS THE WAY TO GO! YEAH I KNOW THE STEALTH RAMS IS 3/4" too tall to shut the hood , HOOD CLEARANCE sucks but the powers great if you can use the air flow potential which is quite a bit better that the super ram and the more I tweak the EFI tuning the better the STEALTH RAM runs



ok here, I got my kid to take pics, this is how far the stock hood will close on a stock hood with the stealth ram installed
before you go jumping into building any engine take the time to read thru these threads and sub links ,it may seem tedious and wasted time but I assure you it can save you hundreds of dollars and weeks of work
viewtopic.php?f=44&t=38

viewtopic.php?f=52&t=5078

http://www.eecis.udel.edu/~davis/z28/winter01/dyno/

viewtopic.php?f=69&t=263

viewtopic.php?f=55&t=4502&p=21483&hilit=stack+crower#p21483

http://airflowresearch.com/articles/article031/A-P1.htm

viewtopic.php?f=32&t=5583

viewtopic.php?f=69&t=8540&p=35051#p35051

http://www.superchevy.com/technical/eng ... aders.html

viewtopic.php?f=32&t=18

viewtopic.php?f=52&t=727

viewtopic.php?f=69&t=1810

viewtopic.php?f=52&t=904

viewtopic.php?f=57&t=176



viewtopic.php?f=52&t=5078

viewtopic.php?f=54&t=2187

viewtopic.php?f=54&t=64

viewtopic.php?f=57&t=149

viewtopic.php?f=52&t=1070

viewtopic.php?f=2&t=1941&p=31648#p31648

viewtopic.php?f=52&t=3293&p=8709&hilit=twisted+wedge#p8709

viewtopic.php?f=52&t=181

viewtopic.php?f=52&t=5078

viewtopic.php?f=55&t=823&p=1214#p1214

BTW this info and software a good tool, but understand theres not a single original Chevy part in my engine and I'm constantly changing components (part of the HOBBY/RESEARCH)and that just because this combo fits my needs doesn,t mean its going to be ideal in your car!
THE combo I choose was NOT designed to maximize N/A hp, but too maximize BOTH the drive ability when I was off the giggle gas and to get a reasonable boost once the nitrous was used, with durability and trouble free operation as a main concern.

http://www.auto-ware.com/software/eap/eap.htm

Ive got that software ,at first, its a P.I.T.A. to fill in all the necessary requested data "CORRECTLY" and fill the necessary data banks the basic program needs , but the more you use it the easier it becomes to use as it holds previous data in memory,but its an excellent program that gives good advice and reasonably dependable answers, unlike some of the cheaper
software.
that and YEARS OF experience and testing assist in finding a decent combo
keep in mind the rpm band your car REALLY spends MOST of its time in, most guys seem mesmerized and glued to the peak power results, it does little or no good to make huge peak power numbers at an rpm that you'll spend only fractions of seconds at during occasional race use vs the rpm band where your car spends 99% of its time, I could easily have built a killer race combo with huge peak hp numbers but I wanted something that was reasonably easy to drive on the street and still be fast on the track on the rare occasions I get there. I drive My corvette and its NOT a trailer queen!

my comb changes almost every month as I play with it, but heres My current 383 combo, (which Im currently refreshing for a spare)I built the engine SPECIFICALLY to run nitrous , but still be marginally easy to drive on the street, Its certainly NOT a race car but its fast enough to be marginally scary at times

splayed 4 bolt block,4.030 bore ARP studs
.020 copper head gaskets
6" cat 7/16" rod bolt (H) connecting rods
FORGED PISTONS 2016 alloy
SCAT 3.75" stroke FORGED internally balanced ,4340 crank
CRANE 119661 roller cam & kit (better springs added, its installed retarded 4 degrees)
air pump eliminator
jackson gear cam drive
smaller crank pullie
BBK 58mm throttle body
ERSON 1.6:1 BILLET roller rockers
gapless rings
TRICKFLOW twisted wedge heads (ported extensively)
STEALTH RAM(direct strait shot from back of valve to plenum) (ported and modified extensively)plus adjustable fuel pressure regulator
SFI 168 tooth flex plate
10 qt custom oil pan/high volume oil pump
windage screen/crank scraper /oil cooler


3000 rpm stall converter




44 LB injectors (soon to be 46 lb)


hooker 1 3/4" headers, 3" exhaust
HOLLEY http://www.holley.com/890-160.asp
taylor 10.4 mm wires
MDS ignition with manual retard dial


3.73:1 rear gears


aftermaket EFI fuel pump
larger fuel lines
trans cooler with powered fan
1.5"deeper aluminum trans pan
175 hp wet nitrous kit (EXTENSIVELY MODIFYED and re-jetted) similar to this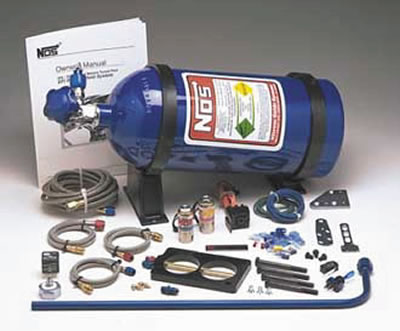 http://www.jegs.com/i/NOS/741/05151/10002/-1
be damn sure you get a WET nitrous system, and retard the ignition advance curve,
the OEM TPI computer processor speed is way too slow,
and sensors won,t keep up and you,ll burn valves or pistons,
with a dry nitrous system on a TPI engine

Im currently collecting parts to upgrade to a BBC in the vette, after running various combos/ components and testing over a dozen cams and almost that many intakes based on this basic 383 design
several 700r4 transmission, and a couple rear suspension, parts,
and more replaced U-joints , tires and brakes ETC. than you would believe
(being retired hurts the spare cash budget flow rates)

here just for grins is what DD2000 makes its wild guess at my current corvettes combo,

RUNNING WITHOUT THE NITROUS,

notice torque peaks before the hp peak, and I must shift at 6300rpm because its starting to drop off by that point in the power curve (AS I DESIGNED IT TOO)as the engine combos designed to run nitrous from 3500rpm-6000rpm, if required but thats rarely been necessary for brisk performance on the street
heres the resulting power band, of my corvettes 383 with an extensively ported custom stealthram intake and other mods like ported trickflow twisted wedge heads, erson roller rockers and a crane 119661 roller cam, with a 3200 stall converter stall and shifting at about 6350rpm N/A
keep in mind that from planing to finish product this engine was designed to run nitrous, up too 200 hp shot, the dyno below is with only a 120 shot, and gives you some indication why I get good at replacing u-joints frequently and don,t use slicks to preserve the rear differential , and yes u-joints and 1/2 shafts have a limited life expectancy

I have tried over a dozen hydraulic roller cams in my corvettes 383 sbc so far, I was using a 3200 stall in my trans at the time I used most of them in my corvette , and had ERSON 1.6:1 roller rockers on my 11:1 cpr 383 and the crower 00471 certainly was fun to drive if you were only concerned with performance.
the only reason I swapped back to the crane 119661 was that the crane cams a bit easier to drive in traffic and cruise with, but the crower has a bit brisker performance.
ideally youll want a fairly tight LSA of close to 106 in a cam for a 383, but the difference between a 106-to a- 110 LSA,is not going to make or brake the combo, it simply changes the volumetric efficiency slightly and its only ONE of dozens of factors that will effect your results.
going with a slightly wider LSA tends to broaden the power band and smooth out the idle SLIGHTLY but the difference is not huge on cams with the same lift and duration.
yes the more factors that you calculate and take the time to maximize the better, but don,t think that one change will destroy the engines power curve.
I tried the CROWER 00471 in my cars 383 and then settled on the CRANE 119661, there was no question the crower 00471 made better peak power, than the crane 119661 , but being a bit older and less impressed with "POWER" than over all day to day drive-ability, and having installed a 200 hp wet nitrous system on that car that provided more than enough EXTRA kick when I needed it I felt I could compromise and loose a few PEAK N/A hp with ZERO NET LOSS

every choice you make is a compromise in some area!
RELATED INFO
viewtopic.php?f=52&t=727
viewtopic.php?f=52&t=1070
THIS MAKES A GOOD STREET/STRIP CAM with a 3200 stall converter and 3.73:1 rear gears and 44 lb injectors
this is the cam I selected for street use in my 383
http://www.jegs.com/i/NOS/741/05151/100 ... tId=749110
SO FAR THIS IS THE CAM BELOW IS WHAT I FOUND PRODUCED THE BEST RESULTS INN A HIGH COMPRESSION 406 SBC WITH A PORTED STEALTH RAM, BUT IT REQUIRES 10.5:1 cpr, a 3.73:1 rear gear and a 3500 stall converter and 42 lb injectors
WHAT WOULD I CHANGE IF I WAS STICKING WITH THE SBC 383?

keep in mind the current BASIC combos 12 years old and theres been a bunch of better parts come on line...It was a great combo at the time but it can be improved on now...

IF I was to build the combo today and select current parts with a goal of PEAK HP, and was willing to put up with a less streetable engine combo,Id swap to the 66cc AFR 210cc heads,with L98 angle plugs and ID BUILD/WELD up a CUSTOM EFI intake , similar to the STEALTHRAM,
BUT,BASED on the
http://www.holley.com/300-44.asp




ID swap to this cam, and a 3500 rpm stall converter and a set of 42 lb injectors

http://www.cranecams.com/product/cart.p ... il&p=24183


crane 119581



BTW
one of the cams I tried after listening to a friend give it rave reviews was the Erson 119824 WITH 1.6:1 ratio roller rockers and a TPI intake, on my 383 and it worked rather well ,having good off idle torque and good power all the way to the peak rpm where the stock auto transmission shifts at, I must admit, but it lacked power above about 5000rpm, ESPECIALLY after I swapped to the ported holley stealth ram intake





if you have a 3.90-4.11 rear gear and a 3200rpm-3500rpm stall converter, an 10.5:1-11.5:1 cpr and are willing to put up with fairly bad street manors to maximize the hp of your 383-427 sbc this HYDRAULIC ROLLER CAM listed below is a good selection





a crane 119651





or maybe even a crane 119591



this thread and its related links and its contained sub links contain a huge amount of related useful info you can use

It's time to get this party started! Last night I picked up some of my parts, the only thing left to come in, is the Mahle piston and rings. This is just the first order, mostly the things I need right now to get started. It's been over ten years since I've driven this car and I am SOOO ready to...

garage.grumpysperformance.com

or lunati 40120732 and this being a solid roller cam as it would have a theoretical 500 rpm advantage over the hydraulic rollers




Lunati 40120732, but then if I went that route Id use 210cc AFR heads with that cam selection



http://www.adperformance.com/index.php? ... ffca829bad

this would probably boost my hp 50-70 hp and raise both ends the useful rpm band about 600rpm, but make it even LESS street friendly to drive, and require a different set of valve springs
but I'm currently collecting parts to upgrade to a BBC in the vette, after running various combos/ components and testing over a dozen cams and almost that many intakes based on this basic 383 design
several 700r4 transmission, a couple rear suspension,
and more replaced U-joints , tires and brakes ETC. than you would believe
(being retired hurts the spare cash budget flow rates)


If your afraid to experiment, or too modify parts or try new things..... YOUR PROBABLY in the wrong HOBBY, you need too research your choices and ideas carefully, see if someone else tried it first and see what results they got,but do the research, theres lots of guys who could not melt ice without instructions and they could still screw it up with a video guide, do the research, or you'll find yourself in a never ending and bottomless money pit with little hope of building a killer combo at a near reasonable cost.
you DON,T NEED the absolute fastest car, what you need is a very dependable car thats far faster than most.
its no huge trick to exceed 450hp/450 ft lbs with a properly thought thru and assembled 383, and 500hp PLUS and 500ft lbs PLUS is certainly achievable WITHOUT & before you use nitrous
If your thinking of building a TPI intake based engine,your almost racing a horse wearing hobbles here!
the stock heads flow about 200 cfm , they are very restrictive, it makes very little sense to use an intake that once ported can flow more than 275cfm matched to heads that flow 200-220 cfm, or restrict an engine with a cam that won,t allow air flow much past 5500rpm, matched to an intake that flows well past 6500rpm.
your wasting your time with the stock cams designed to meet the TPI flow characteristics and peaks at about 5500rpm,
the stealth rams designed to flow a good deal more air at a much higher rpm than a TPI, a stock or even mildly ported TPI basically post stalls by 5500rpm,the stealth ram can easily allow 6500rpm or more with the correct cam and heads, gearing etc.


youll want a 3.73:1 rear gear, a 3000 stall converter with a decent trans cooler, or manual trans, or a combo like this won,t work correctly




stealthram base


a properly ported stealth ram, matched to decent heads
http://www.profilerperformance.com/racing/cylinderheads/sbc-23-degree
heads that can actually use the potential intake flow rates, 30lb-40 lb injectors to supply the required fuel to match the air flow..


and it would sure help if you build a 383 -406 SBC to use the extra air flow potential,with 10.5:1 COMPRESSION OR AT LEAST SELECT HEADS FOR YOUR 350 THAT FLOW AT LEAST 250 CFM AT .500 LIFT AND GET TO 10:1 COMPRESSION MINIMUM
obviously what goes in needs to exit so a decent set of headers and a low restriction exhaust is mandatory



http://forum.grumpysperformance.com/viewtopic.php?f=52&t=5078&p=18935&hilit=head+flow+numbers#p18935

http://forum.grumpysperformance.com/viewtopic.php?f=52&t=401&p=17237&hilit=head+flow+numbers#p17237

viewtopic.php?f=55&t=1509

http://forum.grumpysperformance.com/viewtopic.php?f=32&t=5521&p=16619&hilit=head+flow+numbers#p16619

viewtopic.php?f=71&t=662&p=9328#p9328

calculate horse power from intake port flow rates
http://www.wallaceracing.com/calcafhp.php

http://www.wallaceracing.com/calchpaf.php

http://www.wallaceracing.com/ca-calc.php

http://www.wallaceracing.com/max-rpm.php

http://www.wallaceracing.com/lpv.php

http://www.wallaceracing.com/chokepoint.php

http://www.wallaceracing.com/chokepoint-rpm.php

http://www.wallaceracing.com/area-under-curve.php

http://www.wallaceracing.com/piston-speed-velocity.php

http://www.wallaceracing.com/header_length.php
http://garage.grumpysperformance.com/index.php?threads/can-you-get-there-with-tpi.10494/#post-44284
http://garage.grumpysperformance.com/index.php?threads/bits-of-383-build-info.18/
http://garage.grumpysperformance.com/index.php?threads/c4-larger-intake-runners-l98-tpi.13785/
http://garage.grumpysperformance.co...m-dyno-results-and-other-info.433/#post-37683
http://garage.grumpysperformance.com/index.php?threads/hey-grumpy-do-i-need-bigger-injectors.5583/
http://garage.grumpysperformance.com/index.php?threads/port-speeds-and-area.333/
http://garage.grumpysperformance.com/index.php?threads/ideal-tpi-build.12203/
http://garage.grumpysperformance.co...sure-hurting-your-combo.495/page-2#post-35063
http://garage.grumpysperformance.com/index.php?threads/a-caveat-about-profiler-cylinder-heads.10065/
http://garage.grumpysperformance.com/index.php?threads/a-well-designed-c4-exhaust.786/#post-57392
http://garage.grumpysperformance.co...ther-efi-intake-manifold-info.431/#post-32491
http://garage.grumpysperformance.com/index.php?threads/tpi-throttle-body-size-48mm-52mm-58mm.546/
http://garage.grumpysperformance.com/index.php?threads/sources-for-tpi-parts-and-info.590/
http://garage.grumpysperformance.com/index.php?threads/bits-of-383-build-info.18/
http://garage.grumpysperformance.com/index.php?threads/my-current-corvettes-383-combo.430/
Last edited by a moderator: