Administrator
Staff member
http://minimopar.knizefamily.net/oilfilters/index.html
http://www.synlube.com/oilfilters.htm
http://people.msoe.edu/~yoderw/oilfilte ... lters.html
http://www.precisionenginetech.com/tech ... s-exposed/
http://www.mobiloil.com/USA-English/Mot ... _Guide.pdf
viewtopic.php?f=54&t=10380&p=42887#p42887
viewtopic.php?f=54&t=1396&p=3221&hilit=+switch#p3221
viewtopic.php?f=87&t=11043&p=48999#p48999
http://www.wixfilters.com/filterlookup/index.asp
http://www.calsci.com/motorcycleinfo/Fi ... OilFilters
https://www.amsoil.com/bypassfilters/in ... _BP252.pdf
http://findarticles.com/p/articles/mi_m ... ntent;col1
http://findarticles.com/p/articles/mi_q ... n21310401/
http://www.knfilters.com/oilfilter.htm
viewtopic.php?f=54&t=120&hilit=+magnets
viewtopic.php?f=54&t=52
http://people.msoe.edu/~yoderw/oilfilte ... study.html
Id also point out that swapping to a 7-8 quart oil pan significantly increases the surface heat transfer area and in my experience that significant reduces oil temps all by itself.
Id also point out that adding an auxiliary oil cooler with electric fan ,mated with larger AN#10 oil line size,and use of the longer higher capacity oil filter(s) to any corvette (STOCK OR BIG BLOCK ENGINE SWAP) adds effective oil flow volume to the engine, this can be a HUGE advantage when theres limited room due to ground clearance or header clearance issues that limits the size of the oil pan itself that can be used.
http://www.wixfilters.com/filterlookup/ ... Part=51061
this is a good value in a chevy gen 1 sbc and BBC v8 oil filter
keep in mind oil accumulates soot and acids over time, and even the fine black soot , most filters won,t strain out causes wear, so oil needs to be changed, even if its well filtered
THERE'S SOME BIG DIFFERENCES in BOTH construction and quality in oil filters, some have well under 200 square inches of filter surface, some over 450 sq inches
http://people.msoe.edu/~yoderw/oilfilte ... ml#measure
most quality filter have a minimum of 300 sq inches of filter medium and an anti-drain back valve, look for those features in the links
Anti-Drain Back Valves, are a plastic/or rubber baffle that prevents reverse directional flow of oil thru the filter, this tends to speed up the oil flow to the bearings on cold starts because the oil passages in the block will be full rather than needing the pump to re-fill them first, it usually consists of an easily flexible circular lip of plastic that is placed under the outer feed holes that bends out of the way to allow normal directional flow with negligible resistance but flops over and closes off those feed holes if oil tries to flow in the reverse direction thru the filter
BTW if you have a sudden drop in oil pressure on any engine with no other symptoms, you might want to replace the oil filter and check oil levels before you panic as its not uncommon for some brands of oil filters to fail internally
less than ideal filters
http://people.msoe.edu/~yoderw/oilfilte ... html#avoid
IVE always preferred the BYE_PASS versions as I felt dirty oil is preferable to NO OIL,which is what you get if the filter gets clogged with assembly lube or blows a seal ring with the non-bypass versions and not wanting to wait for the engine to reach operational temperatures which while not truly mandatory with a non- bypass adapter its a good idea to at least allow the oil to get warm before driving to keep the filters from excessive pressures
bypass style
http://www.summitracing.com/parts/SES-3-60-08-900/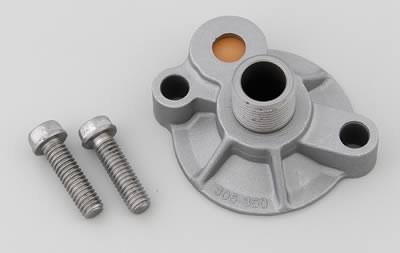 non-bypass style
http://www.summitracing.com/parts/CTR-22-570/
remote filter style
http://www.summitracing.com/parts/MOR-23683/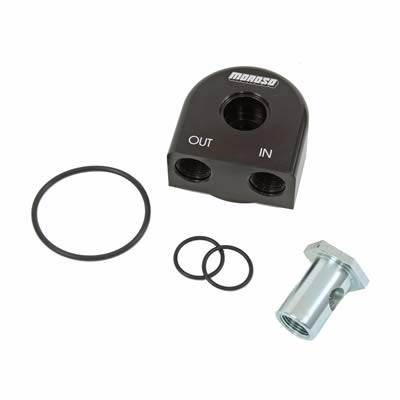 obviously these won,t fit all chevy applications but if you have the room for the longer, spin on filters
The "longer high capacity oil filter" Purolator is L40084.
"longer high capacity oil filter" N.A.P.A: # 1794
"longer high capacity oil filter" ACDelco: PF932
http://www.cantonracingproducts.com/cgi ... key=25-106
http://www.advanceadapters.com/category ... +Kits.html
http://www.hrpworld.com/googlebase.cfm? ... on=product
yes there are CLEAN AND RE-USE OIL FILTERS, and in line oil filters for oil coolers
http://fuelecosystems.com/pdfs/autlolighttruckprice.pdf
http://www.obergfilters.com/main.html
if youve ever wanted to keep a close eye on your engines heath and have a better chance of finding and fixing potential problems BEFORE they get really expensive, it takes close inspection, now cutting your oil filters open will give you a good deal of info, but there ARE oil analysis kits available that you use to take a sample of your oil and send it in for chemical analyisis for a detailed look at what condition your engine may be in!
http://www.summitracing.com/parts/SUM-900510/?rtype=10
heres a helpful diagnostic tool,(the oil filter cutter pictured below) and yes I still cut open the oil filters and inspect the filter element on my cars oil filter
proper magnets trap metallic debris
SmCo Samarium Cobalt Disc Magnets
http://www.magnet4less.com/
Samarium Cobalt MAGNETS HELP
http://www.magnet4sale.com/smco-disk-magnet-dia-1x1-4-samarium-cobalt-magnets-608-f-temperature/
magnets are ceramic and glass hard, don,t try to drill or grind them, as they can shatter
if you don,t think a proper magnet can trap/hold and prevent metallic debris from getting into the oil pump and bearings , look at this picture of an oil pan magnet I found posted
Model# SMCO-D8
Samarium Cobalt Magnets 3/4 in x 1/4 in Disc
Suitable for high temperature applications
Wholesale Price Range:
$2.99
://
www.blackstone-labs.com/free-test-kits.php
http://www.amazon.com/Wix-24077-Oil-Ana ... B000CSEUQ0
http://www.oaitesting.com/g2047.pdf
what the results might mean
http://www.v8sho.com/SHO/InterpretingOilAnalysis.htm
http://www.mobiloil.com/USA-English/Mot ... _Guide.pdf
related threads
viewtopic.php?f=54&t=3834&p=10199&hilit=filter+inspect#p10199
viewtopic.php?f=54&t=3536&p=9378&hilit=filter+inspect#p9378
viewtopic.php?f=54&t=4558
viewtopic.php?f=54&t=2080&p=5568&hilit=+filters+using#p5568
viewtopic.php?f=53&t=2727&p=7078&hilit=+filters+using#p7078
they still sell these and you could modify them or use as designed
this lower designs what Ive used for decades
Last edited by a moderator: