The Grumpy Grease Monkey mechanical engineer.
Staff member
if you deal with many , of the newer cars/trucks with more modern fuel line connectors ,you'll find many require a tool to insert to disconnect the tabs,
that keep the line connected, these internal plastic tabs are prone to getting broken or
damaged, and the quick connectors are not 100% reliable in my experience,
the quick connects have two internal surface, spring loaded lever arms that ride over a ridge in the fuel line , and drop down locking the quick connector in place ,
preventing it sliding off the intended location, the tools simply lift the two locking levers out of the way, so the connector slides off the male fuel pump line and its expanded locking ridge, easily.
the mild press fit of the male fuel line exiting the fuel pump assembly as its forced into the female quick connect is at least in theory sufficient to prevent fuel leaks.
most of the in the tank fuel pump assemblies use a push-on quick connect unlike in years past where a hose and worm gear clamp ,
or similar compression band clamp on the fuel line,
use of a compression clamp on the exterior of the fuel line placed on the fuel line past the flared ridge on the fuel pump male line is far more secure if tightened securely.
https://www.agrisales-inc.com/48-ss...EF_WL6VDGyKib4Zmpx9XEqZ_RicSQeLBoCzLcQAvD_BwE
https://images-na.ssl-images-amazon.com/images/I/711ye2i5gqL._AC_SL1500_.jpg
https://www.amazon.com/Swpeet-Adjus...ocphy=9012039&hvtargid=pla-571287561058&psc=1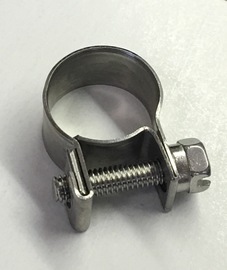 https://www.summitracing.com/parts/ear-750005erl
was commonly used
personally I don't trust or recommend the quick connect fuel line connectors, as they are easy to break, or damage and many leak.
https://www.summitracing.com/parts/rnb-800-080
https://www.summitracing.com/parts/rnb-800-121
https://www.summitracing.com/parts/rnb-800-084
https://www.amazon.com/Dorman-800-0...ocphy=9012039&hvtargid=pla-448474717102&psc=1
https://www.amazon.com/Disconnect-A...ocphy=9012039&hvtargid=pla-975545194785&psc=1
https://www.harborfreight.com/fuel-and-transmission-line-disconnect-tool-set-7-pc-64813.html
Last edited: