Administrator
Staff member
spark plug info..SO!...read thru the links theres a ton of good info,
but its spread over all the links, if you can get that skill mastered your well ahead of most guys who fail to take the time and effort to learn that skill
guys frequently ask me what plug gap to use, Provided your ignition functions correctly and your using the correct heat range plugs and a reasonably close fuel/air ratio and timing advance, Ive never seen any improvements in gaps tighter or wider than .045.
Ive never seen any advantage to gaps over .045 and Ive seen plug gaps as wide as .060 or under .035 cause misfires with some ignitions in a FEW applications so after years of testing and racing I generally set plug gaps at .045, if your having issues with misses at .045 its not the plug gap thats the cause,its some other problem with your ignition or fuel/air ratio or ignition timing advance,high resistance ignition wire, moisture,a bad coil,loose connections, firing order or arcing ignition etc..

always use a bit of anti-seize paste on spark plugs, threads, being used in aluminum cylinder heads even if not required and its best to remove & install them when the engines not very hot, be very careful to start threading them into the heads by hand, and don,t over tighten them as its all too easy to strip soft aluminum plug threads in aluminum cylinder heads, if you have access to a 3/8" drive inch/la torque wrench 12-13 ft lbs is about correct torque

http://garage.grumpysperformance.com/index.php?threads/installing-hard-to-access-plugs.962/

BTW some of the older guys will remember that the SBC used to have 13/16" spark plugs and they were changed to the smaller 5/8" style in the early 1970s, and if your wondering why they changed it was because they found that smaller diam. plug threads allowed slightly larger coolant passages and allowed moving the plug location slightly closer to the exhaust valve and also allowed a slightly changed angle all of which allowed lower emissions, better control on combustion and less chance of stripped or cross threading plugs.
post very clear pictures of your spark plugs, label the cylinder # they came from, and measure the fuel pressure you can tell a good deal if you know those factors and how to read plugs.
most engine misses are related to either fuel/air ratio changes or ignition, so the first step is isolate the problem, or the cause, it could be the timing, advance curve, fuel pressure , a vacuum leak,or a defective ignition etc, you need to do a few tests
they make adapter crush gaskets

The sole purpose of an ignition system is to serve the spark plugs, and to start the combustion process, the electrical current generated by the coil must be strong enough to jump across the gap at the tip of the spark plug. Every engine has a unique specification for its spark plugs' gap, which is why it's incredibly important to properly gap a spark plug for optimum performance.
A spark plug only functions completely when its center electrode temperature is between these temperatures of about
500°C and 950°C
.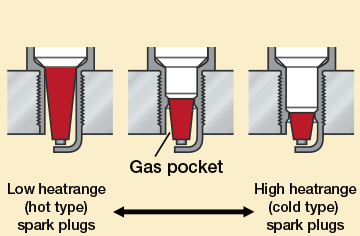 The following examples detail the typical temperatures of various combustion-related engine parts during normal operation:
Intake valve: 475° F
Exhaust valve: 1,200° F
Spark plug: 1,100° F
Piston face: 575° F
Cylinder wall: 375° F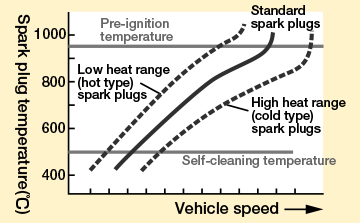 "The most commonly known flammable liquid is gasoline.
It has a flash point of about −50° F (−65° C). The ignition temperature is about
495° F (232(232° C)
[sic], a comparatively low figure."
The temperature of the burning gases inside the combustion chamber is typically around 2,800° F. In a diesel engine, this temperature remains fairly steady. In a gasoline-powered engine, the temperature can climb to 4,500° F or more under certain circumstances. However, the vehicle's engine cooling system keeps the walls of the combustion chamber at a temperature of between 265° F and 475° F.
An explanation of the relationship between the degree of dispersion of the heat the spark plug is subjected to and vehicle speed.
www.denso.com
Answer (1 of 9): As there appears to already be some engineering based answers, I will defer from a scientific answer, and give you my real world aviation experience. Flying my PA-31–325 Navajo, it being equipped with two turbo charged, air cooled six cylinder engines producing 325 horsepower eac...
www.quora.com
Whether you're a weekend DIY mechanic, a diehard gearhead, or just a vehicle owner curious about how your car works, you may want to know more about how the engine burns fuel to create power. Many common questions center on what causes engine overheating. You may be wondering just how hot it...
vehq.com
An explanation of the relationship between the degree of dispersion of the heat the spark plug is subjected to and vehicle speed.
www.denso.com




If the gap is too wide, the electrical voltage may not be high enough to arc across, which would result in a misfire.
If the gap is too narrow, the spark may not ignite a lean air/fuel mixture, which would also result in a misfire.
A spark plug's voltage requirement is directly proportional to the size of the gap.

While Autolite engineers pre-gap spark plugs for the most popular applications, a spark plug may be designed for two different engines. These engines may specify distinctive gaps. Before you install new spark plugs, reference your manual and adjust the gap using a spark plug gap tool or gauge.





If you need to widen the gap, use the spark plug gap tool to pull back on the ground strap (also called the side electrode).
If you need to close up the gap, gently tap the ground strap electrode on a hard surface.
Do not touch the center electrode or the insulator during this procedure, since these can be damaged.

You can be sure that the Autolite spark plug recommended for your application has been engineered to meet the requirements of your engine and that the gap can easily be adjusted as required. Visit Autolite.com for more tech tips and to learn about out full line of premium plugs.
https://www.jegs.com/i/Moroso/710/71900/10002/-1


there are both 13/16" and 5/8" spark plug sockets, used on most chevy engines,
and both tapered and flat seats that use a crush washer seal design



Harbor Freight buys their top quality tools from the same factories that supply our competitors. We cut out the middleman and pass the savings to you!
www.harborfreight.com

Free Shipping - Performance Tool Spark Plug Sockets with qualifying orders of $109. Shop Sockets and Drive Bits at Summit Racing.
www.summitracing.com


THE >>> TS <<< STANDS FOR "TAPERED SEAT" PLUGS.
NO STEEL GASKET

http://www.harborfreight.com/3x-magnify ... 94367.html
having a spark plug holder with numbered holes and a good inspection tool helps
testing ignition coil
http://www.aa1car.com/library/ignition_coils.htm
http://garage.grumpysperformance.com/index.php?threads/installing-hard-to-access-plugs.962/




The images below are pages out of the ACDelco plug catalog and shows the old and new numbering system. The new system doesn't have as detailed "intelligence" built into it like the old system.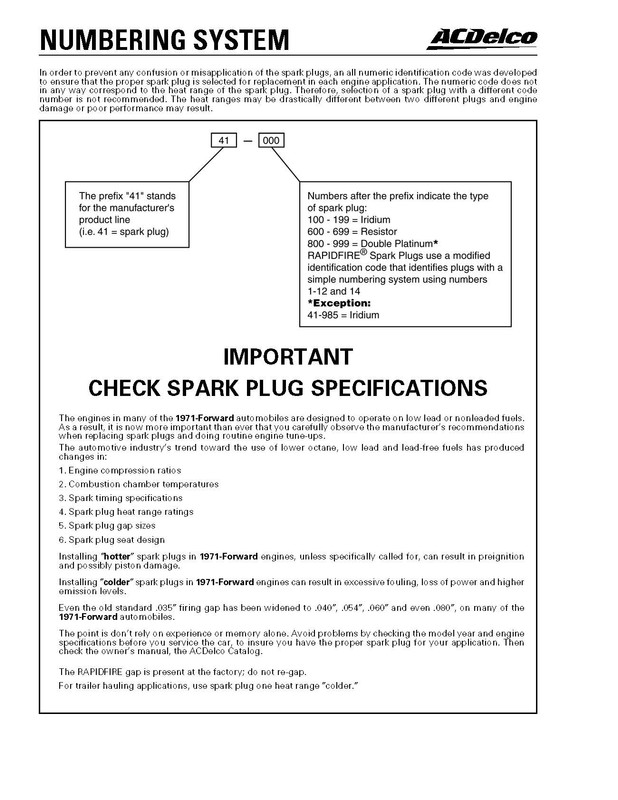 WATCH THE VIDEO




Recommended Spark Plugs for Vortec Heads
AC Delco Rapid Fire Spark Plugs R44LTS
AC Delco Rapid Fire Spark Plugs MR43LTS
AC Delco RapidFire No 3 Sparkplug
ACCEL P526S U-Groove "SHORTY" Double Platinum (approximately 3/16″ shorter then R44LTS)
ACCEL 516
Autolite 26
Autolite 104
Champion RS12YC
Bosch HR10B
Bosch HR10BX
Bosch HR9DC
http://garage.grumpysperformance.com/index.php?threads/reading-plugs.5428/
http://garage.grumpysperformance.com/index.php?threads/spark-plug-info.202/
http://garage.grumpysperformance.co...that-some-guys-don-t-look-at-the-clues.11176/
http://garage.grumpysperformance.com/index.php?threads/changing-long-over-due-spark-plugs.10404/
http://garage.grumpysperformance.com/index.php?threads/why-use-anti-seize-paste.9424/
http://garage.grumpysperformance.co...ition-wires-getting-the-header-clearance.840/
http://www.summitracing.com/parts/PIT-229/
Ive found its a whole lot faster to use a quality IR temp gun, to locate a individual cylinder that's mis-firing as it tends to run significantly cooler than adjacent cylinders, or hotter if its a vacuum leak at times, as lean F/A mixes tend to run hotter
(Ive used this one for years)
http://www.professionalequipment.com/ex ... ermometer/
Wide temperature range from -58 to 1832°F (-50 to 1000°C)
many temp guns don,t read high enough or accurately enough
http://www.professionalequipment.com/ex ... ermometer/
that you can use on the engine to check ALL 8 exhaust temps, individually, this quickly locates plugged injectors or vacuum leaks ETC
Wide temperature range from -58 to 1832°F
when selecting an IR gun for automotive use, you really want to be able to read from 0 F deg-about 1400F deg. to cover most conditions you'll test for


READ THRU LINKS AND SUB LINKS
http://www.4secondsflat.com/Spark_plug_reading.html
viewtopic.php?f=70&t=3949&p=25481#p25481
learning to correctly read plugs is a KEY FACTOR in learning how to tune and diagnose engine conditions, ignition temperatures,fuel/air ratios and detect detonation
example
Here is a link to AC Delco for information on the codes.
On the R45TSX for example:
R=resistor spark plug
45=heat range
T=tapered plug
S=extended tip
X=wide gap
http://www.acdelco.com/parts/sparkplugs ... cation.jsp
some reference chart info
http://www.sparkplug-crossreference.com ... ence8.html
http://www.spark-plugs.co.uk/pages/tech ... htm#ISOJIS
http://www.summitracing.com/parts/msd-3508
http://www.pcmforless.com/index.php?opt ... &Itemid=56
http://www.mirage-performance.com/tech/sparkplugs.html
http://go.mrgasket.com/pdf/sparkplugs/U ... erence.pdf
http://www.autorepairinstructions.com/?cat=7
hi, Im wondering if an auto spark plug can burn carbon off once it is all carboned up if the changes are made to the engine to give the proper air fuel mix. Can plugs be cleaned of carbon and can plugs be bead blasted to clean or does it ruin the plug. What would be a way to clean the plug? Or...
garage.grumpysperformance.com
http://www.kennedysdynotune.com/Spark Plug Tech.htm
IF your trying to tune an engine or track down a problem,When you inspect plugs ,pull all 8 plugs , drill some (8) 1/2 holes in 2 parallel lines in a 12"" section of 2"X6" wood and label the holes, to indicate the cylinders
2-4-6-8
1-3-5-7
so you can stick the porcelain ends , of each plug ,the wires snap onto, into the holes so you can photograph and inspect the tips and electrodes in clear detail as they can tell you a great deal about the engines running conditions
viewtopic.php?f=50&t=892&hilit=+socket
I frequently get asked what brand of plugs I use or suggest,
Ive had good luck with
AC DELCO
NGK
BOSCH PLATINUM plugs
most gapped at .043-.045
these are companys making a decent plug, your engine might run better with something else but Ive had good results with these brands
all work well in most LT1 and L98 chevy SB engines
just stick to the single electrode ground designs as in most cases Ive found the multi ground plugs cost more and don,t provide ANY improvement, and before you go linking in tests showing plug brand XYZ makes 5- 7 extra hp you should realize any decent experienced dyno operator can rig the results that much, either way at will, and if company xyz pays you several hundred dollars to show their plugs provide a small margin of extra power you can bet your butt the dyno operator will find it!
and when the next company ABC stops by for a TEST, you can bet they also show a small advantage
reading plugs can tell you a great deal, but if you don,t read thru and understand the linked info youll be at a big disadvantage
heres a very useful chart, depicting plug conditions to look for indicating combustion chamber temp and air/fuel ratio indicators
http://www.4secondsflat.com/plug_chart.html
http://www.4secondsflat.com/Spark_plug_reading.html
http://www.dragstuff.com/techarticles/r ... plugs.html
http://www.custom-car.us/ignition/spark ... range.aspx
http://ngksparkplugs.com/tech_support/s ... p?mode=nml
http://www.autorepairinstructions.com/?cat=7
viewtopic.php?f=70&t=5428
http://www.power-21.com/AutolitePower21 ... preads.pdf
http://kb-silvolite.com/article.php?action=read&A_id=63
http://www.autohausaz.com/html/spark-pl ... wires.html
http://en.wikipedia.org/wiki/Spark_plug
http://www.ngksparkplugs.com/techinfo/s ... lation.asp
http://www.verrill.com/moto/sellingguid ... rchart.htm
http://www.strappe.com/plugs.html
http://www.wallaceracing.com/plug-reading-lm.html
cross reference
http://www.angelfire.com/extreme4/skido ... ERENCE.htm
viewtopic.php?f=50&t=1853&p=4848#p4848
QUOTE
"Heat range
The operating temperature of a spark plug is the actual physical temperature at the tip of the spark plug within the running engine. This is determined by a number of factors, but primarily the actual temperature within the combustion chamber. There is no direct relationship between the actual operating temperature of the spark plug and spark voltage. However, the level of torque currently being produced by the engine will strongly influence spark plug operating temperature because the maximum temperature and pressure occurs when the engine is operating near peak torque output (torque and RPM directly determine the power output). The temperature of the insulator responds to the thermal conditions it is exposed to in the combustion chamber but not vice versa. If the tip of the spark plug is too hot it can cause pre-ignition leading to detonation/knocking and damage may occur. If it is too cold, electrically conductive deposits may form on the insulator causing a loss of spark energy or the actual shorting-out of the spark current.
A spark plug is said to be "hot" if it is a better heat insulator, keeping more heat in the tip of the spark plug. A spark plug is said to be "cold" if it can conduct more heat out of the spark plug tip and lower the tip's temperature. Whether a spark plug is "hot" or "cold" is known as the heat range of the spark plug. The heat range of a spark plug is typically specified as a number, with some manufacturers using ascending numbers for hotter plugs and others doing the opposite, using ascending numbers for colder plugs.
The heat range of a spark plug (i.e. in scientific terms its thermal conductivity characteristics) is affected by the construction of the spark plug: the types of materials used, the length of insulator and the surface area of the plug exposed within the combustion chamber. For normal use, the selection of a spark plug heat range is a balance between keeping the tip hot enough at idle to prevent fouling and cold enough at maximum power to prevent pre-ignition leading to engine knocking. By examining "hotter" and "cooler" spark plugs of the same manufacturer side by side, the principle involved can be very clearly seen; the cooler plugs have more substantial ceramic insulators filling the gap between the center electrode and the shell, effectively carrying off the heat, while the hotter plugs have less ceramic material, so that the tip is more isolated from the body of the plug and retains heat better.
Heat from the combustion chamber escapes through the exhaust gases, the side walls of the cylinder and the spark plug itself. The heat range of a spark plug has only a minute effect on combustion chamber and overall engine temperature. A cold plug will not materially cool down an engine's running temperature. (Too hot of a plug may, however, indirectly lead to a runaway pre-ignition condition that can increase engine temperature.) Rather, the main effect of a "hot" or "cold" plug is to affect the temperature of the tip of the spark plug.
It was common before the modern era of computerized fuel injection to specify at least a couple of different heat ranges for plugs for an automobile engine; a hotter plug for cars which were mostly driven mildly around the city, and a colder plug for sustained high speed highway use. This practice has, however, largely become obsolete now that cars' fuel/air mixtures and cylinder temperatures are maintained within a narrow range, for purposes of limiting emissions. Racing engines, however, still benefit from picking a proper plug heat range. Very old racing engines will sometimes have two sets of plugs, one just for starting and another to be installed once the engine is warmed up, for actually driving the car."
learn how read the spark plugs their condition will tell you a good deal about cylinder burn conditions, get an IR temp gun,vacuum gauge and timing light they are a great tuning and diagnostic aid,as they can indicate problems like a clogged cat or faulty ignition, etc. don,t solely relie on a single indicator
http://www.strappe.com/plugs.html
http://performanceunlimited.com/illustrations/sparkplugs.html
http://www.dragstuff.com/techarticles/s ... rence.html
http://www.ngksparkplugs.com/techinfo/s ... country=US
the plugs are normally done (the electrodes cut back)with a dremel tool cutting disk
http://www.autorepairinstructions.com/?cat=7
heres a good indication of plugs running a bit rich at idle and real lean in the upper rpm range
keep in mind that different brands of plugs will have different lengths that can be critical with ignition wire to header clearances
http://www.centuryperformance.com/spark ... g-192.html
http://www.carcraft.com/techarticles/sp ... index.html
a few places to look for more info on plugs
http://www.centuryperformance.com/spark ... pg-26.html
http://www.dragstuff.com/techarticles/h ... plugs.html
http://opc.mr2oc.com/online_parts_catal ... _plugs.jpg
http://www.gofastzone.com/techtips/sparkplugs/sparkplugs.htm
http://www.ngksparkplugs.ca/documents/partnumberkey.pdf
http://www.autohausaz.com/html/spark-pl ... wires.html
http://www.acdelco.com/html/pi_plugs_ident.htm
http://www.autolite.com/framer.cgi?page=http://www.autolite.com/products/racing.htm
http://members.uia.net/pkelley2/sparkplugreading.html
http://www.circletrack.com/enginetech/c ... index.html
http://www.atlanticjetsports.com/_techtalk/00000005.htm
http://www.strappe.com/plugs.html
http://www.babcox.com/editorial/cm/cm59910.htm
http://www.4secondsflat.com/Spark_plug_reading.html
http://www.ngksparkplugs.com/techinfo/spark_plugs/partnumberkey.pdf
http://www.nightrider.com/biketech/spkplghnbook.htm
http://www.tsrsoftware.com/sparkplug.htm
viewtopic.php?f=70&t=1809&p=4671#p4671
http://www.gnttype.org/techarea/engine/plugs.html
http://www.dansmc.com/sparkplugs1.htm
http://www.ngksparkplugs.com/techinfo/spark_plugs/overviewp2.asp
http://www.pajjakid.com/ubipa/sparkplugs.htm
http://www.edelbrock.com/automotive/sparkplugs.html
http://www.bullittarchive.com/Maintenance/Sparkplugoverview/
http://www.powerarc.com/sparkplug.htm
http://www.carcraft.com/techarticles/64378/
http://www.wakularacing.com/TechnicalInfo.htm
https://garage.grumpysperformance.com/index.php?threads/reading-plugs.5428/
http://www.geocities.com/MotorCity/Flats/3877/spark.html
BTW IF YOU WANT TO AVOID ETHANOL LACED FUEL
http://pure-gas.org/
Last edited by a moderator: