Administrator
Staff member
I was asked," whats the difference between 2,4, and a splayed bolt block"
on a normal chevy engine with 4 bolt main caps the caps look like this, notice the front cap is a two bolt main cap which is normal even on four bolt block where all the other caps have four bolts
the better machine shops pin or sleeve the main caps to prevent movement
factory OEM blocks are very thin wall casting's
the aftermarket blocks are cast of better material and made much thicker.
HOW FAR CAN YOU BORE A BLOCK? before you begin to have a engine block bored more than about .030 over size its a good idea to have the blocks bore walls sonic tested Have your machinist sonic check the block before you bore it. calculate the remaining bore wall thickness, and if its not thick...
garage.grumpysperformance.com
the answer depends on what your intending to do with that engine build and your budget.
think through your choices carefully.
chevy rates the two bolt SBC blocks at 350hp, but everyone has seen two bolt blocks built to produce 450 hp,
and stand up to that power level for short term stress.
the stock two bolt main cap block works ok up to about 400-maybe occasionally 450hp, if its only run hard occasionally.
adding splayed main caps aids the lower end rigidity, but its likely to cost you over $600 in parts and machine work costs
and might allow that original block to handle 500hp-550hp
(yeah I hear all the screams about guys who swear they build 500 hp sbc engine with two bolt main caps all the time)
theres a huge difference between hitting 6000 rpm plus occasionally vs regularly, and pushing 500 hp every once in awhile,
and running an engine hard/frequently at that power level like a dirt track cars engine! STRESS IS CUMULATIVE
if your intention is to build a daily driver , get main cap studs and use the block,
if your intention is to run the crap out of the engine added splayed main caps and spending $600 plus on caps and machine work might make sense, if your goal really exceeds 500 hp or you want a heavy use of nitrous buy a
Dart or BOWTIE 4 bolt block
DART blocks are built with better quality cast iron, higher nickel alloy and have much thicker castings
keep in mind that main cap STUDS will have the entire threaded length of the main cap stud fully threaded into the block threads BEFORE the clamping force is applied and that the end extending through the main cap will have a finer thread pitch, that will allow
a greater clamping force to be applied with identical torque wrench , torque loads
ARP said:

Do I need to re-torque my head bolts or studs?
If you follow the ARP installation instructions, there should be no need to do a re-torque. However, it may be necessary under certain circumstances if the gasket manufacturer's instructions require it, particularly if a fire ring has been installed. ARP recommends not doing a re-torque on a hot engine.
Do I need lube on my bolts or studs?
We recommend using ARP Ultra-Torque lube to ensure an even, accurate clamp load and to prevent thread galling. This is particularly important for stainless steel fasteners. The lube should be used under the head of the bolt or the bearing surface of the nut and on the threads, unless a thread sealer is used.
Can I use Loctite or any thread locker instead of ARP Ultra-Torque assembly lube?
Yes, you can. Some engine builders use blue Loctite on the stud end that goes into the block. Do NOT use Loctite on the nuts for the head studs or main studs. Always ensure that the threads are clean prior to applying any lube. When using Loctite, make sure you assemble the parts before the Loctite cures. You can use Loctite instead of ARP Ultra-Torque, but do not use them together.
Do I have to use Ultra-Torque?
We spent two years developing ARP Ultra-Torque and we have come up with what we believe to be the ultimate fastener lubricant. All of our torque values are based on using Ultra-Torque. We do not provide torque values for use with any other fastener assembly lubricant (such as motor oil, moly lube, etc.) Use these other lubes at your own risk, as their use may lead to a part or engine failure, for which we are not responsible.
Do the threads of the bolts or studs going into the block need lube?
Yes. On blind holes use a small amount of ARP Ultra-Torque lube on those threads. Additionally, if the studs protrude into a water jacket, you will need to clean the threads in the block to remove all coolant and oil residue. Apply a liberal amount of ARP thread sealer or a high temperature thread sealer.
Are ARP bolts and studs re-usable?
Yes. As long as the fasteners have been installed and torqued correctly, and show no visible signs of damage, they can be re-used. If they show any signs of thread galling or corrosion, they should be replaced. In the case of rod bolts, if any of them have taken a permanent set and have stretched by .001" or longer, you should replace them immediately. See page 29 in the catalog for more detailed information on this critical measurement.
Do I install my studs into the block first?
After test fitting the studs in the block, it is generally easier to remove the studs, put the head gasket and head on the block and install the studs. This will reduce the possibility of damaging the upper threads of the stud and scraping the cylinder mounting holes. If the block has no alignment dowel pins, you can use the stud to align the gasket and head.
Does the chamfer on the inside diameter of the washer go up or down?
The chamfered side of the washer goes up, towards the head of the bolt. The chamfer is there to create clearance for the radius between the bolt shank and the bolt head.
Do the head studs only go in hand, or finger tight?
Yes, cylinder head studs are installed only hand tight. Other than the use of an allen wrench on the hex broached into the end of the stud (to ease installation, not to apply torque), use no tools to seat them in the block. However, it is extremely important to ensure that the studs are fully bottomed out in the hole in the block and not hung up on damaged or corroded threads in the block preventing the stud from being fully seated. This is often indicated when the stud threads extend past the deck surface.
I have heard that some people have had trouble with newly installed cylinder head studs leaking water. How do I make sure I don't have the same problem with my new ARP head studs?
Prior to installing your new head studs, it is very important that you have clean threads on both the block and the studs. First, clean up all the threads in the block with a thread-cleaning chaser, NOT a regular tap. Thread chasers are designed so that they do not remove material from threads but merely remove debris and corrosion. Make sure you go all the way to the end of the threads in the bottom of the hole. Then clean out all the holes in the block with brake or carburetor cleaner to remove all the debris. Make sure the threads on the new studs are clean. Use a liberal amount of ARP thread sealer, high temp silicone or Loctite to ensure that there will be no air pockets that can cause leaks. Then follow the ARP instructions for installing the fasteners.
Are ARP's torque recommendations the same as the vehicle manufacturer's specifications?
Sometimes ARP will recommend using torque specifications that are different than the manufacturer, but not always. Our kits are engineered for specific applications, factoring in the necessary clamp load we're trying to achieve, material type, block or head material, etc. To achieve our target clamp load, it may be necessary to use a different torque figure than what the factory calls out.
The torque/stretch number listed for my after-market connecting rod is different than what ARP calls out for the same bolt. Which specification do I use?
Refer back to the rod manufacturer and use their torque/stretch value.
What drill size do I need for my wheel studs?
To determine what drill size you need, you will need to know your axle/hub material and the wheel stud knurl diameter. If your axle/hub material is cast iron or steel, your drill size will be 0.005" smaller than the knurl diameter. If your axle/hub material is aluminum, your drill size will be 0.007" less than the knurl diameter. The Wheel Studs section in the catalog, pages 76 & 77, list the knurl diameter size.
What is the difference between ARP2000 and Custom Age 625+ studs?
ARP2000 is an alloy steel that has a tensile strength of 220,000 PSI. Custom Age is an austenitic alloy that has a tensile strength of 260-280,000 PSI, providing a greater clamping force than that of ARP 2000.
Why does L19 material require special handling?
Like most high-strength quench and temper steels, L19 requires special care to avoid hydrogen embrittlement or stress corrosion. The material is easily contaminated and subject to stress corrosion. The parts must be kept well oiled at all times and not exposed to moisture. Wearing gloves while handing L19 parts is a good precaution.
I have heard that the black oxide bolts and studs I get from ARP will eventually rust. Is this true and if it is, can it be prevented?
Yes, the bolts or studs will rust. Black oxide is a conversion coating formed by a chemical reaction with the iron in the metal to form an integral protective surface. It is NOT a permanent coating that has bonded to the surface of the fastener. The black oxide process is a short-term rust preventative only and any part exposed to the atmosphere will show signs of rust in a matter of days. Frequent application of oil to the part will increase corrosion resistance. In addition, the bolt head could be painted with black epoxy primer, followed by semi-flat paint or clear lacquer.
I was recently asked about having splayed main caps installed on a O.E.M. chevy small block, (yes when I was younger I've had it done..
we all learn from making mistakes)
while theres zero doubt the addition of properly installed splayed main caps helps crank retention and helps bearing life, most machine shops charge $500-$800 to add the splayed main caps and line hone the block and deck honing the bores and other almost mandatory machine work is always going to add several hundred to almost an additional $700-$1200,
and your still working with a block that will rarely accept a .060 over bore and still have reasonably thick bore walls and structural rigidity....
yes it works, splayed cams are an option...
its also in the long term pissing money down a rat hole!
especially when you compare the total cash outlay,
of purchasing a stronger and thicker higher strength block up front,
compared to the cost of modifying the O.E.M. block,
and what you eventually have too work with at the end of either choice you've made.
heres a few related threads you really should read through


coolant passage fillers, or block fillers, have been around in one form or another for over half a century, but by and large now the industry basically uses two products for this purpose, moroso engine block filler http://www.summitracing.com/parts/mor-3 ... gQodGZgAJQ and hard blok...

garage.grumpysperformance.com


http://garage.grumpysperformance.com/index.php?threads/splayed-main-caps.1014/#post-3831

http://garage.grumpysperformance.co...eventing-engine-block-main-cap-movement.6162/

https://www.chevelles.com/forums/13-performance/387893-installing-splayed-caps.html

http://garage.grumpysperformance.co...4-bolts-or-stds-good-enough.10632/#post-73724

http://garage.grumpysperformance.co...ank-durring-short-blk-assembly.852/#post-1812

http://garage.grumpysperformance.co...-block-cylinder-wall-thickness.976/#post-1827

http://garage.grumpysperformance.co...-block-cylinder-wall-thickness.976/#post-1827

http://garage.grumpysperformance.co...etween-two-and-4-bolt-main-caps.686/#post-950

http://garage.grumpysperformance.co...plate-honing-makes-a-differance.588/#post-869

http://garage.grumpysperformance.com/index.php?threads/re-little-m-sportman-shp.2229/#post-6076

CNC blocks said:
On the SHP blocks
Since the Dart SHP and SHP Pro blocks have come out it not really worth dealing with an OEM block that can only be bored maybe .060 over.
once we get the block from DART,
I chamfer around the main housing bores

Chamfer the freeze plug and rear cam plug hole

Tap oil galley holes deeper

I line hone the to at least the middle spec or some shops/engine builder have me line hone to the high limit, When adding studs I do see the housing bores tighten up.

Blocks are deck to the customers desired dimension

Bored if needed

Plate honed using the same hardware and gaskets to be used in the end build.

Lifter bores are checked for size and honed as needed, Most customers do a lifter bore up grade to .904 lifter and I must have the lifters for fit to the bores.

On 3.875 stroke crank I do have to add a little more clearance to the pan rails.

So far out of a couple hundred SHP block no known failures.

Like with any new block all blocks have to be check for size.
Click to expand...




aftermarket blocks like dart have significantly thicker bore walls, main cap webs, decks, can be ordered with splayed and billet main caps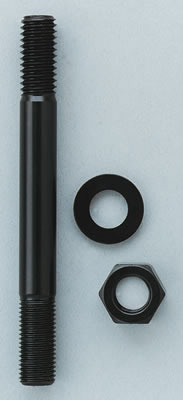 look closely at ARP main studs have one end with course threads matching the O.E.M. block threads and the outer end with finner pitch threads, that use a harden washer and 12 point flange nuts
http://www.autoserviceprofessional....tuds-vs-bolts-and-tips-on-achieving-proper-cl
on a two bolt block all the caps look like the front cap like this block below
racing blocks have SPLAYED 4 bolt main caps like this
http://www.superchevy.com/technical/eng
... main_caps/
http://www.jegs.com/i/PRW/228/1735002/10002/-1
http://www.competitionproducts.com/Main-Girdles/products/1073/
http://www.competitionproducts.com/Main-Caps-Main-Girdles-and-Valley-Girdles/departments/883/
http://www.jegs.com/i/PRW/228/1740002/10002/-1
http://www.jegs.com/i/Coleman-Racing-Products/193/C-307/10002/-1
http://www.ebay.com/itm/like/381470210584?lpid=82&chn=ps&ul_noapp=true
https://www.summitracing.com/search/product-line/milodon-main-cap-kits
http://www.superchevy.com/technical/eng ... main_caps/
http://garage.grumpysperformance.com/index.php?threads/block-choice.10472/#post-45976
I found these really rather good photos posted on the internet, of some of the machine work required for a well built engine
which are even stronger
BTW you can CONVERT standard two bolt blocks to SPLAYED 4 bolt with a KIT and a MACHINE SHOP to REFIT AND HONE THE MAIN CAPS
theres MILLIONS of guys running 350 two bolt blocks with few problems, if your block has only two bolt caps you have two options, you can add ARP studs if you want to increase the caps holding strength about 30%-50% or you can convert that two bolt block to splayed 4 bolt caps if your really concerned , but unless your over about 450hp I would not be even slightly worried , if your using a standard sbc 4 bolt block with ARP bolts or studs
typical two bolt cast crank 350
http://www.flatlanderracing.com/callies_maincaps.html
http://www.flatlanderracing.com/maincaps_oliver.html
ARP ,two bolt main cap STUDS will work ok at the 400hp-450hp level, but are not ideal.
but heres some splayed caps, if your interested,
be aware that your going to spend between $400-$550 in most machine shops by the time you figure on the $200 for the caps themselves and added to the machine work expense, to get them correctly installed on a 2 bolt block,in your case its more than likely wasted money,because by the time you buy a 2 bolt block, pay for the machine work required too add splayed man caps and have the block decked , bored, bores honed and line honed the cost can frequently be close to the cost of a DART BLOCK with its much thicker and more rigid casting, but if you feel better knowing they are there...... well all I can say is I bite the bullet and get them installed simply because with everyone's plans changing over time and a shot of nitrous as a future option in most high performance engines they add a good deal of strength, but in the long haul the DART BLOCKS A BETTER VALUE
this is a great example of project cost creep, yes you'll more than likely NEVER use the extra strength, on most common engine builds used on the street as most of those engines true hp level unless nitrous or a supercharger is being used fall in that 450hp and under range.,and yes its more than likely wasted money,if you already have a 4 bolt block with ARP fasteners. but many of us just look at it and say, hell, its a good investment in the bottom end strength... and Ill feel better knowing their there!, the money would be better spent in almost every case on better quality rods in most cases simply because rods and rod bolts fail far more often than caps do! its insane in most cases to go to the expense of splayed caps on the block if your still running stock connecting rods, invest in good quality (H) style rods with 7/16" ARP rod bolts and a STEEL CRANK before worrying about SPLAYED MAIN CAPS
BUT I'D ALSO POINT OUT THAT AT ABOUT THE 500-550 HP LEVEL THE BASIC O.E.M. BLOCK CASTING ITSELF LACKS THE REQUIRED CASTING STRENGTH, SO THAT JUST ADDING SPLAYED CAPS IS WASTED MONEY AND YOU'LL WANT TO UPGRADE TO A DART AFTERMARKET BLOCK
DART MAKES THE CORRECT BLOCK
TALK TO THE TECH GUYS BEFORE ORDERING
http://www.dartheads.com/products/engin ... all-blocks
http://www.racenet.net/eng/arp-main-studs.php
http://garage.grumpysperformance.com/index.php?threads/installing-splayed-caps.7267/#post-24529
http://www.milodon.com/instructions/mai ... d-bolt.pdf
http://www.vhrpartsandaccessories.com/s ... let/Detail
HERE the STUDS that should be used to replace the stock main cap bolts, they ate far stronger, ... don,t forget a good MILODON windage screen and a high volume oil pan, they are very important to insuring long engine life at high rpm levels
0945400 – PRW Billet Steel Main Girdle
PRICE: $ 169.50
THERES ALSO THE OPTION OF USING MAIN CAP STUD GIRDLES
These kits contain main cap studs and the block must be line honed with the girdle in place.
http://www.hughesengines.com/Upload...n_Bearing_Stud_Girdle_Kit_instructionsDEC.pdf
http://www.hughesengines.com/TechArticles/2mainbearingstudgirdles04232007.php
#2---Main Bearing Stud Girdles 04/23/2007
4/23/2013
Main bearing girdles were first used on supercharged Small Block Chevy's in the early 60's. When the heavy-duty 4 bolt blocks became available they disappeared. The 5.0 Ford started splitting down the middle about 10 years ago and the main bearing girdles again made their appearance. All of the new power producing parts such as strokers, high flow heads, manifolds, and camshafts available today severely over stress the stock Mopar blocks. The 'good' cross-bolted factory Big Blocks and the 4-bolt 340 blocks are in limited supply at best, or nonexistent. This leaves you with 2 options: our main girdles or - "that can't be good" - Bubba!
The beauty of these kits is that you can use the original main caps, which will only require line-honing. This drastically reduces the cost of the job and gives better support than other methods to boot - a true win-win situation.
The main bearing girdles are used to tie the main bearing caps and bulkheads together, thereby stiffening the block lower-end and increasing crankshaft support. Our stud girdle is designed to reduce fore and aft and lateral block movement (that means front-to-rear and side-to-side for the chatters). We are not trying to prevent bending of the block with the girdle. The thickness of the girdle has very little to do with its strength. Its strength lies in its width rather than its thickness. For the vertical strength (thickness) to be a factor, the plate would need to be 1.5" to 2" thick and have the caps as an integral part of the girdle. Many newer OEM engines are made this way and that is a good design, which cannot be duplicated with a flat plate. In addition, if the plate is too thick, it makes oil pan removal more difficult in the chassis.
When the engine is running, especially under highly loaded conditions, the crankshaft is being twisted back and forth trying to move the main caps and bulkheads along with it. This crankshaft twisting is the reason for needing the harmonic damper. When the power output (twisting) becomes great enough the main caps will move "walk" against the block causing fretting (micro-welding). If this continues long or hard enough, the caps and/or main bulkhead can crack. Worst-case scenario: the block will split up through the cam bores.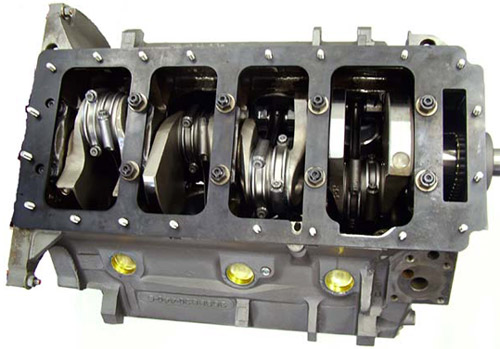 Our girdles provide additional support points below the crankshaft and tie all the caps together substantially reducing any possibility of flexing or twisting. Testing (pre and post girdle) has shown power increases in engines with severe twisting (binding) situations and longer component life with the girdle installed.
The small block kit can be bolted on with no machine work required. There is also an option of machining the caps for increased clamping area. Instructions for both applications are included. The big block girdle ties the main studs into the pan studs and block skirt area, too, and there is no machine work required.
All kits are complete with studs, shims, spacers and nuts and, as always, our real world, easy-to-follow instructions. The kits are supplied with studs for their superior clamping ability. When installing studs, the block must be line honed, unless it was previously line honed with studs. Using longer studs will not have an effect.
Wow! When it rains it pours! There are more people making big block main bearing stud girdles everyday. Some of them are partial kits with no instructions and no one to call for help and others are very elaborate and could easily be considered overkill.
What we are all dealing with is a stock block that has many weak areas. The main cap and bulkhead areas are ones that show up first and can be strengthened by using our main bearing stud girdle kit. When we developed our girdle we were seeing cap walk when the horsepower reached the 600HP area. The longer stroke engines only exacerbate this situation. (For you "chatters"
exacerbate
means "to make the situation worse".)
Our goal was to have a system that would allow the stock blocks to live at 907HP, for obvious reasons. We have customers who have exceeded this goal by 10% or more. Therefore we our confident that our system is more than adequate when dealing with a stock block. We do not suggest or recommend using other than stock main caps. We do not feel the extra expense and machine work is worth it. Ours, and our customer's success with our design has proven this point. The caps are not the problem.
The stock blocks have other weak areas that cannot be addressed by making the main caps & girdle any different than what we offer. There also seems to be a misunderstanding by some girdle suppliers as to exactly how our kit is designed. Just because they claim that their kit is exactly like ours don't be fooled! They aren't.
We use clamping bolts on the main caps AND the girdle. (see photo below)
Next we use selected shim packs between the main cap nut and the girdle. Then a second nut is used to clamp the girdle to the stud. We do not stack up washers to fill the space between the main cap the girdle. When using our system there is
no
distortion of the girdle.
What about attaching the #5 main cap to the girdle? This looks like it would be easy to do.... that is until you try to put the oil pan on. There is not room unless you want to play "Jesse James" (of Monster Garage fame) on your pan and even then it is a very tight fit. We looked into putting a smaller stud, like the oil pan studs, in the #5 cap but knew our customers would see that as a ploy to "claim" that we had clamped to the rear studs when in fact it would have been a less than sincere effort. And even then you must ask yourself if it is really worth the extra work if the girdles support strength is already exceeding 907HP...which it is. You can put lipstick on a
pig
but it is still a
pig
.
If the prototype of our current design had not been successful at the original designed goal of 907HP we had a "Plan B" to strengthen and stiffen the bottom end of the block even more. Since this was not needed we didn't pursue it. Just as a point of interest... these stiffening techniques did not have anything to do with the main caps themselves or making the girdles any thicker!
Be warned when others try to copy or modify our original design, they don't give you everything. One of the strengths of our kit is is in the fact that we are clamping the cap to the block with one nut and the girdle to the cap with another nut. We are not relying on one nut to try and hold it all together. Others cannot do this because they do not have access to our custom made ARP main studs. Remember, ours are running at over 907HP with stock caps and no sign of cap walk. This is the best complete kit at the best price. Some of the others may be smooth talkers but they are poor
copycats
.
Here is the instructions for your PRW:
http://www.jegs.com/i/PRW/228/09350...MIgefpm7P51wIV3bfACh1teASgEAQYAyABEgLo7fD_BwE
You have probably seen this article before:
https://www.jalopyjournal.com/forum/threads/small-journal-chevy-main-girdle.381686/
the better machine shops, will suggest you have the option too pin or sleeve the main caps to help prevent main cap movement
PRW Billet Steel Main Stud Girdle, Chevy 454, 1045 Billet Steel Girdle, including PRW steel studs, nuts & washers
PRW Billet Steel Main Girdles are engineered to help eliminate the block flex and cap walk that occurs as a result of stress while under extreme loads, including nitrous oxide power bursts in high performance engines. PRW main girdles are manufactured from premium quality 1045 billet steel. These kits include high quality steel studs, spacers and nuts. (limited machining may be required for proper fitment).
Last edited by a moderator: