Administrator
Staff member
read this, yes theres a good deal of info in the links worth the time and effort, and yes its well worth your time to read thru
keep in mind, that if your engine is mechanically functioning correctly, IE there are no problems like leaking head gaskets or the wrong head gasket or a cracked head etc, and you've significantly increased horsepower or swapped too a larger engine,

heat levels will be higher

,. and if the radiator fans and water pump don,t have the ability to transfer heat from the engine at that HIGHER rate of heat being generated than the engine coolants being heated ,can transfer heat out to the outside air flow, theres not much you can do to prevent over heating, you may need a larger or more efficient radiator.
adding an
auxiliary
added oil or transmission fluid cooler to a vehicles cooling system to reduce the amount of heat the radiator and engine coolant needs to deal with, is also a well proven route to reducing engine operating temps.
adding an efficient oil cooler with a few extra quarts of oil capacity and a powered fan, is a very effective way to reduce engine temps.
You'll generally want to have a minimum of 1.5 to-2 square inches of frontal surface area on a radiator per cubic inch of displacement,and the depth , tube design and fin count will have a pronounced effect on heat transfer efficiency.
look the basics are that in any correctly functioning cooling system the radiator and fans forcing air thru the radiator MUST be capable of transferring the heat in the coolant passing thru it to the outside air flow at a rate thats significantly faster than the heat generated by the engine is absorbed by the coolant, the t-stats only major function or purpose, is to restrict flow UNTIL the coolant reaches and or exceeds a designed in temperature range, at which point it opens and remains open unless the coolant temps fall below that designed temp. limit.
keep in mind a t-stat does not limit the cooler coolant entering the engine, its function is to keep the coolant flow through the engine minimized until its absorbed enough heat to reach the t-stats opening temp that allows the coolant to flow out of the engine.
also be aware that you can attack the heat control issues you might have from two directions, you can concentrate on removing heat from the engine more effectively with a larger more efficient radiator, bigger fans,, adding an alternator that allows more AMPS to spin those fans , adding more effective duct work, adding oil coolers, transmission coolers or a larger capacity baffled oil pan, adding heat exhaust vents to the hood,adding additives to the coolant that reduce the tendency to boil, like WATER WETTER, etc. or you can concentrate on reducing the heat generated thru control of your fuel/air mix ratio, ignition advance curve, timing and exhaust restriction.
Id also point out that chevy water pumps can be purchased that are designed to spin in either clock wise or counter clock wire rotation and installing the wrong part number will cause big problems, ID also point out that all radiators collect crud and become restrictive to flow and much less effective at transferring heat to outside air flow over time, especially if the wrong coolant or water containing excessive mineral content are used so you might want to have yours cleaned out, rebuilt or replaced, if thats needed, after taking it out, an inspection indicates the correct course, a new aluminum radiator, in the largest size quality, radiator, that fits you can afford, is usually a good idea, if it needs replacing
honestly are you thinking this through?
the larger the percentage of the cooling systems total coolant in the radiator and the more efficient you can make the rate of heat transfer the better, you want to maximize the radiator surface area, where its transferring heat to the outside air flow vs in the engine absorbing heat, vs in the engine
coolant is in constant motion once the t-stat opens, the total air flow per minute and the surface area of the radiator tubes and fins has a huge effect on that heat transfer efficiency, the rate of coolant flow through the radiator from the engine and back into the engine, has less effect on the rate and efficiency of heat absorption and heat transfer to the cooler outside air than the total surface area of the radiator and the mass , and
temperature
of the air being forced through and over that radiators surface by the fans and duct design and the surface area of the coolant transfer tubes and fins,( And the type of coolant being used and the pressure the system is designed to operate at.)
oil flow does most of the initial cooling as it transfers heat it absorbed on the surfaces of the pistons and valve train components, bearings and blocks inner surfaces, to the block, where coolant flowing through the blocks internal surfaces absorbs that transferred heat, and coolant flow transports it to the radiator ,
hot oil flows over internal parts that can easily reach well over 300F but its flowing back over the block where that heats absorbed.
for every ounce of coolant flowing through the closed loop cooling system, as one ounce of coolant, leaves the radiator to enter the engine and ABSORB HEAT as it travels through the engine, the exact same volume enters the radiator where air flow through the radiator absorbs heat out of the coolant entering and passing through the radiators coolant tubes with the radiators finned surface greatly adding to the surface area that air flow flows over. once the coolant is flowing through the t-stat, its like links on a bicycles drive chain, as one link leaves the gear on the petals another takes its place on the opposite side of the drive gear, in the same way, once the coolant flows , hot coolant enters the upper radiator at the same rate as it exits back into the engine to re-absorb heat.
the air flow through the radiator is in most cases well over 100F degrees or more cooler than the coolant leaving the engine after it absorbs engine heat from friction and combustion, the rate at where the coolant lows is usually controlled by the water pump and flow rate of outside air flow the radiator fans and duct work provide to allow the mass of cooling air to be forced over the surface of the radiator tubes and finned surfaces, that can be several layers thick and cover hundreds or even thousands of square inches of surface area. electric cooling
fans or engine driven fans move hundreds or in some cases thousands of cubic feet of outside air per minute over the radiators surfaces to absorb that heat
from the coolant to that outside air.


https://www.motor.com/magazine-summary/hot-tips-cooling-system-service-august-2020/

https://www.onallcylinders.com/2016/07/21/9-cooling-system-myths-and-mistakes-and-why-to-avoid-them/



YOUR EFFECTIVELY BEATING A DEAD HORSE if your not addressing that heat dissipation factor up front.
If your having cooling issues while the cars stationary but not when the cars moving theres an excellent chance that the problem is lack of low speed air flow rates, a larger more effective fan or a more efficient fans or adding a pusher fan or use of a more efficient fan shroud would help.
clear pictures of the car,s engine compartment, radiator fans, fan shroud etc would help here a great deal.


keep in mind oil does a good deal of the heat transfer, in an engine,

so

an oil pan with a larger than stock capacity and an oil cooler with a built in electrical fan can do a good deal to lower engine temps.

if your engine has an efficient oil cooler and transmission fluid cooler, your significantly reducing the heat load on the radiator.
keep in mind automatic transmissions tend to add a significant amount of heat to radiators that use the lower section to cool the transmission, adding a large efficient trans fluid cooler to the car, thats separate, from the OEM radiator and has its own electrical fan, can also significantly reduce the heat loads on the radiator
BTW one frequently overlooked factor, in cooling your engine or adding an additional oil cooler, is your alternator size,in amps and wiring the alternator correctly, if your running a 70amp-100 amp stock alternator and using electric fans to cool the engine,its not going to provide the power required to spin the fans nearly fast enough to cool the engine like a better 200 amp alternator can, Ive seen several corvettes cure cooling issues by swapping to 200 amp alternators, that simply allowed the electrical cooling fans to spin significantly faster.
engine heat can be a huge issue, detonation can destroy even a well built engine, I have tried to maintain an 8:1-8.4:1 dynamic compression ratio and a .040-.042 quench in most of my engines,I try to keep the oil temps at no more than 220F most of the time and ideally under 215F, I try to keep coolant temps under 190F most of the time and try to avoid getting coolant over 215 f, keep in mind that you can,t audibly hear detonation in most engines in the upper rpm range until it becomes rather extreme and potentially rather destructive, and that just because you can,t hear it at lower rpms or when its not happening consistently, its not an indication that the cumulative damage is not occurring over time.
I lost count of the guys I know who built engines that "for no apparent reason... busted pistons or rings" when those engines get torn down and closely inspected DETONATION is frequently a prime suspect, and todays crappy fuel octane is a prime contributor.


installing piston rings with the wrong end gap , pistons with the wrong bore clearance,or bearings with incorrect clearances or not clearancing a valve train correctly will all cause an engine to either run hot or have parts fail.

[/COLOR]
every combos different and simple things like polishing combustion chambers. retarding a cam a few degrees,using a larger more efficient radiator, and changing the fuel/air ratio and ignition advance curve or adding a highly effective scavenging header on a low restriction exhaust can make or brake a combo as far as its tendency to get into detonation. so obviously the larger the surface area of the fins and coolant tubes are and more efficient the radiator and the coolant system, is at transferring heat to the outside air flow , the better the system will function, so maximizing both coolant and air flow rates becomes critical to heat transfer, the cooling system, MUST have the potential to cool the coolant to below the temperature that the thermostat is designed to keep the coolant temps limited to so that the t-stat can add cooler, coolant as it is required to maintain the intended operational temp range.


KEEP IN MIND CHEVY MADE BOTH CLOCK WISE AND COUNTER CLOCK WISE ROTATION WATER PUMPS BE DARN SURE YOU USE THE CORRECT DESIGN IN YOUR APPLICATION, AND MAKE DARN SURE THE FAN PULLS AIR THRU TOWARDS THE ENGINE, OCCASIONALLY YOU'LL FIND GUYS MOUNTING SOME FANS SO THEY ROTATE THE WRONG WAY, DIFFERENT BRAND WATER PUMPS HAVE DIFFERENT DESIGNS, VERIFY THE CORRECT PART NUMBER FOR YOUR APPLICATION

do you currently have a FAN SHROUD , a clutch fan hub and efficient multi blade fan that fits the shroud around the engine driven puller fan?
having efficient components helps, increase cooling efficiency remarkably,

in an IDEAL set up

, an effective radiator should generally have about 1.5-to-2 square inches of surface frontal area or greater for every cubic inch of engine displacement,and its generally considered smart to have a minimum 1.5-to-2 square inches of frontal surface fin area PER HP in a radiator,obviously both calculations will produce different results so go with the larger surface area to be fairly safe. if your intention is max effective heat transfer , obviously factors like type of fans duct work and additional oil coolers and a 7-8 quart oil pan all help dissipate heat generated.


and yes its VERY LIKELY your current radiator size is woefully undersized and the area its mounted in can,t be easily increased, if you have significantly increased your engine power out put! 3-&-4 row aluminum radiators that hold more coolant volume, allow the liquid to transfer heat more efficiently, and allow the coolant to pass thru a bit slower.


adding an auxiliary oil cooler with a powered electrical fan can reduce the heat load on the radiator

total surface area of the radiator should ideally be at or more than about 1.5-2 sq inches per cubic inch of engine displacement

.

in theory that requires about a 24 inch tall x 32 inch wide

496 x 1.5=744

24 x 32=768

obviously clearance issues fitting that large a radiator become a problem so multi tube radiator designs are rather common on performance applications
what I find absolutely amazing is the number of people that have ordered replacement radiators ,
without accurately measuring the original radiator, and then accurately, measuring, the space its seated been in,
and the distance available in front of the O.E.M radiator and behind that original radiator,
if you want too select and install a thicker, more efficient heat transfer core, aftermarket radiator
thats thicker has more fins and surface area and larger coolant flow tubes.
If your replacing a damaged or missing fan shroud ,it doesn,t need to be an EXACT match,to the original O.E.M. component
but it should be an IMPROVED design over what its replacing'
in both structural strength and ideally in cosmetic appeal,
a bit of custom fabrication if done correctly,
will add rather than detract from the over all builds visual and functional presents,
ideally you want people to look at what you've done and think

"WOW! why didn,t I think of that!.... DAMN THATS IMPRESSIVE"
rather than "
what the hell was that guy thinking when he installed that crap!"
and sometimes
the difference is only in a few extra minutes grinding welds,
the type of fasteners used, the care taken in the fabrication and careful fitting,
thinking through the over all design,
or a bit of matching paint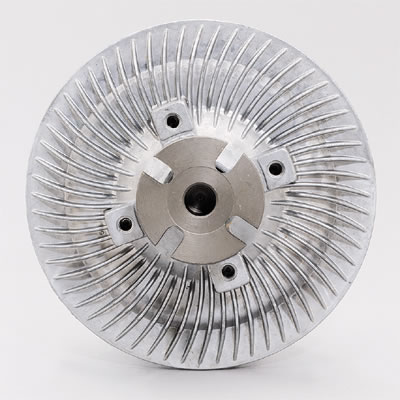 Id also point out that,adding an auxiliary oil and/or trans mission fluid cooler with a powered fan, too the car, helps remove heat far more effectively and can remove a great deal of heat load from the radiator well before the coolant in the engine needs to deal with it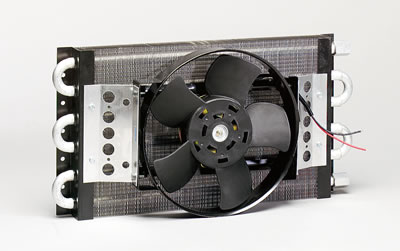 /schemas.upnp.org/upnp/1/0/"; ns=01 01-NLS: b0926640-71ba-11ed-b827-c425498c5e0e NT: upnp:rootdevice NTS: ssdp:alive SERVER: Linux/3.2.40, UPnP/1.0, Portable SDK for UPnP devices/1.6.25 X-User-Agent: redsonic USN: uuid:73656761-7465-7375-636b-0090a96b557a::upnp:rootdevice ii">
any radiator needs a good large and effective multi blade fan shroud to match the fan and make air flow through that radiator much more efficient

buy and add a bottle, this stuff allows the micro surface contact of water inside the cylinder heads to allow a bit more efficient heat transfer rate, its no miracle, product , but its generally good for a 7-9 degree reduction in coolant heat.
tips on reducing the heat of your engine coolant,
you might also consider adding an oil cooler as oil does a great deal of the heat transfer inside any engine, thus reducing oil temperatures tends to reduce coolant temperatures.
Id also point out that,adding an auxiliary oil and/or trans mission fluid cooler with a powered fan, too the car, helps remove heat far more effectively and can remove a great deal of heat load from the radiator well before the coolant in the engine needs to deal with it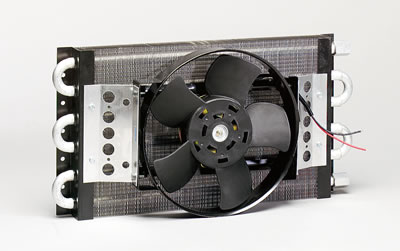 https://www.dewitts.com/collections/corvette-aluminum-radiators
one fact often over looked is that radiator designs vary wildly, and the number of fins per inch of surface area and width of radiator coolant flow tubes can significantly increase or decrease thermal heat transfer efficiency., fin counts vary from 8 to 22 fins per inch on various radiator designs Ive seen.
thus a radiator might measure say 18" tall by 24" wide but depending on design, and fin and tube count, might actually have a radically more or less efficient heat transfer rate.
CLOCK WISE ROTATION
COUNTER CLOCK WISE ROTATION
if your cooling system was working correctly and you have not made changes and it suddenly starts to over heat, obviously something changed so before you panic check the obvious causes like low coolant levels,low oil levels,loose connections, defective sensors, trash in the radiator fins, or a sticking t-stat or loose belts and defective hoses.
now if you reduce the heat load on the radiator and its coolant with an auxiliary oil or transmission fluid cooler that obviously will effectively reduce the heat that needs to be transferred from the engine coolant to the air flow thru the radiator fins.
heat in the engine is absorbed by both the oil and the coolant, both can be used to transfer that heat to the outside air to be dispersed, both systems in most stock cars will easily keep up with the stock engines they were designed for but as hp increases so does the heat generated.
adding an oil and transmission fluid cooler to your system tends to reduce the heat loads on the radiator so that is always an option to increase total cooling capacity, but in many cars youll eventually need to upgrade to a larger more efficient aluminum radiator if you significantly increase the engines power range as that increase generates more total heat.
first a few basics
(1) an engine driven fan with the proper duct work will almost always out cool the typical electric fans on identical radiators, simply because its likely to flow a greater mass of air thru the radiator, as the fan has much greater power behind it , you can stop most electric fans by holding a small wooden dowel in the blades , doing that with an engine driven fan results in dowel tooth picks or a busted fan blade.
(2)puller fan designs tend to be far more efficient than PUSHER DESIGNS
(3) viscus fluid clutch fans that slip under high rpm loads, but work great at lower rpms, tend to be a very effective choice, as they are more efficient at low engine speeds.
(4) ducting to control air flow thru the radiator adds a great deal to the cooling efficiency, the more air flow thru the radiator the greater the potential ability to transfer heat.
(5)larger aluminum 3 and 4 row tube design radiators can provide far more efficient cooling than typical 2 row OEM designs, because they provide much greater surface area for coolant to transfer heat to outside airflow.
(6) having your OIL / lube system and any oil coolers or larger capacity oil pans set up to maintain a high and well controlled fluid flow rate tends to help total engine and transmission cooling a great deal
(7) your ignition timing advance curve and your fuel/air ratio will effect the engines heat generated
(8) a low restriction exhaust tends to help reduce engine heat.
(9) yes they make high volume water pumps and they almost always help!
(10) a restrictive exhaust can increase engine heat
(11) if your car runs electric fans a high amp alternator in the 140-200 amp range frequently increases the fan speed and cooling efficiency
(12) running a separate oil and transmission fluid cooler with its own electrical fans tends to lower the heat load on the radiator significantly
(13)slightly retarded ignition timing, vacuum leaks or lean fuel/air ratios,low oil or coolant levels, tend to increase engine temps
some things you can do to help improve the efficiency of your cooling system:
-make sure hoses and belts are in good condition
-make sure the radiator is full of coolant
- an ANODE or two usually helps corrosion issues
- coolant additives like water wetter or purple ice tend to increase coolant heat transfer rates
- make sure the radiator and oil cooler are CLEAN and not blocked by road trash like leaves and plastic bags, paper etc.
- make sure the fan shroud actually seals to the front and back of the radiator and fan blade arc and diam. closely fits the fan shroud inner diam. (if there is a shroud in front or back of the radiator)
- make sure your antifreeze coolant is in good, in good condition and the radiators been flushed every coolant change ie acidity and coolant/water mix
- drill 6 to 8 x 11/32 holes in your thermostat, flange ,this will allow for some coolant flow with a closed thermostat.
just a point many guys seem to over look, the fans run on electricity and a higher amp capacity alternator provides a good deal more current to spin those cooling fans, Ive seen several cars with marginal cooling that had that cooling issue disappear once a 160-200 amp alternator replaced the stock alternator, the increased current allowed the cooling fans to spin a good deal faster at low engine speeds and the result was more efficient cooling.
New or rebuilt engines need time to have the parts wear in, before they run at normal temps, SOME new engines tend to run 10-15F hotter for the first few days, more horsepower generates more heat and new rings and bearings lapping in generate more heat, if your oil and coolant levels are correct , and you verified the ignition timing, is correct, and the coolant temp is running less than about 215F while driving at about 50-60 mph on the high way, with a new engine I would not be overly concerned , but remember to check transmission fluid level;s and your cooling fans function.
viewtopic.php?f=57&t=5607
on the first generation small block Chevy the coolant is drawn from the lower radiator hose by the water pump, and forced into the front of the block where it travels along the cylinder walls then after all the areas filled it moves upward into the cylinder heads thru holes in the head gasket that were designed to be small enough, to slightly slow the flow upward into the heads where the coolant thats absorbed cylinder wall heat will reverse direction and travels forward into the forward , in the cylinder heads collecting more heat until it flows thru the forward intake manifold coolant ports that direct the coolant to the t-stat and from there to the upper radiator hose that allows the coolant to drain back as it flows and cools thru the radiator to the lower radiator hose to complete the cycle.
this route tends to sweep any trapped air out of the system but its not ideal because the cylinder heads produce most of the engine heat, so the route was reversed in the second generation LT1 small blocks to insure the cylinder heads operated a few degrees cooler to reduce the tendency to reach detonation heat levels
yes I know your likely to just use the 14 ga or 12 ga you have, but after you do feel the wire after the fans run for 15 minutes and youll see why I strongly suggest 10ga stranded wire on any aux fan application
https://durathermfluids.com/pdf/techpapers/pressure-boiling-point.pdf
look thru, and read this linked info, the links help
viewtopic.php?f=70&t=3504&p=9220&hilit=relay#p9220
viewtopic.php?f=57&t=2756
viewtopic.php?f=50&t=3110&hilit=relay
http://www.circletrack.com/enginetech/c ... index.html
http://garage.grumpysperformance.com/index.php?threads/what-coolant-temp-is-correct.16201/
http://www.enginebasics.com/Engine%20Ba ... 20Pg2.html
http://www.racerpartswholesale.com/prod ... cessories2
viewtopic.php?f=57&t=5607&p=17121#p17121
http://www.racerpartswholesale.com/prod ... cessories2
http://garage.grumpysperformance.co...radiator-install-1987-vette-convertible.9448/
http://www.harborfreight.com/3-1-2-half ... 95670.html
http://www.circletrack.com/techarticles ... index.html
http://www.madelectrical.com/workshop/w ... auge.shtml
http://www.ifitjams.com/radiator.htm
viewtopic.php?f=57&t=7718
http://www.dewitts.com/download/cooling.pdf
http://www.lbfun.com/warehouse/tech_inf ... 0Paper.pdf
viewtopic.php?f=57&t=853
viewtopic.php?f=57&t=4230&p=13590&hilit=smaller+displacement#p13590
http://northernautoparts.com/ProductDet ... uctId=2545
http://www.rehermorrison.com/techtalk/25.htm
http://www.rehermorrison.com/techtalk/60.htm
http://www.rehermorrison.com/techtalk/55.htm
http://www.spal-usa.com/
viewtopic.php?f=55&t=1101&p=2165&hilit=hood+cool#p2165
http://www.s-10crewcab.com/~henryj/fans/fans.html
http://www.dakotadigital.com/index.cfm? ... zm_641.jpg
http://www.carolinarodshop.com/Store/Gr ... AQ_pg1.htm
http://www.swiftnets.com/Technical/Asse ... rmance.pdf
http://www.stewartcomponents.com/tech_t ... Tips_2.htm
http://www.woodyg.com/fairlane/finfo/co ... stem6.html
http://www.cruisecooler.com/Cooling Tech.html
http://www.curtsrodandcustom.com/griffin.html
http://garage.grumpysperformance.co...leaning-trash-out-of-the-radiator-fins.11712/
viewtopic.php?f=57&t=853
just some info too think thru
the rate of coolant flow thru the radiator matters, so get an efficient high voluum water pump.
the engines state of tune effects the heat generated, vacuum leaks tend to increase heat, octane used effects the heat, your ignition timing curve effects the heat
the type of coolant and percentage of water mixed with it effects the rate heats transfered
the amount and type of oil effects the temp transfer rates, a large baffled oil pan with 7-8 qts of oil does an effective job of heat transfer
the higher the percentage of the total coolant in the system that located in the radiator the more effective the system can potentially be.
a larger oil filter, and larger capacity baffeled oil pan, tends to reduce temps due to exposing a larger surface area to the air flow
anything that reduces airflow thru the radiator reduces its efficiency, adding a fan shroud can improve fan efficiency, making sure the air passing thru the radiator is not restricted entering or exiting the radiator helps efficiency
the water pump and T-stat both effect the rate heats transfered, high flow water pumps can help
the electric fans work off a sensor and the temp they turn on at can be modified, larger or additional electrical fans can be added
on an auto trans car,the transmission fluid adds a good deal of heat to the radiator, adding a seperate ADDITIONAL trans cooler with a seperate ellectric fan,removes a good deal of the load from the radiator
oil in the engine flowing over parts absorbs and transfers heat , having a larger baffled oil pan hanging down in the airflow under the engine helps cool the engine, as will a seperate oil cooler
headers remove heat faster than stock exhaust manifolds
aftermarket aluminum radiators can be far more efficient
the dia. of the pullies your using does effect the coolant flow
running the correct T-stat can help cooling, generally the 180F-190F is the best compromize
http://www.becool.com/
http://www.dewitts.com/pages/categoryresults.asp?catID=19
http://www.kevko.net/images/1090_full.gif
http://www.kevko.net/wetsump_chevy.htm
http://www.stefs.com/products/oilpans/circletrackwetsump.htm
http://www.radiatorbarn.com/?source=overture
engine oil needs to reach and stay at about 215F-240f to lube and clean correctly and burn off moisture
trans fluid I try to keep under 160F,surely below 180F ,
Ideally I try to keep engine coolant in the engine in the 190F-200F range but don,t get overly worried below 230F. BTW I run a 190F t-stat, temp ranges should be kept within these ranges or the wear and emmissions won,t give you the long engine and trans life and low emmission levels you expect , drop the coolant temps lower and you may gain a few hp but the wear tends to get worse as the fluids can,t opperate correctly, drop the oil temp below 211 F and acids can form in the oil (bad for bearings)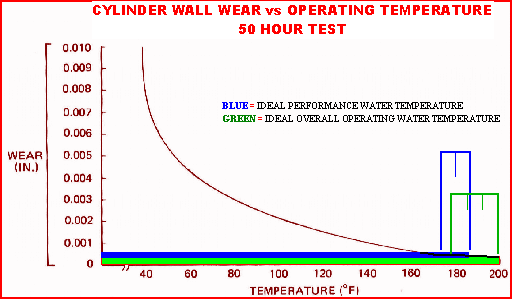 DON,T OVER COOL YOUR ENGINE!
it takes approximately 214F-215F to burn all the moisture out of oil, that moisture comes from outside air when the engine cools and from combustion when the engines not up too temp. and can form acids and rust if it sits, if your cars driven frequently IE it seldom sits for several days at a time your unlikely to have significant moisture forming, especially if the cars garaged most of the time its not in use.
short trips seldom allow the engine to fully reach a stable temp, the state of tune,the outside temps, the amount and type of oil and the temp switch on the fans , the T-STAT, allow or prevent the oil reaching full temp,the RPMS and LOADS the engine sees effects the temps puller fans, engine driven or electric, with SHROUDS that fit close to the impeller arc do a far better job than PUSHER style fans but you can use BOTH designs to maximize results
If you drive the car frequently and seldom let it sit for days at a time AND change oil fairly regularly (3000-4500 miles between changes) you may be fine with the slightly lower temps ,especially if the cars garaged but you can easily check the condition of your engine, pull a valve cover and inspect its inside surface carefully, it should be clean, possibly stained but not have minor acid etching and there should be no sludge , build up,or chocolate milk or waxey film, if there is your engines not running hot enough or your not changing the oil,filter ETC. frequently
BTW I DON,T KNOW WHO SELLS THESE BUT IVE GOT TWO ON MY CORVETTES OIL FILTERS AND THEY EASILY REDUCE OIL TEMPS 7-15 DEGREES
to raise temp install a 190F-200F T-stat, oil temp generally runs 15F-25F higher than COOLANT
Last edited by a moderator: