Administrator
Staff member
ONCE COOLANT BOILS it lost the full ability to absorb heat as partial direct contact with the metal surface is partially lost, one reason cooling systems are pressurized is to increase the boiling point threshold
using a surface tension destroying additive in the coolant like
purple ice
or
water wetter
can significantly reduce or prevent this, which is one of the reasons the 400 chevy has extra steam holes in the heads and gaskets.
pumping cooler coolant that has a higher capacity to absorb heat also reduces cylinder head temps as does increased oil flow thru the valve train if your using an oil cooler that maintains consistently lower 215F oil temps
http://www.redlineoil.com/product.aspx?pid=74&pcid=10
any radiator needs a good large and effective multi blade fan shroud to match the fan and make air flow through that radiator much more efficient
buy and add a bottle, this stuff allows the micro surface contact of water inside the cylinder heads to allow a bit more efficient heat transfer rate, its no miracle, product , but its generally good for a 7-9 degree reduction in coolant heat.
tips on reducing the heat of your engine coolant,
you might also consider adding an oil cooler as oil does a great deal of the heat transfer inside any engine, thus reducing oil temperatures tends to reduce coolant temperatures.
Id also point out that,adding an auxiliary oil and/or trans mission fluid cooler with a powered fan, too the car, helps remove heat far more effectively and can remove a great deal of heat load from the radiator well before the coolant in the engine needs to deal with it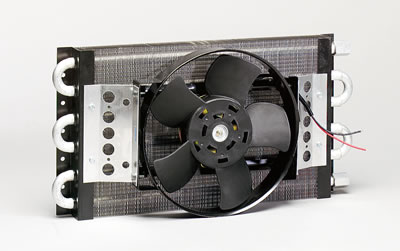 this stuff from REDLINE seems to work in many applications,it can be helpful , in reducing temps as it increases water to metal surface area contact, area, its basically a chemical that reduces waters tendency to form a surface layer, now if your not sure what Im referring too, do this little experiment, get two sheets of typing paper and on one drop a drip of tap water on the other drop a drip of water from a glass of that same tap water after you added two drops of DAWN dish washing detergent, and stirred the mix a bit,and watch how both spread over the surface,basically the detergent makes the water thinner so it gets into more micro surface structure faster, the water wetter does something similar to antifreeze and allows it to pull heat from a surface slightly more effectively, the down side is some gaskets, like cheap paper t-stat gaskets seem to dissolve over time if subjected to the mixed coolant, but the better synthetic gaskets seem to be un-affected
using a surface tension destroying additive in the coolant like
purple ice
or
water wetter
can significantly reduce or prevent this
Water Wetter®
* Unique agent for cooling systems that doubles the wetting ability of water
* Rust and corrosion protection allows for use of straight water in racing or reduced antifreeze levels in warm climates
* Improves heat transfer and reduces cylinder head temperature
* May allow more spark advance for increase power and efficiency
* Use one bottle for most passenger cars and light trucks, treats 3 to 5 gallons or 13.2 to 15.9 liters. Vehicles with larger cooling systems should use two bottles. Small cooling systems should use 1oz (3 to 4 capfuls) per quart
* Compatible with new or used antifreeze (including DEX-COOLTM and long-life versions) to improve the heat transfer of ethylene and propylene glycol systems
* Satisfies ASTM D2570 and ASTM D1384 corrosion tests for glycol-based antifreezes
WaterWetter - 12oz - $9.95
Quantity
ABOUT RED LINE WATER WETTER® COOLANT ADDITIVES
* Reduces or eliminates bubbles or vapor barrier that form on hot metal surfaces to reduce coolant temperatures by up to 20°
* Superior heat transfer properties compared to glycol-based antifreeze
* Compatible with new or used antifreeze (including DEX-COOL and long-life versions) to improve the heat transfer of ethylene and propylene glycol systems
* Improves heat transfer and reduces cylinder head temperature
* Designed for use with all modern aluminum, cast iron, copper, brass and bronze cooling systems
* Cleans and lubricates water pump seals
* Reduces cavitation and complexes with hard water to reduce scaling
* Does not lower cooling system below the thermostatically-controlled temperature
ALSO AVAILABLE FROM OUR DEALERS
* 80204 - WaterWetter - 12oz
Last edited by a moderator: