Administrator
Staff member
there are seven states that now mandate "shotgun slugs only" either statewide, or in large areas. These are: Illinois, Indiana, Iowa, Ohio, Massachusetts, New Jersey, and Rhode Island. Then there are 15 more that have regional regs to the same effect: Alabama, Arkansas, Connecticut, Delaware, Florida, Maryland, Michigan, Minnesota, New Hampshire, New York, North and South Carolina, Pennsylvania, Virginia and Wisconsin. Moreover, two more states, Kentucky and Maine, will probably go the partial route, if not for this season, then in '97.
keep in mind slug guns are mandated BECAUSE they have much shorter effective range potential,
making the potential for damage at longer ranges than a few hundred yards much lower, this may sound like a huge restriction in a hunting weapon, but realistically and statistically most game departments report, more than 60 % of all the whitetail deer and hogs shot in most areas are shot at well under 100 yards
There was a long time when many of these states couldn't decide just what to make of these new-fangled shotguns with rifled bores. Were they shotguns or rifles? Were they legal in the context of the existing game laws? Fortunately, all have resolved the issue and none of the 22 aforementioned states disallow the rifled barrel.
only buck shot is legal in a few areas as this really limits the effective lethal range of any shotgun,
you are unlikely to get good tight patterns past 45 yards.
to be fair, in some areas , the opportunity's for seeing game or making shots past 45 yards are very rare
the Ithaca 10 ga road blocker holds two in the magazine and one in the chamber ,
the legal max for some areas. its very effective, I've used one for decades.


if you want a reasonably consistent way to judge at what range double OO buck shot will be effective on deer or hogs,
place a single sheet of typing paper, with a 2" orange dot in the center, roughly simulating a deer's chest area,
place this test target horizontally at 20 yards and fire a shot at it,

if you have at least 5-6 holes someplace on the paper you can be reasonably confident that it's effective,
now back off 5 yards and repeat, , back off 5 more yards after each success, this extended range and re-test,
after each successful buckshot , test at range, shells are shot and tested, is a reasonable test that places those 5-6 holes in the paper.
yes, you'll occasionally see guys drop deer at longer ranges, but far more will result in long trailing jobs or lost wounded deer in my experience,
you're still in effective range, once you reach a range where less than 5-6 holes in that sheet of paper are consistently there... your past the effective range, now obviously a 9 pellet 2 3/4" 12 ga buckshot load
is at a distinct disadvantage to a 12 pellet 3" shell
or
a 3.5" 10 ga with 18 pellets

and why I prefer a 10 ga ithaca if I hunt dense cover in fla swamps,for hogs and deer.
and yes different shotguns pattern loads differently,
but in our hunt club this test has consistently shown to be valid in results seen on game.
yeah, you'll rapidly find that your buckshot loaded shotgun is only effective, at a limited range thats more than likely LESS than you might have envisioned! ITS been my experience that even a 10 ga with 00 BUCKSHOT is much less effective past 50 yards,
slugs vary, as do shotguns, but in many case's accurate shots from rifled shotgun barrels can be made at 150-175 yards, and is a doable range

I've said before, if you do business where there are no bans against the use of high-power rifles for hunting, you needn't concern yourself with what's happening on the slug scene. But if that's not the case, there's something for you to bone up on this year.

With

Savage and Mossberg having entered the market with fully-rifled, bolt-action slug guns, that now brings to four the number of major manufacturers to have done so. Last year, Browning and Marlin did it.

I've just finished testing the two new guns, the Mossberg 695 and the Savage 210. The former is derived from an action Mossberg's been using for decades as a basis for a budget line of shotguns. Savage, on the other hand, had no such existing action and designed one from scratch, based on the 3-inch 12-gauge shotshell.

Since this is not GUNS magazine where new firearms are reported on in depth, suffice to say that these guns are capable of some pretty astounding accuracy - like 2 1/2-inch groups from the bench at 100 yards. Not only are the sabot loads of Federal, Winchester, Lightfield - and the Copper Solids of Remington - accurate, but they virtually double the effective range of the old Foster-type slugs when used in smoothbores.

Despite all this newfound potential, however, these guns are still 125-yard Whitetail and Black Bear rigs, period. Along this vein, I've heard that some of my gun-writing colleagues have commented that these guns are effective out to 175 and even 200 yards. Not only is this not true, but to even hint that the rifled slug gun with sabots is lethal out to 200 yards is a great disservice to both the industry and the hunting fraternity.

https://shop.opticsplanet.com/dnz-p...MIneaPla6D2QIVXZ7ACh2UdwA3EAQYAyABEgLnpvD_BwE http://www.midwayusa.com/product/633843 ... g-box-of-5
I'VE NOT USED THESE YET ON BEARS,
BUT ON A 200 LB HOG , AND DEER,THEY ARE DEVASTATING, AND A 1 3/8 OZ SLUG AT 1800FPS WITH OVER 3300 FT LBS SHOULD GET DAMN NEAR ANYTHINGS ATTENTION
THIS SAVAGE IS AN EXCELLENT GUN


these bolt action shotguns have rifled bore designed to stabilize slugs YES THERES A LOWER RECOIL 20GA VERSION
anyone that thinks buck shots a great option for bear or elk, really should stack up three sheets of 2 ft x 2 ft square sheets or 3/4" plywood ,
and place a target on it , staple a sheet of typing paper 8.5" x 11" horizontally as a representative kill /vital zone
place the target stack of plywood out at 50 yards
fire two quick shots , with buckshot, if you do have buckshot hit the kill zone look at the rear of the plywood for buck shot pellet exits
your not going to find any...now repeat the process with slugs, in most cases they both hit the kill zone and exit the stack of ply wood, think that over
your potentially going to get out and look for that bear, do you want a dead bear or one highly motivated to get revenge on the cause of his injury.
With a variety of slug gun barrel and stock styles, find a Savage 212 or Savage 220 Slug Gun to fit your needs.
www.savagearms.com
https://www.savagearms.com/firearms/...s/212-slug-gun
yes they also make it in 20 ga for the guys that are very recoil sensitive
personally I want the 12 ga version, but I know several guys with both ga versions and both versions work,
on the deer and hogs Ive seen shot,
but theres no real comparison in how hard they hit
and as always proper shot placement and a knowledge of the games anatomy is required
(1)call and talk to the local game department biologist, and game wardens
ask about what the bears eat in your area, at this time of year,
and where they travel, and population density's
(2) get a topo map of the areas you intend to hunt (get out and scout and start exercising)
(3) personally Id suggest you use a high quality scope , with decent low light optics ,
on a rifle that has at least about 2700 ft lbs of energy with a 150-250 grain bullet
think 270 win, 308 win,358 win or a bit more.
(4)practice shooting from field positions, not off a bench rest , once the rifles zeroed in correctly
(5)get a copy of the local hunting regulations
(6) learn bear anatomy
(7) bears have a great nose, use scent killer on clothes and boots
https://www.fieldandstream.com/answ...est-way-hunt-black-bears-without-baiting-them
https://www.outdoorlife.com/blogs/hunting/2013/08/how-hunt-bear-without-bait-or-dogs
https://www.ballisticproducts.com/
https://loaddata.com/Shotgun
https://www.ballisticproducts.com/load14_04_25.htm
https://mrpogson.com/2014/02/28/making-12-gauge-slug-rounds/
https://www.alliantpowder.com/products/shotshell.aspx
http://randywakeman.com/Nice_Shot_Reloading_Data_12_Gauge.htm
yes you can use high brass shell cases, if the cases are listed, in a known combo
shot guns are fairly low pressure shells, changes in case, primer or wads does change the pressure in some cases significantly
smokeless powder can produce pressure spikes, so its safer to duplicate known tested load data.
thus like baking a cake, there are proven safe recipes, and changing the components will vary the result. sometimes in less than favorable ways.
now changing just a primer may or may not be significant, but the powder companies go to lengths to test pressure curves with different wads, cases etc. and changes do effect results
buy and use several shot shell load manuals,
https://www.ballisticproducts.com/Reloading-Manuals/products/16/
https://www.precisionreloading.com/cart.php#!c=456
https://www.amazon.com/Lyman-Shotshell-Handbook-5Th-2-Pack/dp/B07PYFG9VS
https://www.midwayusa.com/product/1...loading-handbook-5th-edition-reloading-manual
http://www.hodgdonreloading.com/data/shotgun
https://www.barnesandnoble.com/w/re...MIgdHu0JiH4gIVmLXACh1yFQtBEAYYBSABEgKyNfD_BwE
a decent slug gun with a rifled barrel Like a savage bolt gun, equipped with a good 2.5x scope can usually produce 3" or smaller 100 yard 3 shot groups http://www.savagearms.com/firearms/finder/ http://www.midsouthshooterssupply.com/item.asp?sku=000152654112 these work reasonably well in my...
garage.grumpysperformance.com
http://www.savagearms.com/firearms/model/212camo
http://www.savagearms.com/firearms/models/
http://www.chuckhawks.com/savage_slug_gun.htm
http://pdf.textfiles.com/manuals/FIREARMS/imr_reloading.pdf
if your restricted to shotgun only areas , your not in as bad shapes as you might at first think!
these rifled slug guns do a really good job on deer out to about 140 yards
my late uncle, used his savage slug gun to kill several large black bears,
and while the average range was under 75 yards he stated it slammed them so hard they rarely did more than spin, fall and twitch
http://www.chuckhawks.com/shotgun_slugs.htm
http://www.midsouthshooterssupply.com/i ... 0152654112
https://www.midsouthshooterssupply....y-shotgun-mould-sabot-slug-12-gauge-525-grain
https://www.midwayusa.com/product/7...g-bullet-mold-12-gauge-681-diameter-525-grain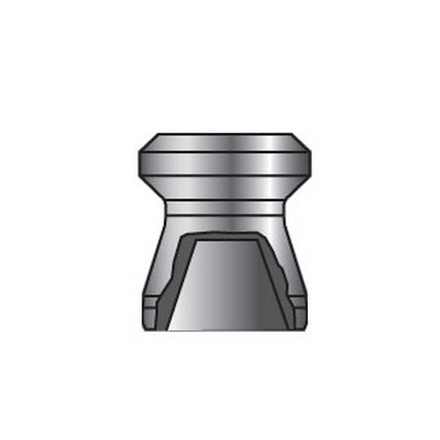 keep in mind these slugs are loaded inside a plastic shot-cup,
that compresses and grips the slug, and rifling, in the shotguns bore,
(if its a rifled bore designed for slugs)
as its forced down the bore, the slug itself never touches the shotgun bores rifling ,
which acts as a sabot that's discarded as it leaves the bore.
you can buy a mold and cast your own at a considerable cost savings if you reload.


Last edited by a moderator: