Administrator
Staff member
THERE'S OBVIOUSLY things that can be done to increase security, and make it far more difficult for thieves to get to your home or garage,
AND YEAH! THERES A FEW LOW LIFE BASTARDS IN EVERY NEIGHBORHOOD WHO WOULD LOVE TO TAKE WHAT YOU HAVE GIVEN THE OPERTUNITY
these improvements should include, better locks, on outside doors, requiring a key from both sides, expanded steel screen over door windows, a monitored alarm, with cameras, video surveillance with a video recorder OFF SITE and BOLTING the safe,you keep valuables in if you have one in your office solidly to a concrete floor, to the concrete floor if you have one, or under floor joists would help, as would a locked fence and a couple large dogs, yeah its a p.i.t.a. but until its legal to shoot thieves caught in the act with zero legal issues, and they start giving thieves a MANDATORY first time sentence in jail, thats likely to be required
youve got to look over your property and say to yourself, if I wanted to get inside quickly without a key to the door how would I do it and then take the required measures to make it far more difficult to do, lighting, fences,multiple alarms cameras, dogs, all have a place!
the first thing you want to deal with is LIMITING easy access, to the car, obviously a fenced yard with a securely locked gate, and a locked garage if possible is a good start.
think like a thief!! how would you go about stealing your own car, whats preventing you or making it easy?
where possible having a fence with a gate that you can lock when your home or away that controls access to the area near the shop or garage or in some cases the home also, still remains a good way to add an additional and effective security barrier, especially if you install really bright motion detection activated lighting
a locked gate and a fenced yard help, but its a great risk of being caught thats the big deterrent
, so make it very time consuming, and very difficult, have the place well lighted and make access , especially concealed access or access with any vehicle as difficult , and noisy and well lighted as you can.
if you have motion activated lighting and video cameras it helps, these need not be hugely expensive , any more and if your mechanically inclined setting up an alarm systems not that difficult.
a LAYERED APPROACH, TO PREVENTING THEFT, IS BY FAR THE MOST EFFECTIVE
if your serious you need a multi-layered approach and youll want a monitored alarm,
you can certainly get a decent deal if your willing to do the installation yourself.
first Id strongly suggest you buy a security system with enough cameras and the ability to record what they see.

locking gates on fences and house and shop doors will obviously be a start,
and having decent quality locks or chains etc. helps
having a couple nervous dog;s that bark every time they hear the mailman or ups truck certainly does not hurt either
as does having several motion sensor lights mounted on the home and shop,


where they can provide both good lighting coverage and not be easily accessed from the ground without a ladder.
to reduce the possibility of prowlers disabling the lights.
an off sight monitored security system with multiple cameras that work in both day light and infrared at night certainly adds security.
having securely locking windows and doors and a burglar alarm with a battery back-up, cell phone wireless dialing capability , so the lines can,t easily be cut, and several very loud outside bells in the 120 decibel range adds further security!
I went with ADT monitored alarms with contacts on all doors and windows and motion sensors
layered security is obviously a necessity.

Think of it like you want to make your home the LEAST attractive to a prospective thief.
How you can go about doing this is using as many visible deterrents as possible.

#1. Exterior lighting of all access points is a deterrent. (One of the biggest at night)
#2. Security cameras are deterrents with SIGNS*I prefer hardwired*
#3. Dog's are deterrents, but BIG DOGS are also Security.
#4. Alarm systems are deterrents, with SIGNS
#5. Door locks, window break sensors, flashing alarm lights and sirens, etc.
#6. All of this should be before any prospective thief can even get to the homeowner and his defense weapon

http://www.homesecuritystore.com


https://security.adt.com/adt/#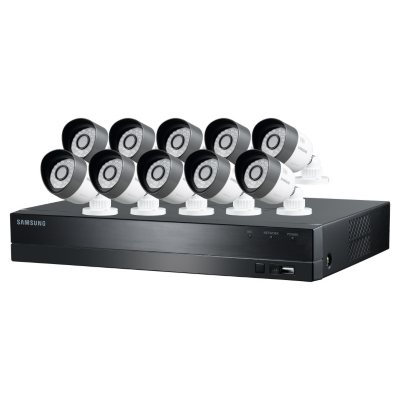 youll need a large computer monitor for each, as they show real time camera views on all cameras
in addition,
I purchase TWO of these systems, one for the home and one for the shop, they can be monitored 24 / 7 off site and from your laptop or some cell phones

(1) keep the car out of sight and preferably in a locked garage when parked

(2) your garage should have an alarm with an incredibly loud bell or siren, that can,t be disabled by killing the power and good locks and OBVIOUS video camera surveillance

(3)the car should have a tracking device like lO-JACK

(4) get good insurance with AGREED VALUE pay off

(5) a hidden fuel cut-off switch and ignition bye-pass sure won,t hurt

(6) a fenced yard with at least one large dog is obviously one option that tends to reduce trespassers

(7) parking the car with another locked car blocking access makes its theft take time, and the longer it takes the less incentive a thief sees

(8) redundant, overlapping,motion sensor lighting helps especially if each lighted area is hooked to a loud chime , that bongs when it comes on.

you want to think thru adding motion activated lighting and if possible have video surveillance and monitored alarms

http://www.thehomesecuritysuperstore.com/?src=MAC http://www.surveillance-video.com/ http://www.adt.com/media/home-security/compare http://www.surveillance-spy-cameras.com/ http://www.logitech.com/en-us/video-security-systems http://store.videosurveillance.com/vide ... ce-systems http://www.bestbuy.com/site/Home-Securi ... 8100050020

next you want some motion and contact alarms on both the garage and the shop access.

simple things like a pad lock in the garage door frame to prevent it being opened if you intend on being away for a few days or having a trusted relletive stay at your home helps, large dogs , especially ones that are not overly friendly to visitors might be an option. in your fenced yard.

http://home.howstuffworks.com/home-security-tips.htm

watch this its important

http://www.lojackforclassics.com/

TRACKING YOUR CAR ON THE CHEAP

http://gizmodo.com/5691724/how-to-track ... -the-cheap https://www.advantrack.com/vehicle-tracking-devices/ http://www.youtube.com/watch?v=D9hSp2FC ... re=related http://www.elocksys.com/ http://www.ravelco.com/product.html http://www.securitech.com/D01-mp-police-lock.html http://www.gpsinformation.org/homerepai ... cs.htm#top http://www.elocksys.com/ viewtopic.php?f=27&t=81&p=4888#p4888 http://www.autospeed.com/cms/article.ht ... r&A=107975

THIS IS ONE EFFECTIVE CHOICE!

http://www.entrybell.com/Merchant2/merc ... _Code=HOME

you won,t believe the noise the electronic dog bark alarm AND my 4 real dogs make when the motion sensor detects movement, the alarm makes my real dogs go absolutely bonkers

Plan to "burglarize" yourself. You'll discover any weaknesses in your security system that may have previously escaped your notice.


Lock up your home, even if you go out only for a short time. Many burglars just walk in through an unlocked door or window.


Change all the locks and tumblers when you move into a new house.


For the most effective alarm system, conceal all wiring. A professional burglar looks for places where he or she can disconnect the security system.


Your house should appear occupied at all times. Use timers to switch lights and radios on and off when you're not at home.


If you have a faulty alarm that frequently goes off, get it fixed immediately and tell your neighbors that it's been repaired. Many people ignore an alarm that goes off periodically.




A spring-latch lock is easy prey for burglars who are "loiding" experts. Loiding is the method of slipping a plastic credit card against the latch tongue to depress it and unlock the door. A deadbolt defies any such attack. It is only vulnerable when there is enough space between the door and its frame to allow an intruder to use power tools or a hacksaw

.


If you lose your keys, change the locks immediately.


Before turning your house key over to a professional house cleaner for several hours, make sure the person is honest and reputable as well as hardworking. Check all references thoroughly. If the house cleaner is from a firm, call your local Better Business Bureau to check on the firm's reputation.


Instead of keeping a spare key in a mailbox, under the doormat, or on a nail behind the garage, wrap the key in foil -- or put it in a 35mm film can -- and bury it where you can easily find it if you need it.


Don't leave notes for service people or family members on the door. These act as a welcome mat for a burglar.




If the entrances to your home are dark, consider installing lighting with an infrared detector. Most thieves don't want to be observed trying to get in a door.




Talk to your neighbors about any suspicious people or strange cars you notice lurking about.
To keep your tools from being stolen, paint the handles. Thieves avoid items that are easy to identify.


Trees located near windows or shrubbery that might shield a burglar from view can be major flaws in your home-protection plan. Consider your landscaping plan in light of your protection needs.


Ask for credentials from any sales-person who requests entry to your home. Ask that their ID be pushed under the door. Many professional burglars use this cover to check out homes. If you're doubtful, check with the person's office before letting him or her in.


Do not list your full name on your mailbox or your entry in the telephone book. Use only your initial and your last name.




If someone comes to your door asking to use the phone to call a mechanic or the police, keep the door locked and make the call yourself.



Dogs are good deterrents to burglars. Even a small, noisy dog can be effective -- burglars do not like to have attention drawn to their presence. Be aware, however, that trained guard dogs do not make good pets. Obedience training and attack training are entirely different, and only the former is appropriate for a house pet.

now obviously your not going too build a nice garage and stock it with thousands of dollars in car parts and tools, without giving a good deal of thought to retaining your investment. so heres a few things you should consider.

enterance ,security doors, should at a minimum have a steel door in a steel frame with a good quality lock with hinges that cand be easily disassembled with the door in the closed possition

example

http://www.mastersecuritydoors.com/

garage doors should NOT be easily opened from the outside manually, locks that lock both sides of the door and a electric door opener , or chain pulley door operator that restricts the door opening to someone with a key and internal access is a very good idea.

doors should be dual layer and hurricane re-enforced designs made of sandwhiched steel and windows are a bad idea!, especially windows that have glass you can see thru!

SECURITY LIGHTING

motion sensor lighting inside and outside the garage is a good idea,most burgalars are not fond of operating in bright lighting, some motion sensor lighting can be wired to turm on a remore alarm buzzer if the house and garage are seperate!

GET A DARN QUALITY ALARM SYSTEM INSTALLED

the $20-$25 dollars a month that a monitored alarm system costs looks like chump change once your looking at loosing your investment!

try to deal locally with a nationally known alarm company, insist on at least one or more, very loud... annoyingly loud ...outside bells thats not easily reached on the high outside wall or inside the eves of the garage,and a system that covers all potential entrance points PLUS a motion detector inside the shop and it helps if its got a wireless transmitter and battery back-up http://www.adt.com/wps/portal/adt/for_y ... s_services http://www.norcoalarms.com/ http://www.brinkshomesecurity.com/ http://www.guardianalarms.net/ http://www.intellahome.com/ http://www.supercircuits.com/ http://store.bluecherry.net/

CAR SECURITY RELAY INFO

http://www.the12volt.com/relays/page5.asp http://www.adilink.com/services/productCatalog.php

go to this ADI page and download their Intrusion Products catalog. Lots of stuff there. They have 105 offices across the country where you can buy the stuff.

(INTRUSION)

yes you can install a fuel line cut off valve that makes starting and driving your car more difficult for thieves,

http://www.harborfreight.com/38-full-port-ball-valve-68255.html
http://www.harborfreight.com/38-in-barbed-fitting-2-pc-68213.html
viewtopic.php?f=55&t=4381&p=16285&hilit=flex+fuel+line#p16285
installing a cut off in the fuel lines easily done but keep in mind it needs to remain outside the crew compartment, easily accessed but out of sight and mounted where road trash won,t hit it
Last edited by a moderator: